How to Name An App to Make the App Rank Higher?
As the creator of an application, when you are asked to describe your application, I think it is a very simple thing to do. But with one or two words to represent your app, it's not so easy. Simplifying is never easy. But these one or two words will become the representative symbol of your app, which is a crucial part of your ASO strategy and will directly affect the user's impression of your app, the promotion of your app and the ranking of your app in the app store.
You need to name your application in a scientific way, and the application name should meet the following requirements:
It is highly relevant to your application and can fully represent the application.
Attractive to users.
It is unique, memorable and distinctive.
It can move your app up in the rankings.
Easy to read, easy to write, easy to remember.
Focus on the quality of your application and user experience
Remember, application quality is fundamental to everything. No app name, app icon and app description will help if you don't have a high quality app. Before doing any ASO optimization, make sure your app is optimized to the best version. If not, please don't read any further and focus on optimizing the app user experience.
Get closer to users
When you're at a loss for an app name, take inspiration from your users. You can use questionnaires or any other research methods to investigate the characteristics of your target user group and form a user profile. Which age group are they mostly? What hobbies do they have and what are they interested in? What applications do they like? What are their common languages? Based on this, you can invite several potential users to experience the application and understand how these users feel about using it.
In this process, you need to jot down any words related to the name of the application as much as possible. This is not an easy job, but it can help you form a library of alternative words.
Keep it simple
After a series of research, you must have written down many words to describe your application. But remember, you must follow the rules of the app store. The App Store requires that app names be no longer than 30 characters. On Google Play, the limit is 50 characters. You must make the app name as short as possible.
Ranking and Promotion
You must know one fact: 70% of app downloads come directly from search. The app name, a crucial part of the ASO strategy, has a direct impact on app store rankings. We must follow ASO rules and choose the right keywords to write in the app name. According to the data from ASOTools, you can clearly see that several keywords with the highest traffic for Project Makeover, the game, are highly related to the app name.
Try the tools
So, how to choose the right keywords? Based on a good understanding of the application and a good research of the users, I think you can try it with the help of tools.
Take a free keyword monitoring tool ASOTools as an example, you can search for any of your alternative keywords in the "Keywords" section, you can get the competition difficulty and traffic of the keyword, and you can also check the long tail keywords of the keyword. By the way, please choose the keywords with the lowest possible difficulty and the highest possible traffic.
The general name of the application is composed of a brand word and a keyword. Within the limited word limit, you need to make your brand word as short as possible so that you can write as many keywords as possible.
Learn from competitors
Learning from the competition doesn't mean repeating. You can learn how competing products are named. What are those keywords they write? Are they application categories, application features, or characteristics of the target user? You can learn their techniques but don't copy their keywords. This will make your app name too similar to the competition, which will cause your app to be rejected by the app store.
Competitors' keywords can also be quickly looked up with tools. For example, you can look up the app name directly in the "Apps"" feature of ASOTools and see the keywords used by the competition.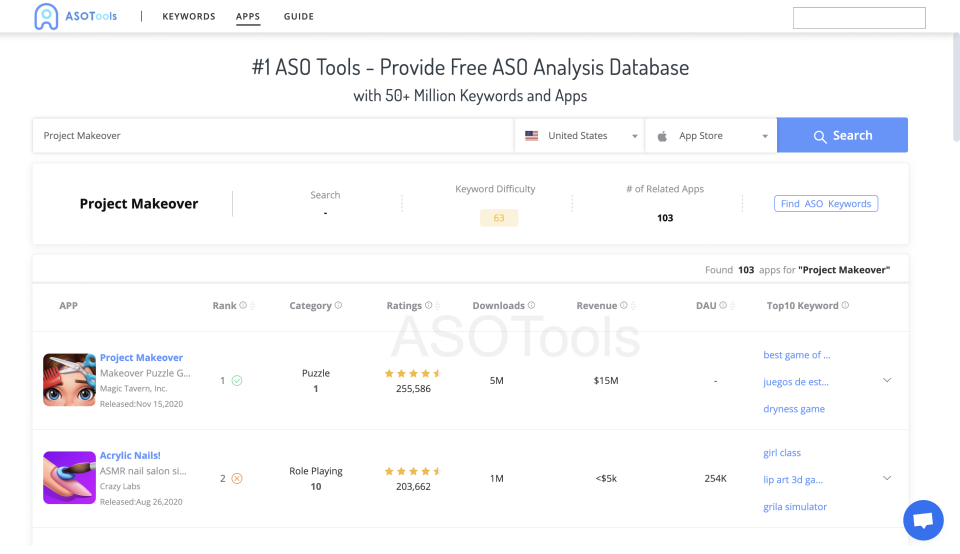 Make the most of subtitle
Most of the applications have subtitle. When your keyword cannot be written in the name, you can write the subtitle. Also you can use the subtitle to indicate the category and main features of the application, remember it should not be too long.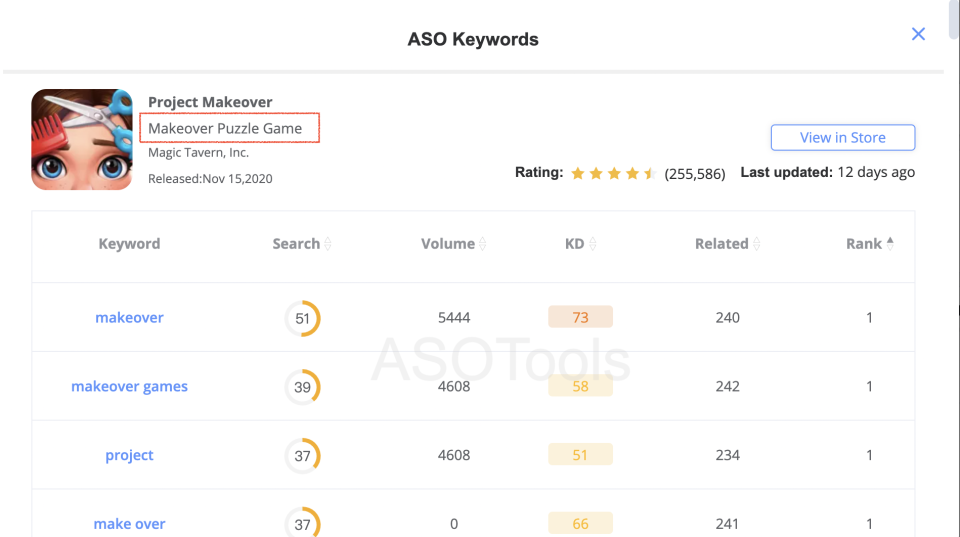 Some tips
Avoid using words that are too complex and make sure your app name is easy to spell, easy to read and easy to write.
Make sure your app name doesn't have some taboo words from other cultures.
Avoid your application name infringing on the legal rights of other names.
Core Functions
After you have initially developed your app name, you can invite a few friends who know absolutely nothing about your app to see if they can quickly grasp the core functionality of the app from the app name. If not, then the app name needs to continue to be optimized.
Including the core functionality in the app name enables users to quickly understand your app and remember it. Take "project makeover" for example, "makeover" means a set of changes that are intended to make a person or place more attractive. That's a great name for an app, isn't it? Users can understand what kind of game it is in an instant.
Conclution
As you may have noticed, you can't rely entirely on inspiration to name your application, there are some principles that you have to follow. We can only offer you these raw suggestions, the rest is up to you to be creative. We hope you can create the perfect name for your app. After giving the app a name, you need to write the app description, and we have some suggestions for you as well.