7 ASO Tools to Help Track App Store Ranking [ Free and Paid Included]
ASO, which stands for app store optimization. In the development of mobile internet today, the number of apps is increasing every year. In such a format, it is difficult to make your app stand out. Therefore we need to do a good job of app store optimization so that we can attract a global audience and high quality users by increasing the visibility of the app store, reducing user acquisition costs, getting more downloads, increasing app revenue and so on.
1. Summary of App Store Ranking Factors
Before we can do app store optimization, we must know what are the factors that affect app store ranking? The following is a list of the factors that affect you.
1.1 App store ranking factors for ios
App name
App description
ios keyword field
In-app purchases
Apple's spotlight search
1.2 App store ranking factors for Android
App title
App description
App description
Google Tags
SEO backlinks
2. What do we use ASO tools for?
ASO is a long and complex process and to make it work we need to go down the right path. In this process we need to use aso tools to provide us with data and research on our competitors. These are the reasons why we use ASO tools.
So, what can we use ASO tools for? Here is a list of some of the features that every ASO tool should have.
Keyword research
A/B testing
Keyword suggestion
Keyword tracking
Keyword difficulty score
Competitor Research
Translation and localization features
3. 7 ASO tools to help with app store rankings
The previous section talked about what we can do with ASO tools, in this section I will introduce you to 10 good ASO tools, both free and paid.
3.1 AppFollow
AppFollow provides developers with all the tools they need for organic user acquisition.What makes AppFollow a bit of a treat is that it aggregates data, reviews, keywords, search rankings and ratings from the App Store and Google Play, and then converts them into easy-to-read charts. This is very convenient for ASO workers.
(1) Key features
Track KPIs and app performance
Conversion rate benchmarks
Top chart rankings
Competitors overview and analysis
Keyword popularity and difficulty data
Keyword research automation
Featured app alerts
ASO alerts in Slack and email
Store performance index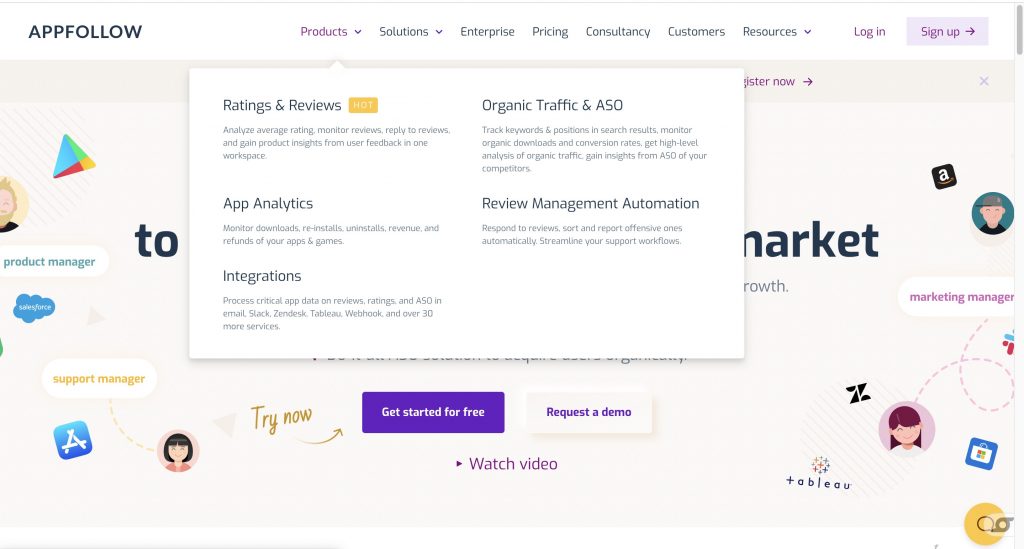 (2) AppFollow Pricing Plan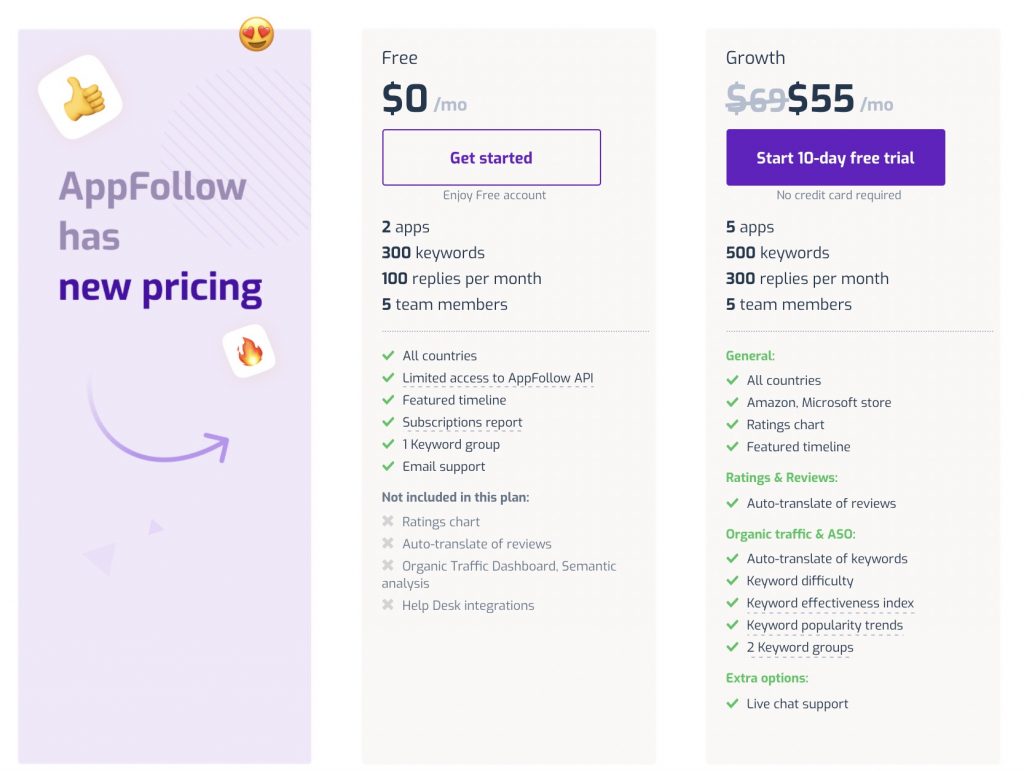 Advanced – $111/mo
Pro – $399/mo
Enterprise – custom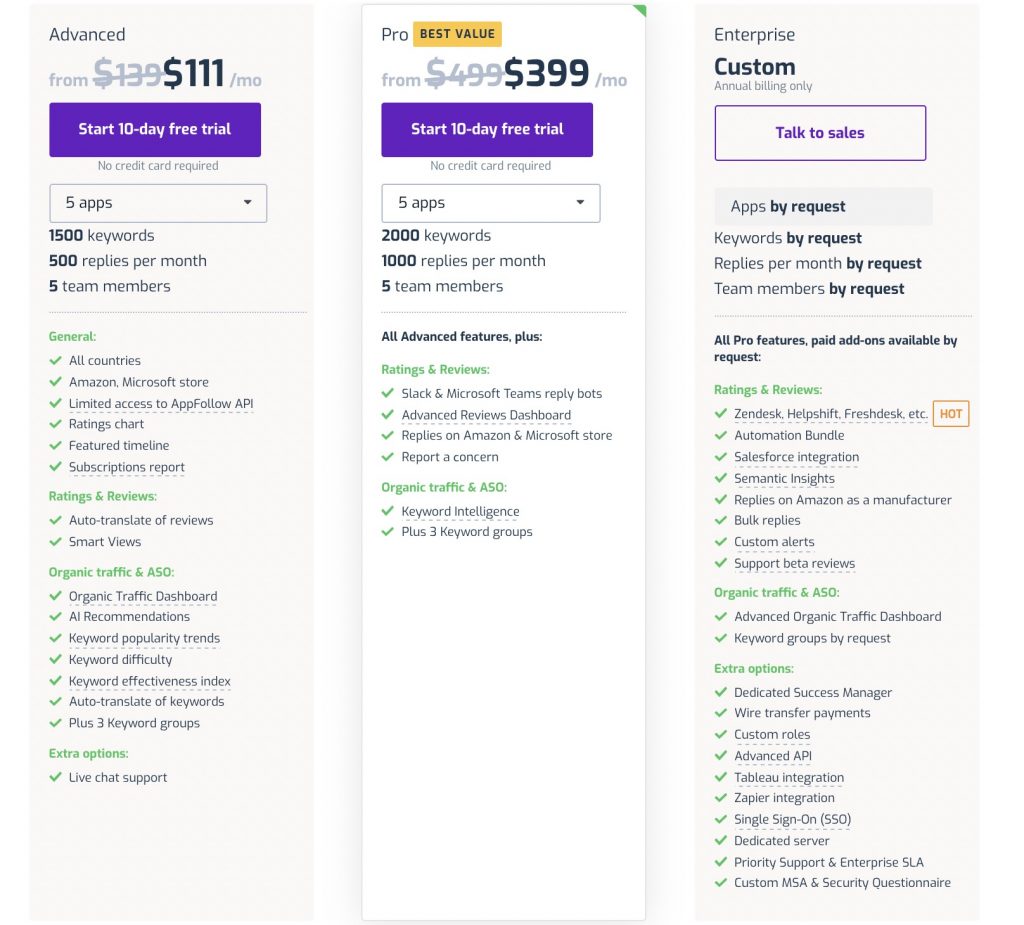 3.2 App Radar
Another giant among ASO tools is App Radar.It has numerous features such as competitor targeting, application analysis, keyword research tools and multiple country/region/language support. The best part is that App Radar has a free version and you can try it out before you decide to upgrade to the paid version.
(1) Key features
Keyword analysis
Keyword optimization
Large keyword database
Real-time app store ranking
App store ranking tracking
Competitor research
App analytics
App localization management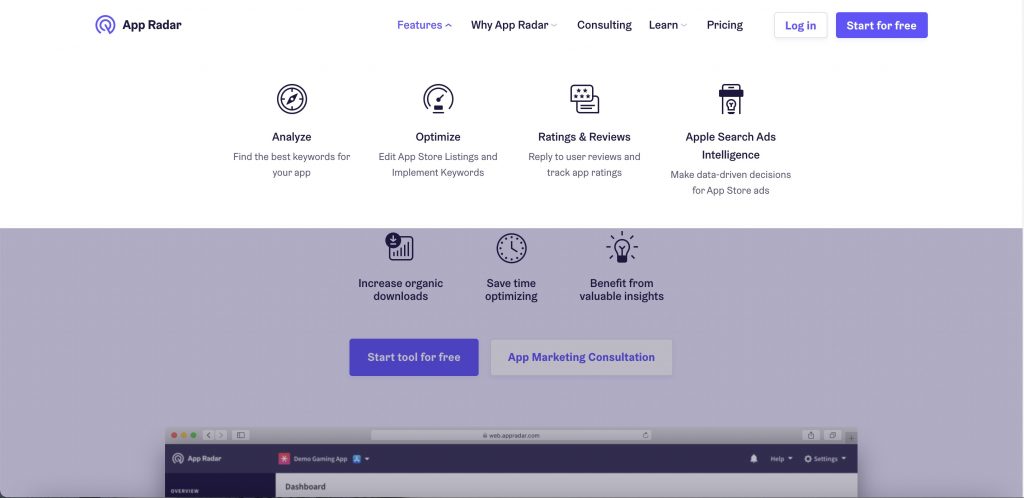 (2) App Radar Pricing Plan
Free
Starter – $39/mo
Advanced – $69/mo
Expert – $129/mo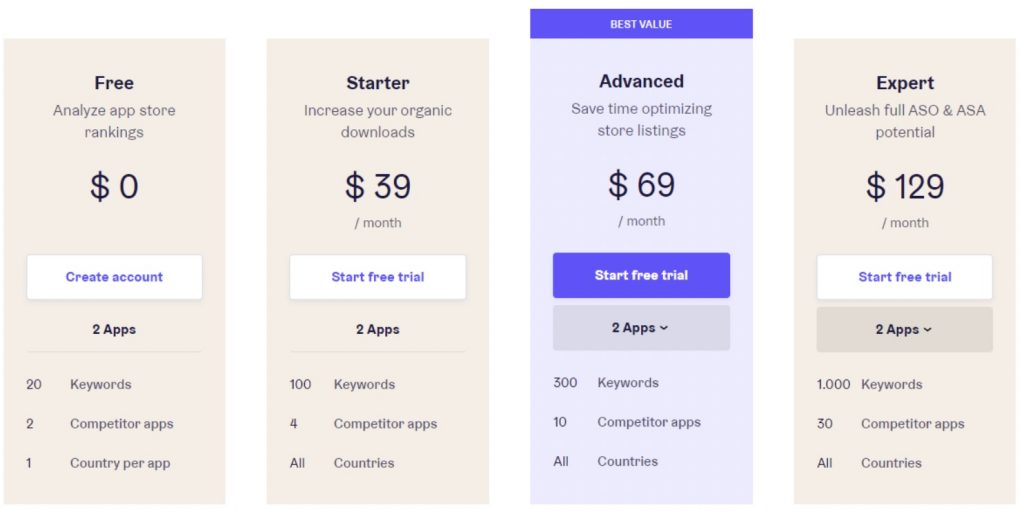 3.3 Sensor Tower
Sensor Tower is a mobile marketing platform that also has a lot of features and provides intelligent data for ASO.It's data accuracy has also been repeatedly sought after by users. Unfortunately, Sensor Tower does not disclose its package price to the public.
(1) Key features
Store data
Top charts
Keyword research
Keyword suggestion
Competitor analysis
Keyword translation
Search traffic score estimates
Predictive rank
Localization analysis
App profiles
Review history
Featured app history
Daily reports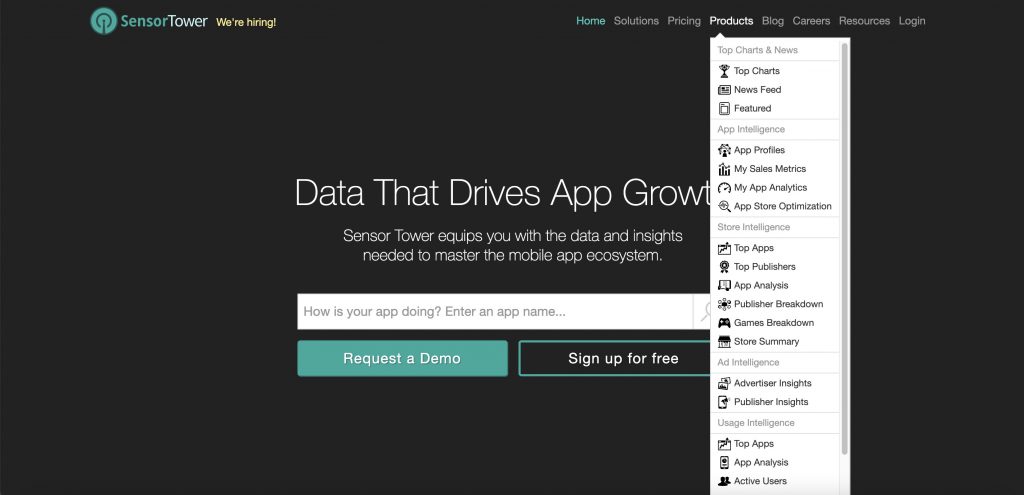 (2) Sensor Tower Pricing Plan
No pricing information is publicly available.
3.4 TheTool
TheTool is more of a review and sentiment oriented ASO analysis tool. It collects and analyzes your user ratings and looks at their content, then tells you what users like and don't like. With this sentiment analysis, you can refine your product development roadmap to get better ratings.
(1) Key features
Keyword rankings
Keyword research
Top charts
Keyword suggestion
ASO score grader
Organic and non-organic installs tracking
Insight on competitors
Worldwide tracking
Downloads data
CSV export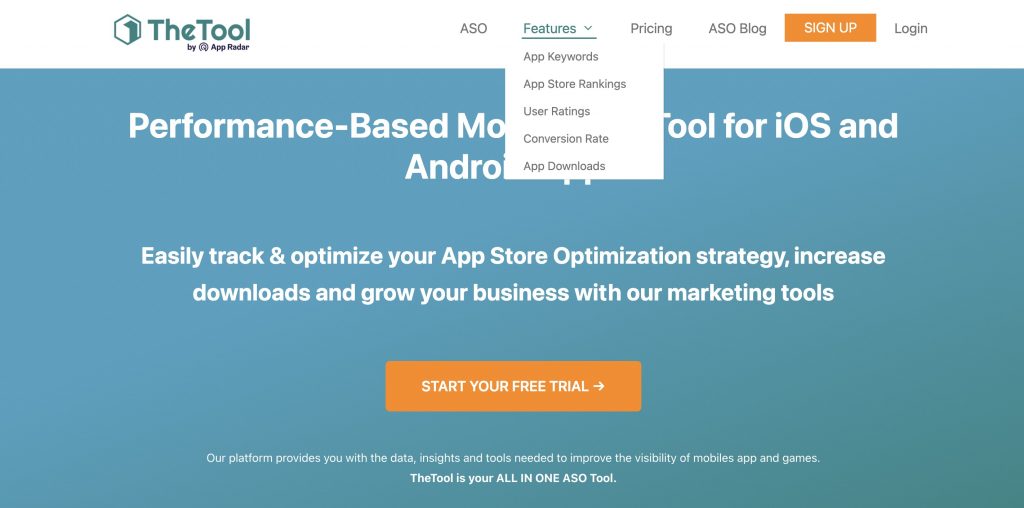 (2) TheTool Pricing Plan
Starter – $39/mo
Advanced – $69/mo
Expert – $129/mo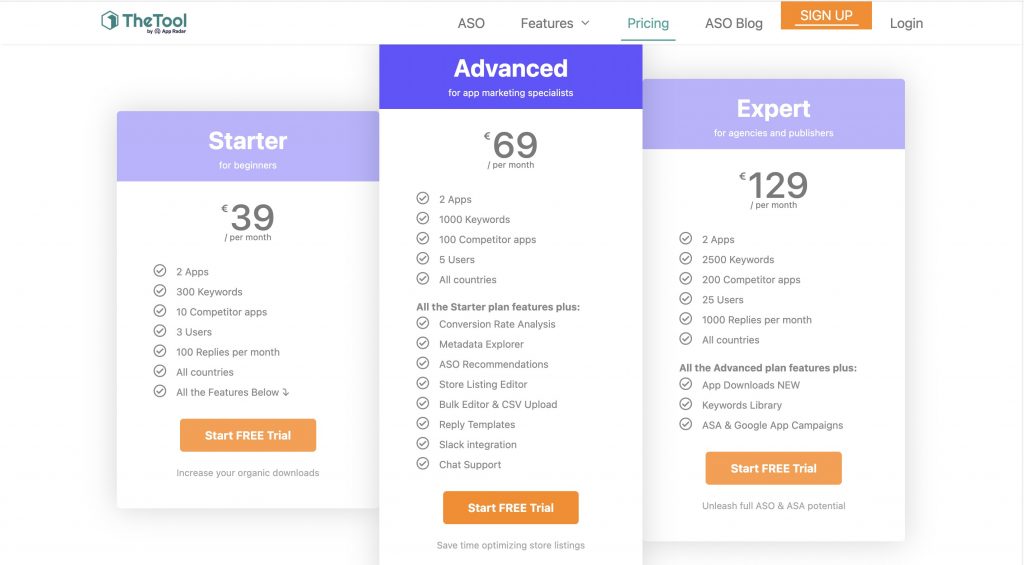 3.5 ASOdesk
ASOdesk is an excellent ASO tool with a more comprehensive range of features.The beauty of it is that it is perfect for showing opportunities that your application may be missing.
(1) Key features
Keyword analytics
Keyword explorer
Competitors and keyword chats
Keyword auto suggestions
ASO comparative report
Organic report
Reviews and monitoring
Trending searches alert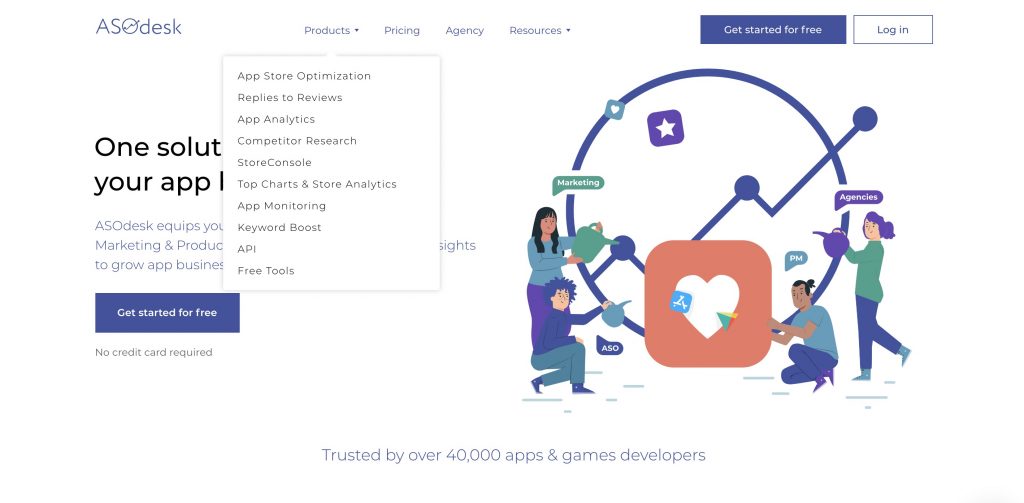 (2) ASOdesk Pricing Plan
S- $41.6/mo
M- $84.2/mo
L- $101.2/mo
XL- $118.3/mo
S- $126.7/mo
M- $169.1/mo
L – $249.9/mo
XL – $416.6/mo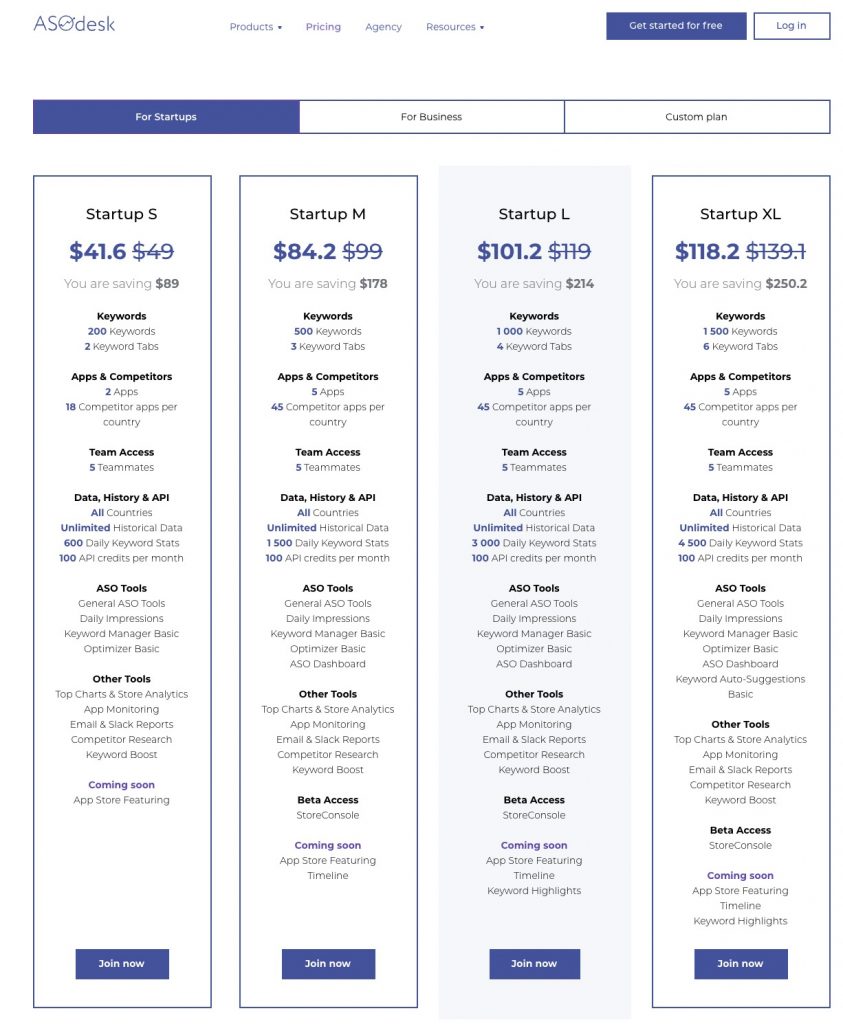 3.6 ASOTools
When it comes to keyword tools in the field of ASO, we have to mention ASOTools. It is a powerful and turn one keyword function that can give you a lot of unexpected surprises. For example, on the "Matched Keyword" page, you can search for apps that match a keyword, as well as their rankings and ratings, so you can effectively observe your competitors.
In addition, there is also a "Suggested Keyword" function, which is even better, showing the recommended keywords and the search volume, traffic, difficulty and relevance. The most important thing is that the software is free.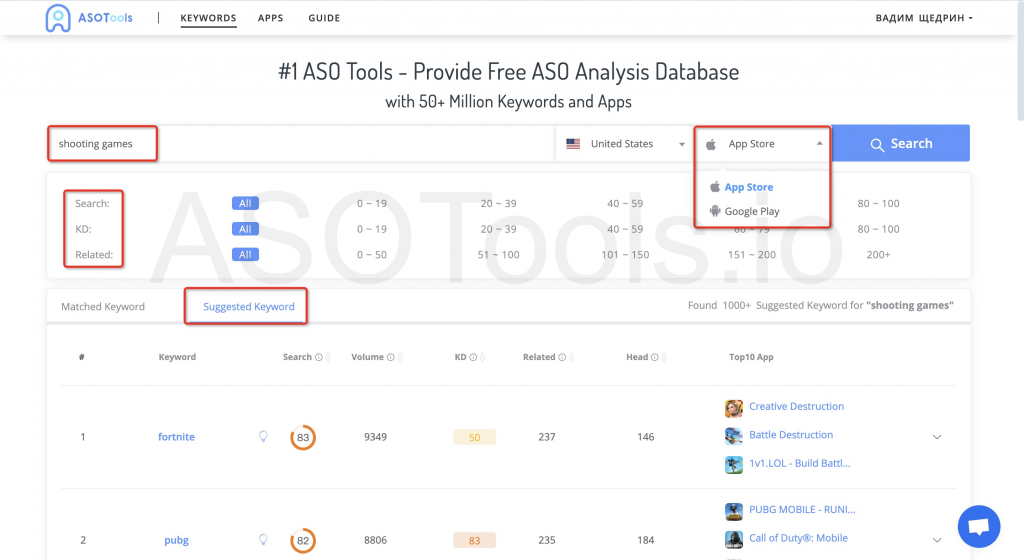 (1) Key features
Matched keyword
Suggested keyword
App information
Keywords research report
Competitive keyword research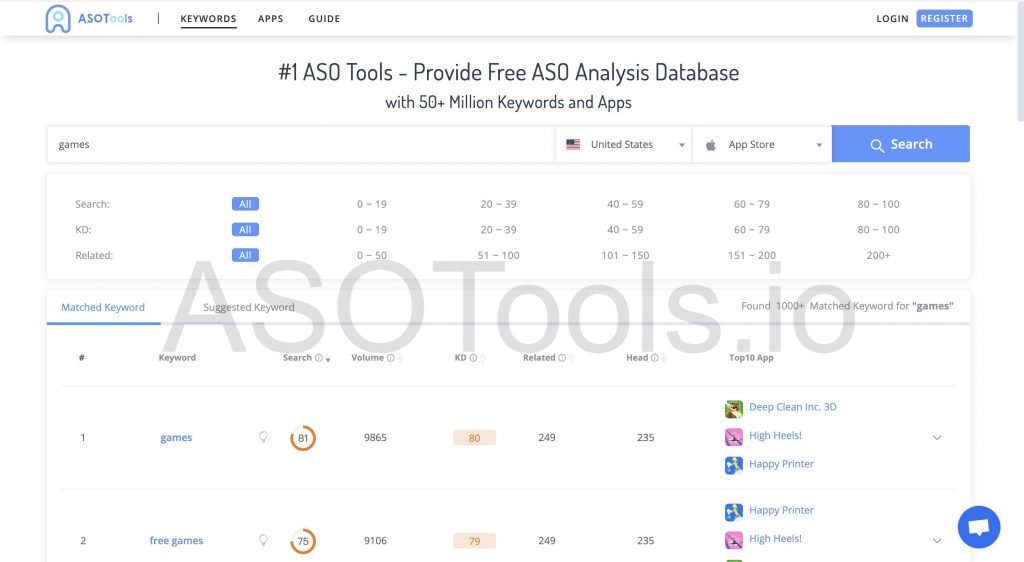 (2) ASOTools Pricing Plan
3.7 AppTweak
AppTweak is one of the most powerful ASO tools available, it was launched in 2014 and is considered to be a pioneer in ASO. It is the most effective tool for developing apps for business of all sizes.
(1) Key features
Keyword research and suggestion tool
Keyword ranking history
Organic installs per keyword
Keyword volume and search popularity
Keyword impact analysis
ASO timeline
Featured app list
Keyword translations
Visibility score
ASO update history
Competitor keyword spy
Category rankings
Keyword rankings and install growth
App download and revenue estimates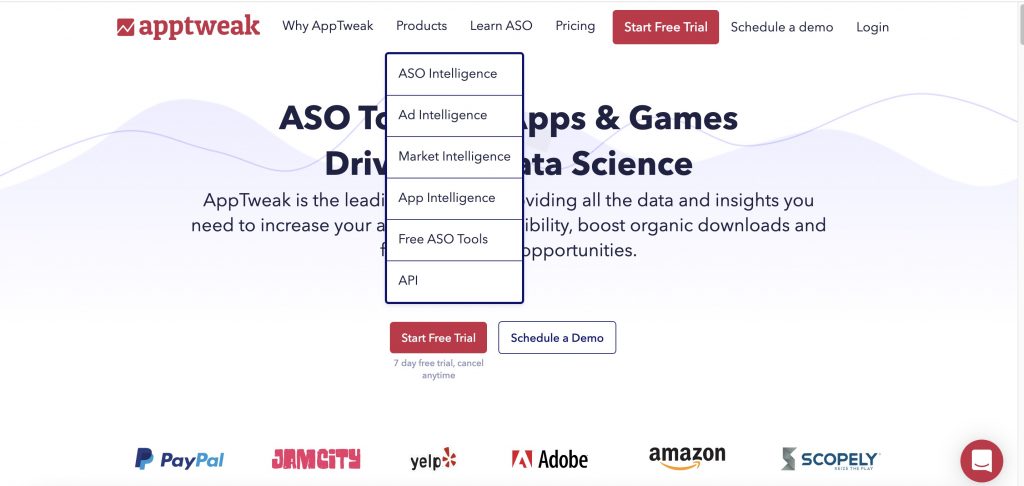 (2) AppTweak Pricing Plan
Starter $58/mo
Pro $166/mo
Guru $249/mo
Power $499/mo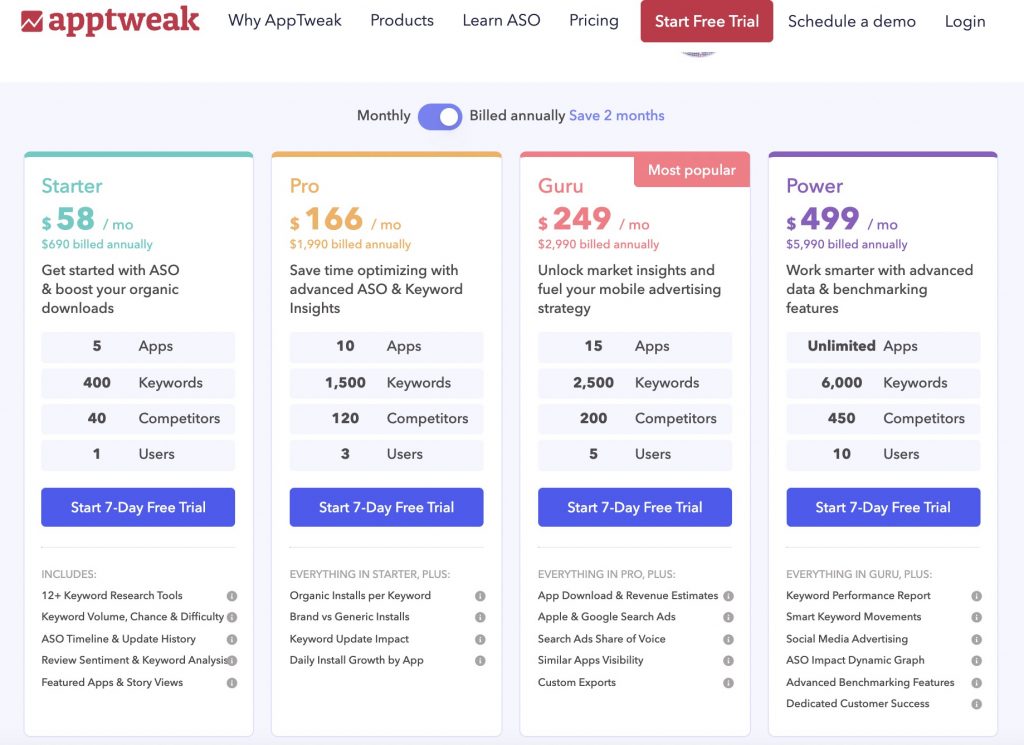 4. Conclusion
Many developers ignore app store optimization or don't put enough time and effort into it. This is a mistake, as ASO can help your app or game increase its visibility in the app store in many ways, leading to customer acquisition, downloads, revenue and more.
As mentioned earlier, ASO is a long and complex process and the techniques and tools are equally important. What is more important is to get the strategy right every step of the way. This then requires that you are able to choose the right ASO tools for you.
Hopefully, the 7 ASO tools listed in this article have the right optimization tool for your needs and budget. If you have any other suggestions, you can let me know in the comments.