App Description Guidelines: How to Write A Perfect App Description ?
When you start thinking about how to write the app description, then you must have already nailed the title and icon of the app. You may have breathed a sigh of relief that the most important and crucial work is over. You'd be naive to think so. In my opinion, the optimization of the app description is as important as the app title and icon.
According to the rules of Apple App Store, it is true that the app description has no effect on the ranking of the app in Apple App Store, but in Google play, optimizing the app description is able to improve the ranking of the app. Most importantly, app description has a direct impact on app conversion rate!
According to the survey, 70% of users will search keywords to find the application. Just imagine this scenario: a user finds your app by searching keywords, the name and icon of the app makes him interested in your app description, but your app description is a bunch of meaningless nonsense, what will the user do? The user may think that the name and icon of the app give him an illusion, but the actual content of the app doesn't match his requirements, and he will give up your app and throw himself into the arms of your competitor.
So how to optimize the application description? This article will provide you with the most complete guidelines to optimizing application descriptions.
1. What should be presented in the application description?
Before you start writing your app description, you need to determine what your app is all about, meaning what does your app description need to showcase about the app?
First, I want to tell you that general app and games should think about this in different ways, but have one thing in common: user-centricity.
1.1 If you are a general app developer, you should think about these questions:
1、What features will users like?
2、Why do users download my app instead of other apps?
3、What problems can the app solve for the user?
1.2 If you are a game developer, you should think about these questions:
1、What is the game genre?
2、What gameplay will the user experience?
3、What are the features of the game that attract users?
4、What challenges will the user encounter in the game?
5、Why do users download my game instead of a competitor's game?
You can write down your answer to the above question. Yes, just write it down on paper, without considering other tips.
2. Keep it simple and layered
Did you know? 98% of users don't click "read more" when browsing the app description, so how do you engage users without them clicking on it?
Before discussing this issue, you need to understand one thing: whether it is Apple app store or Google play, the complete app description is limited to 4000 words, but most users will not view more than 5 lines of text. This means you need to make the most of those 5 lines of text. In Apple's App Store, you can use 255 characters. Using Google's Play Store, there are only 80 characters in the app metadata field.
To get the most out of these 5 lines of text, you need to master two tips: keeping it simple and layered.
First, you need to present the most important content in the simplest language possible. Pointing, using as many numbers as possible, are very effective ways to do this. Secondly, you need to make your description hierarchical. The content presented in the app description should be the most competitive and engaging part of the app without the user clicking "read more".
But this does not mean that the rest of the content is not important. You can make the whole app description a general-part structure, so that what the user sees when they don't click "read more" is the outline and the main points of the later content.
3. Use keywords and monitor competitors
Many people will have a wrong idea that keywords are only related to ASO, and ASO is not related to the app description, then there is no need to use keywords in the app description.
As mentioned at the beginning of the article, using keywords in the app description can greatly increase conversion rates. In addition, in Google play, using keywords in the app description can improve the ranking of the app. Therefore, the choice of keywords is very important. Not only the description, but also the keywords should be used in the name and screenshots
We've covered a lot about choosing keywords in other articles, so you can check them out for yourself. For the use of keywords in the app description, we offer you the two most critical methods: using tools and monitoring competitors.
ASOTools is a free keyword monitoring tool with a huge keyword database and app database. You can search keywords and their long-tail keywords in the "Keywords" function. The tool provides search index, volume, KD(keywords difficulty) and other data for each keyword, and you can refer to these data to choose keywords with high traffic and low difficulty (below 20 is recommended). You can also use the "Apps" function to search for competitors and monitor their keywords.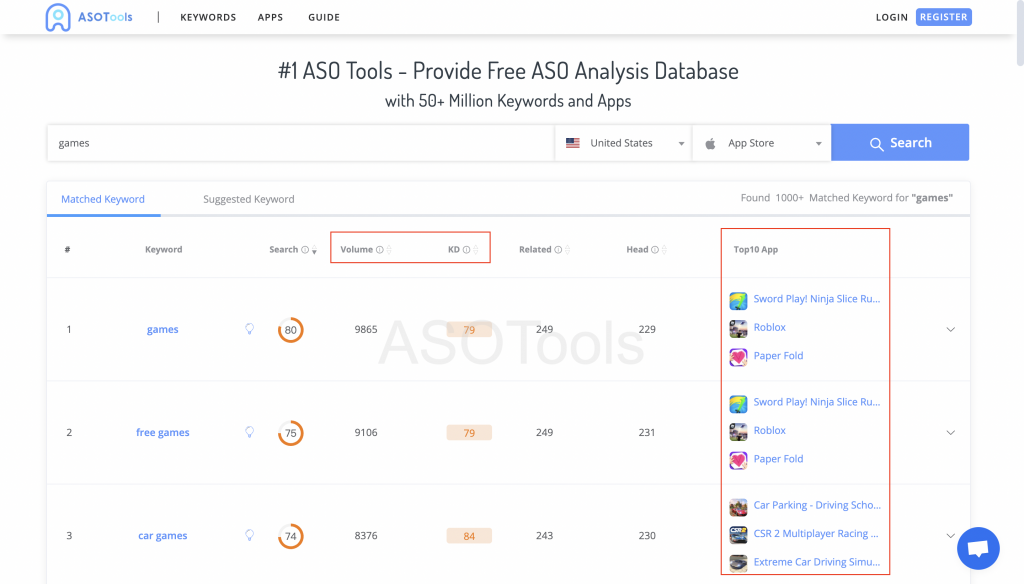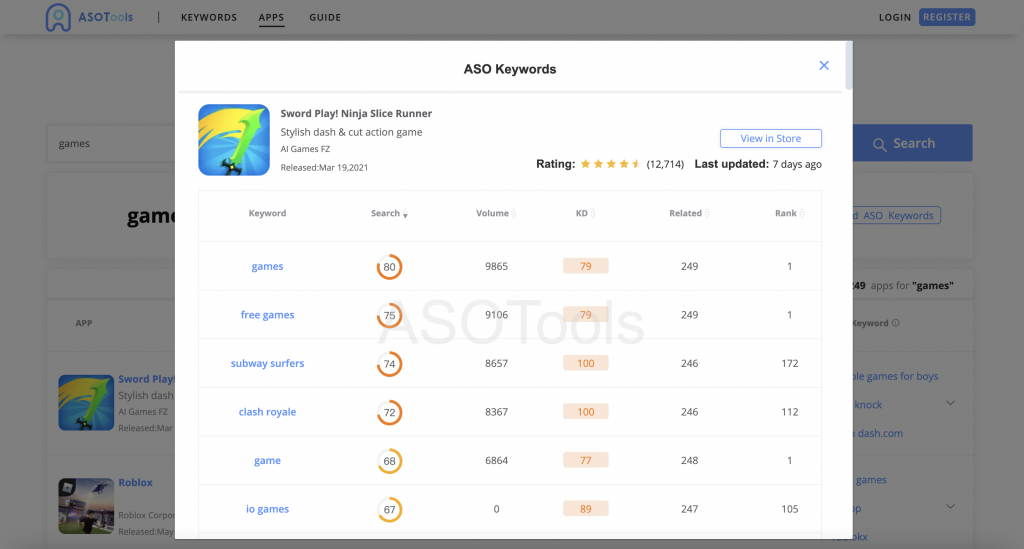 After selecting the keywords, write the appropriate keywords into your app name, description and screenshots. Don't forget that you can get inspiration from your competitors. Keywords will improve your app's ranking and conversion rate.
4. Four tips for writing app descriptions
After completing the main elements of the app description, you need to use the following four tips to make your app perfect.
4.1 Don't skimp on placing awards and social proof
If your app has won an award or has been recognized by a celebrity, it is best to show it in the app description, which will greatly increase the user's trust in the app and then give preference to your app.
App description of PUBG MOBILE 3RD ANNIVERSARY

"The best Battle Royale game chosen by over 1 billion players worldwide.

2018 Mobile Game of the Year – Golden Joystick Award
Top Free iPhone Game 2018 – Apple App Store"
4.2 Consider using HTML and emoji
This tip is only available for Google play, which as mentioned earlier allows HTML and emoji in the app description, and you can use rich text and emoji to make the description visually appealing to users. For example, you can use bold to highlight important parts, to structure the text, to save more space, etc.
4.3 Make your text easy to understand
When writing app descriptions make, don't try to make yourself look like an expert. Don't use too much jargon, which can be confusing to users. You can invite a friend who doesn't know your app at all to read your app description and see if it is easy to understand.
4.4 Don't forget to localize the application description
It is more preferable for any user to read content written in their native language. This means that you need to translate the identified app description into languages of different countries. Direct translation is not enough, it is necessary that you re-edit the text according to the local language and customs to make the app description more readable for the locals.
5. Focus on trends and continuous optimization
Remember, writing the app description is not the end. You need to keep an eye on your competitor's app descriptions and keep updating and optimizing them according to the changes in your app. ASOTools is always your best partner in this process.