Keyword Tool Vs ASOTools
When you are working on App Store Optimization Services, in order to help you choose the best App Store keywords in Google Play or Apple App Store, it is worth studying this report carefully. This keyword research report about keywords will use the data collected by ASOTools for a comprehensive analysis.
If you are doing App Store keyword research with the keyword inspector, we recommend that you create a specification for your app store keyword optimization.
Well, after establishing the theoretical basis of App Store optimization, let's make a case analytic and study the specific data performance of this keyword in Google Store and Apple App store with app store optimization tools.

Google Play App Store is the largest mobile Android application marketplace in the world. It commands the largest share of total applications and active users in the market, with more than 2.1 million apps available and over 2 billion monthly active users. The Google Play App Store Search is used by most people to discover new apps or find apps that they have already heard about. Searchers express their intent by typing into the App Store search box.
If you want to help users to find your Android app using the App Store search, your app title and description will need to match the search terms that people are using when searching for similar apps. This method will help you to communicate your message clearly and showcase your app to a relevant audience.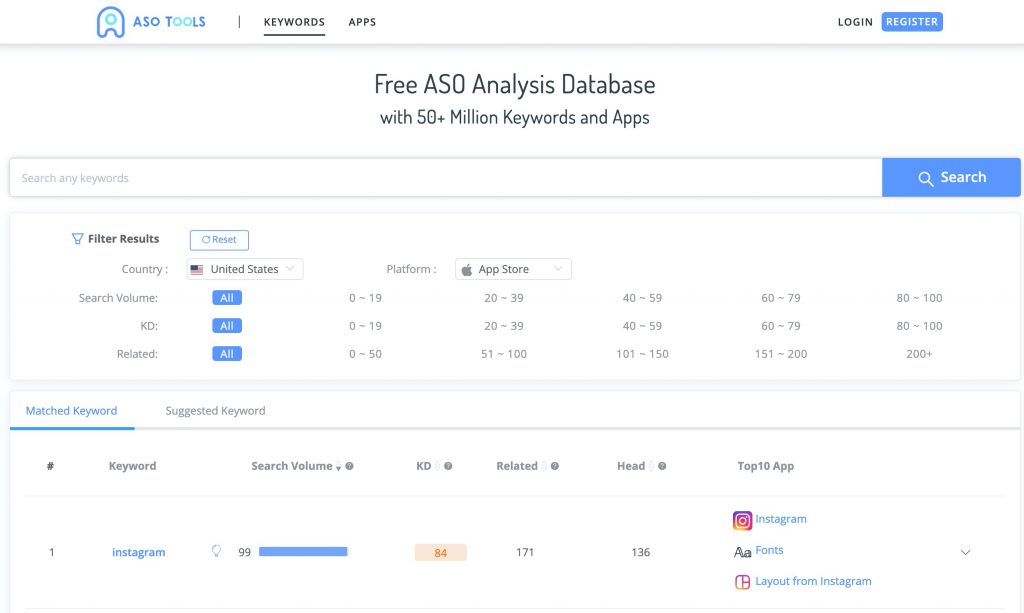 ASOTools is a tool that focuses on ASO (App Store Optimization) keyword research, mainly with Google Play (GP) and Apple AppStore as the main service directions, and will provide more other well-known app stores at home and abroad in the future. The current data covers the five regions of the United States, China, Japan, South Korea, and Russia, and more countries will be covered in the future. Since its launch in September 2020, it has received strong support from app store developers. In terms of data, ASOTOOLS has collected 5 million+ data for IOS and Android, out of industry leadership.
Since the launch of ASOTools, it has always maintained the user first, and everything is based on the principle of solving user needs and improving user experience. Therefore, it has won the favor of many domestic developers. We will output more useful products in the future and truly solve keywords for every one problem. I believe that with our joint efforts, ASOTools will become more and more perfect.
Next, I will make a detailed functional comparison between Keyword Tool and ASOTools, mainly from the functional perspective, as shown in the following table:
| | | |
| --- | --- | --- |
| | Keyword Tool | ASOTools |
| Search Volume Data | ✅ | ✅ |
| Search Keyword | ✅ | ✅ |
| Competitor Keyword Analysis | ✅ | ✅ |
| Bulk Search Volume Analysis | Limited | Unlimited |
| API Requests / day | ✅ | developing... |
| Keyword Suggestions | ✅ | ✅ |
| Pricing | $69/$79/$159 | Free |
The above content is a detailed comparison of the Keyword Tool and ASOTools. If you have a tool you like more, you can recommend it to me. Many tools are good or bad, mainly because they can help us solve problems. Therefore, the above two tools have their own advantages, combined with your own needs, choose one to use, they can help you solve the problem.