The Best Aso Strategy in 2021 | Effectively Improve The Ranking of Your App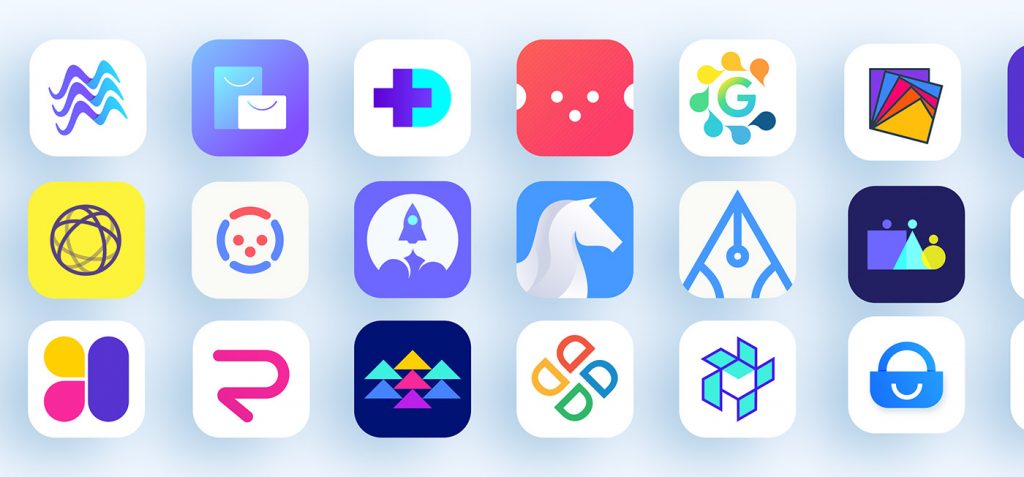 What is ASO?
ASO is short for "App Store Optimization". ASO (App Store Optimization) is the process of improving your APP's ranking in various APP store/market rankings and search results. This principle is similar to the optimization of a website for search engines, that is, SEO (Search Engine Optimization) optimization.
But in fact, ASO has a broader scope than SEO optimization, and ASO also includes optimization of non-search results such as "store application list", "apple recommendation" and so on.
The purpose of ASO
ASO is one of the methods of app promotion, and its goal is to acquire new users. According to the formula of Downloads = Exposure * Download Conversion Rate, ASO can be divided into two methods:
Increase the exposure of the app
Improve app download conversion rate
To achieve these two goals, we must first clarify the rules of the App Store, including the ranking and inclusion rules of each traffic entry. There is also the impact of the various metadata of the product in the App Store on the download conversion rate. The principle of ASO is to summarize and speculate the above rules and make corresponding optimization measures.
APP Metadata optimization strategy
App metadata includes icons, names, descriptions, downloads, keyword fields, and user comments. These are also important factors that affect the APP store algorithm.
Icon
The icon is the user's first impression, so if you want to increase the click-through rate of your app, optimizing Icon is the key.
The icon is different from a text description, it attracts users to click with a strong visual impact. Therefore, visual content is more important than text content, and more than 80% of the user's decision-making is dependent on human impulse. Icon must have the power to drive people's impulses.
(1) Concise
Don't add too many details, remember to highlight a feature, so that users can understand the meaning after seeing this Icon a few seconds. In addition, when the app is displayed on the mobile phone screen, the Icon will be displayed smaller, so the color should not be complicated. Don't add too many words or words to Icon, keep it simple and clear.
(2) Only existing brands can use the brand LOGO
If your app has developed to the brand stage, you can set the brand LOGO as your Icon. If it is a new app, don't do this. This will make users feel very confused.
(3) Choose the design effect according to the type of App
For example, for game apps, their icons can be rich and intense; while most tool apps tend to be minimalist…
(4) It is better to have a border
The border is suitable for all types of apps so that you can highlight your app characteristics from icons.
(5) Update your Icon
It is not difficult to find that many well-known apps will make a big fuss in their Icon during some specific programs or special time nodes, such as Christmas, Halloween, or Valentine's Day.
Customize and update your Icon according to different time periods to make it fit your theme, so that users have a sense of interaction. But it's best not to drastically change your Icon, keep the original features, and just add some details.
App Name
The application name is as important as the Icon. However, the application name improves the exposure, and the Icon improves the conversion rate. In the rules of the App Store, the title of the App also has a great influence on the algorithm. The application name is divided into a title and a subtitle.
(1) Have a memory point
On the premise of ensuring that the name reflects the usefulness of your app, take a little more thought and think that app names with memory points will become more and more famous as the app's exposure increases. It is not that the user remembers your icon, but does not remember your name.
(2) Keep the length short
Although the app name can use up to 255 characters, try to keep it at 11 characters so that it can be displayed comfortably on the iPhone.
(3) Use keywords
The use of relevant keywords in the title is extremely important. They can strongly improve the ranking of your APP. CP needs to enter 100 characters in the keyword field. This number is very small. However, adding keywords to your title will save you some space because you don't need to repeat them in the keyword column. The best keywords are those with high search and low competition.
(4) Localize your APP
If you plan to promote your app in countries with different languages, it is very important to localize your app. Because it is necessary for your potential users to understand you quickly, otherwise they will not even consider downloading your APP.
Although it will consume a lot of energy, I still strongly recommend that you localize your entire app. And never use the results of automatic translation. For each keyword, it is very important to choose the most optimized keyword. Automatic translation is often not accurate enough, and the rigid tone will affect the user's first impression of your app.
Please create your own name. Choosing a name similar to other apps is not a good thing. Although you know that many words are very popular and it is very attractive to use them, Apple strictly manages this phenomenon. Some apps are rejected or removed because their names are too similar to some well-known apps that already exist.
Search for keywords in ASOTools, and select suitable keywords according to the principle of high traffic and low difficulty.
App Description
(1) Pay attention to the first sentence of your description.
The application description is displayed on the application list page, describing what our application does, thereby improving user downloads.
It should be noted that when users see the app on the search result list page, they will see the first 30 characters of the app description (for iPhone). Therefore, the first sentence of the app description is usually the important thing that affects the user's click-through rate. One of the factors.
Go straight to the topic and use the most attractive resource introduction to increase user clicks.
(2) Make full use of your description
The text of the app description is limited to 4000 characters. Try to describe as many as possible. Use the keywords you choose repeatedly, and they should appear in obvious positions, but don't repeat them too much. It is best not to appear more than 5 times for a keyword.
(3) Typesetting your content diligently
Pay more attention to the layout of your description, and users don't want to see a lot of text without segmentation. Use subtitles, lists, and multiple paragraphs flexibly. Let your potential users see clear, content-rich descriptions.
(4) Add the results you have obtained
In the description, add your app's impressive downloads, number of users, best app rankings, best awards, press releases, and other famous apps you have created.
App Downloads
Although the Apple Store has been adjusting the ranking rules and algorithms of the AppStore, it still cannot be denied that the number of application downloads and activations is still a very important factor in ASO.
However, it should be noted that in the method of ASO by increasing the number of downloads, you still have to look at the real users and valid IDs.
Keyword Field
The keyword field includes the title and the Keywords section specified by the app store. The number of characters allowed in the Keywords section is 100. The weight of this part is second only to the app title.
If you have an excellent keyword plan, you will be able to cover more core keywords and at the same time bring more traffic. ASOTools can perform app keyword analysis for you for free.
User Comment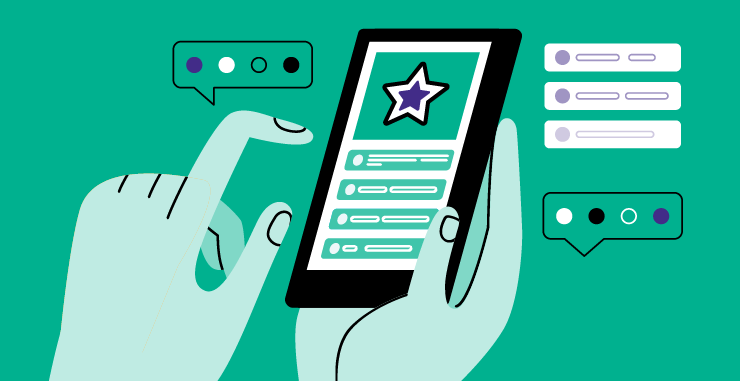 As the name implies, it is the user experience and ratings published after users download your app. Previously, user reviews had a great influence on App rankings, but with Apple's severe crackdown on the behavior of brushing the rankings, App downloads and the weight of user reviews have been lowered. But it still has an impact.
Therefore, improving the quality of the app and allowing users to spontaneously praise is the most correct ASO strategy.
How to improve the ranking of your app in 2021?
Monitor your competitors——Use ASOTools to view your competitors' apps.
2. As shown in the figure, ASOTools tracks the evaluation of each app, the changing trend of Google Volume, Downloads and Revenue, and the Top10 keywords of this app for you.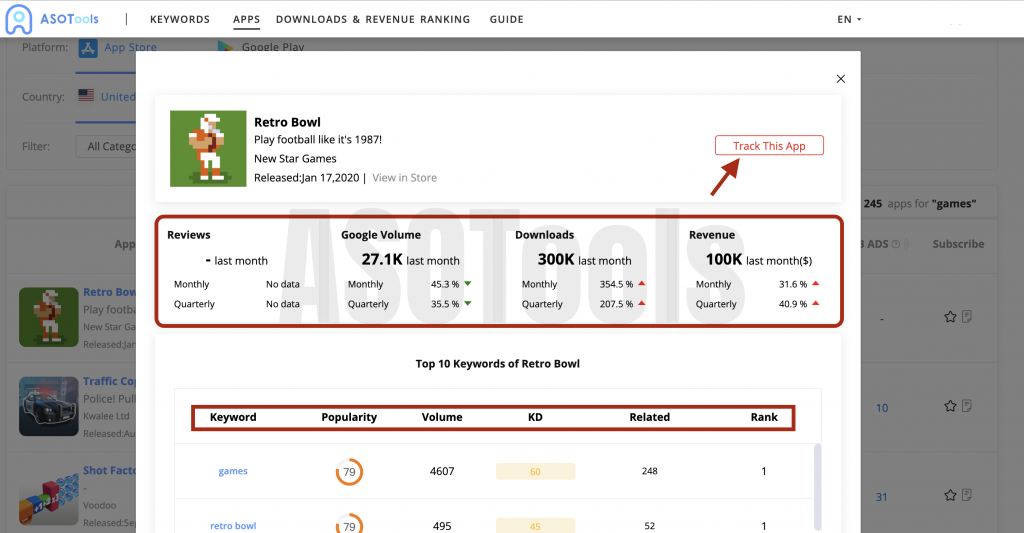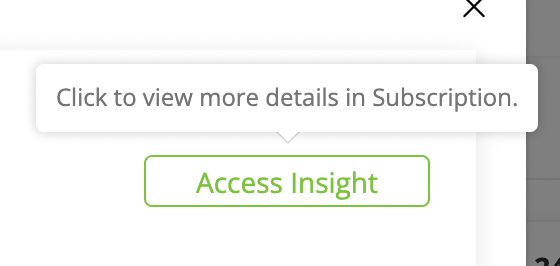 4. The button will change to "Access Insight", click again to enter the detailed data page.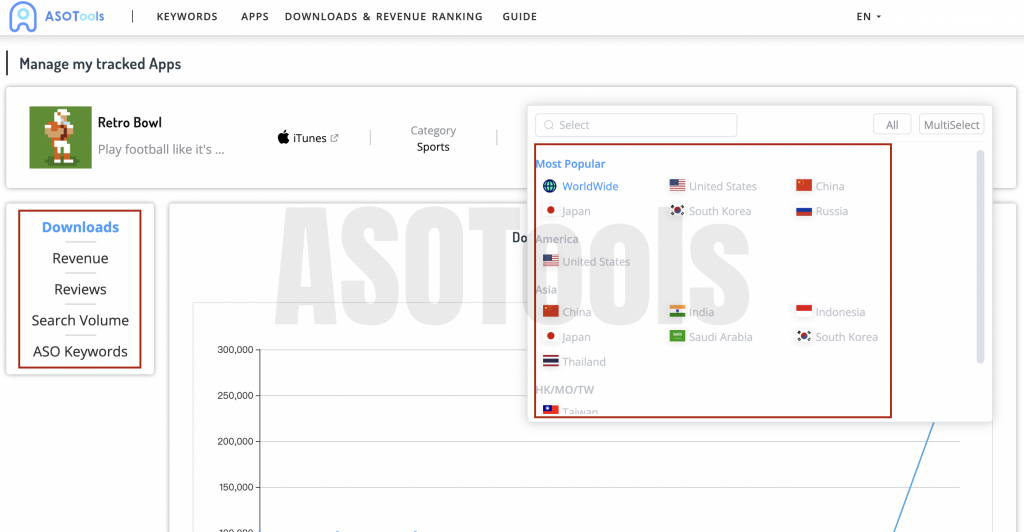 5. After entering the Spy List, ASOTools will show you the trend graph of downloads, income, evaluation, search traffic of this App, as well as a data list of all the keywords it uses. Different keywords have different popularity, traffic, KD, relevance and search rankings. Summarize these words and select keywords with high traffic and low competition for different apps.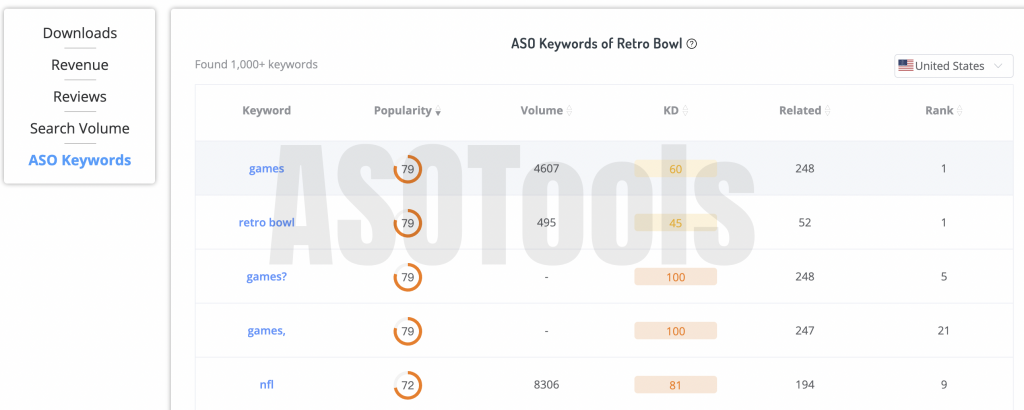 Carry out A/B test——Optimize the conversion rate of the material
A/B testing refers to a random experiment process in which two or more versions of variables (webpages, page elements, etc.) are displayed to different website visitor segments at the same time, or different materials are displayed for a fixed period of time before and after. Determine which version of the material leaves the most impact and drives business metrics. A/B test is a method often used in many industries because it is simple and effective.
For example, there are many screenshots and video materials of the App, and it is very likely that you may encounter the problem of not knowing which one to choose.
In essence, A/B testing eliminates all guesswork in website optimization and enables experience optimizers to make data-supported decisions.A/B testing is an integral part of the overall conversion rate optimization process, and you can use it to gather qualitative and quantitative user insights. You can further use the collected data to understand user behavior, participation rate, pain points, and even satisfaction with website features, including new features, improved page parts, etc. If you do not A/B test your website, then you are sure to lose a lot of potential business income.
Guarantee the high-quality creativity of the app——The premise of ASO
Although ASO is very useful, when your app content is not good enough to attract users, ASO will become useless.
This is also something that App developers should keep in mind at all times, to make the content of the app well and improve the user experience, which is more real than everything ASO does. ASO is just an auxiliary optimization method, it can only work on the premise that the app itself is excellent.
Promotion through external channels——Increase the visibility of the app
In addition to ASO, there are many channels for App promotion.
The website is the first indicator of the legitimacy of your business. In fact, users are very concerned about this. People want your app to be supported by companies, so build your website and display your app in an obvious place.
The website is the first indicator to prove the legitimacy of your business. In fact, users are very concerned about this. People want your app to be supported by companies, so build your website and display your app in an obvious place.
2. Build your brand IP on social media
It's the same thing as building a website. But creating a brand IP for social media can increase the visibility of your app to a greater extent. Often produce information, news, events, etc. related to your app in your account to activate your old users and activate your potential users.
Apple currently has launched search ads for the app store, which is a kind of paid advertising. Just like advertising on Facebook, YouTube, or Google, you can bid on relevant keywords so that when users search for apps using specific terms, your app will appear first.
According to statistics, the average conversion rate of Apple Search Ads is 50%, proving that they can have a huge impact on your app conversion rate.
4.Influencer/Celebrity endorsements
This is the mainstream of this era, and people with the right to speak on different platforms are all you can choose from. They can often bring you unexpected and obvious results. The premise is that you need to find people who match your app style to speak for you so that you can accurately activate potential users.
5. Traditional TV commercials
Although it is the Internet age, we can still see many App advertisements on TV and have good results. Please don't give up on this approach.
Conclusion
According to Statista data, since 2016, the number of global mobile app downloads has continued to increase, with more than 200 billion in 2019. In the most recently measured year, consumers downloaded 218 billion mobile apps to their connected devices, an increase of more than 50% over the 140.7 billion app downloads in 2016.
Statista also predicts that by 2025, mobile App revenue will exceed US$613 billion, including mobile games In all application categories, the revenue share is the largest. In 2020, games and videos will account for The largest share of the mobile content market. Although the COVID-19 pandemic has disrupted regular school system settings and led to an increase in application usage, the mobile content market in the electronic publishing and education sectors is still limited.
It is believed that the mobile application market will grow stronger in the future, and enterprises will have greater and greater demand for ASO.