The Ultimate Asodesk Review And Top 5 Alternatives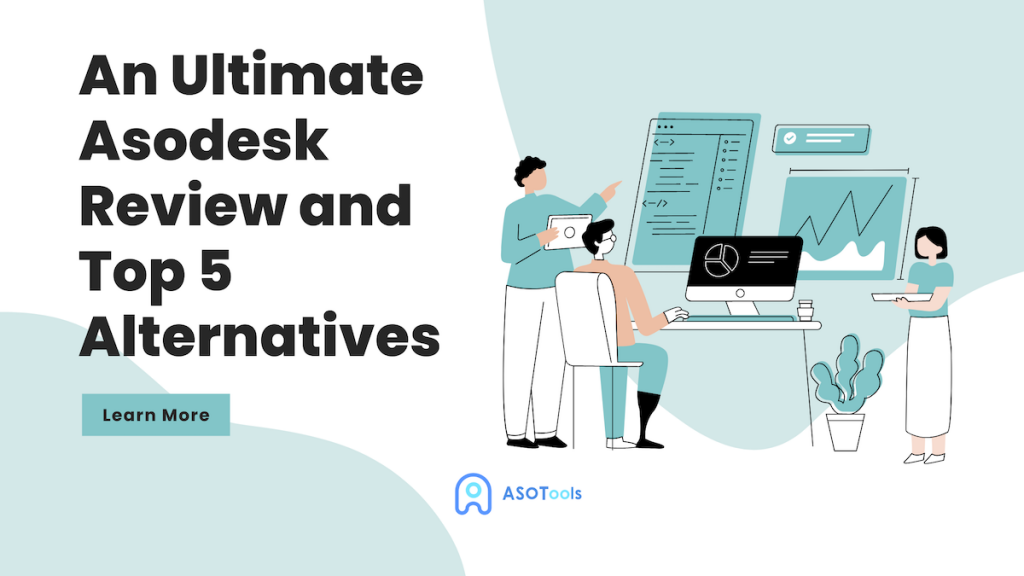 Latest improvements in technology have paved the way for App Store Optimization (ASO) during the last decade or so. The tools for optimization have increased by leaps and bounds in accordance with the number of apps out there.
Of the tools for ASO in the market, Asodesk has been standing out with amazing features offering organic traffic, great conversion rates, detailed keyword searches, and many more. As predicted, it is not the only one and has challenging competitors.
You will definitely benefit from this article a lot in terms of getting the full perspective on these specific market tools with pros and cons. Asodesk pricing will also be our concern in this regard. Moreover, you will explore the best Asodesk alternatives. Let's dive in.
What is Asodesk?
Asodesk is an ASO tool that comes with numerous great features. It basically offers customers one solution to boost their business dramatically. It really helps companies to increase their visibility in the app world depending on their plan.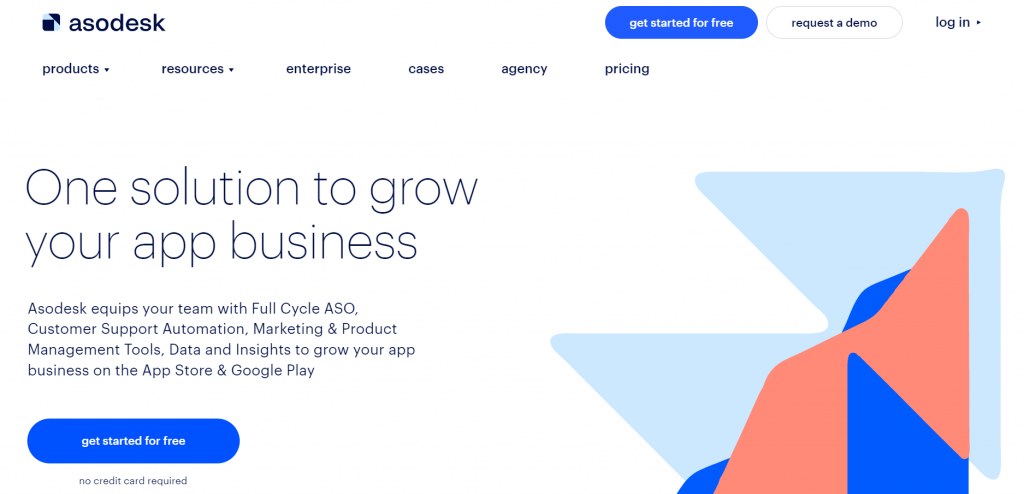 The tool has a really easy-to-follow website with a rating of 4.6 out of 5 among 40 users. You can see products, resources, enterprises, cases, services, and pricing in categories. Let's take a short look at some of them.
Products
Asodesk provides app and game developers with tons of products, each of which covers a part of ASO parameters. It helps them to focus their attention on the right ASO tools necessary to increase their visibility both on the App Store and Google Play.
Competitive research tools and analytics of app traffic resources are the next steps for developers to find all useful information about competitors and to create advanced traffic analysis of the application on both platforms.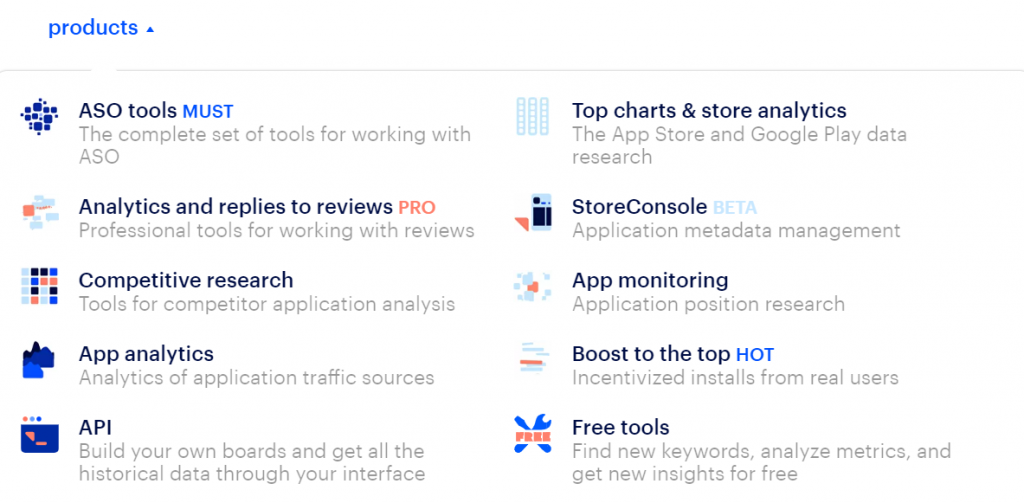 With the help of Store Analytics, app and game developers are getting to the top charts, discovering trendy apps and cutting-edge keywords on the platforms.
Last but not least, Asodesk enables users to boost their apps to the top and to access some free tools for finding the most popular keywords and apps that their competitors use for optimization in different languages as well.
It also has some app-growing services aimed at boosting your business. Four of them are the most popular ones, namely, ASO tools, Incentivized Traffic, Apple Ad Search and App Growth Audit.
Resources
In terms of learning how the system works on the platform, the website asodesk.com allows users to have a bunch of fruitful resources. They have access to blogs, webinars, help center, learning resources, hacks, and a variety of courses for free.
Cases
Visitors to the website also have an opportunity to take a look at the testimonials from real users. These reviews are from the managers or heads of well-known companies like LovePlanet, Aloha Mobile, Tinkoff and many more.
Bonus: Pros and Cons of Asodesk Analytics
Advantages
Store Analytics on asodesk.com gives a competitive edge over your competitors in terms of finding the best charts not only on the App Store but also on Google Play. Therefore, you will be able to see the bigger picture in the app and gaming market.
With the help of Asodesk analytics tools, you can make trending searches on the platforms. Plus, you have access to conversion rate benchmarks at hand. Having the data about top keywords is another benefit of this feature.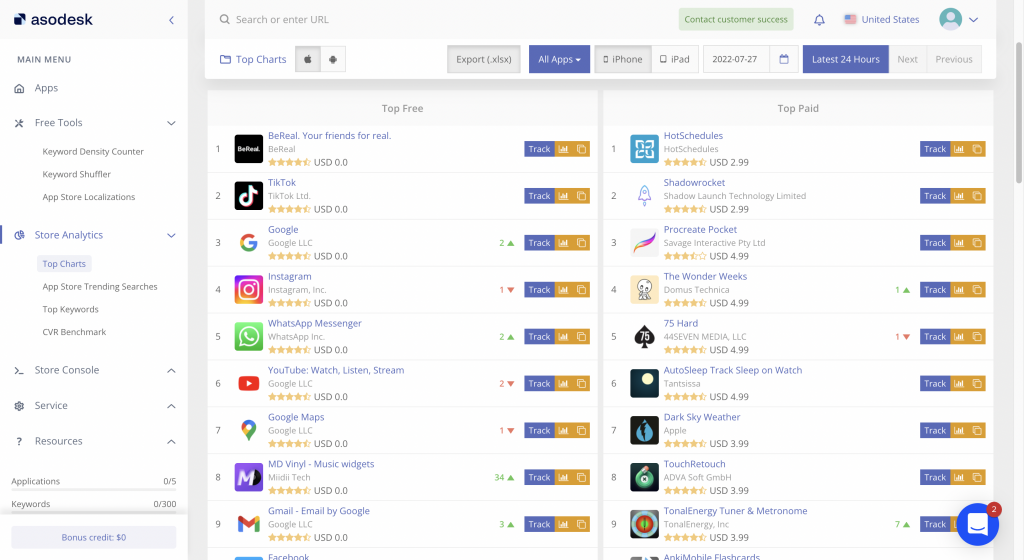 Disadvantages
As for the cons of it, users have limited data about all of the statistics of the analytics if they have a free plan. The statistics provided are only for a limited period of time. They are advised to upgrade their plan.
Asodesk Pricing
When it comes to pricing, the tool has paid options as well as Asodesk free trial version. It should be noted beforehand that pricing has monthly and yearly options. It is no wonder users pay 15% less on a yearly budget. Users can give the tool a try and start using Asodesk free version to get a general understanding of how it works with limited features both for monthly and yearly plans. They will definitely see the difference.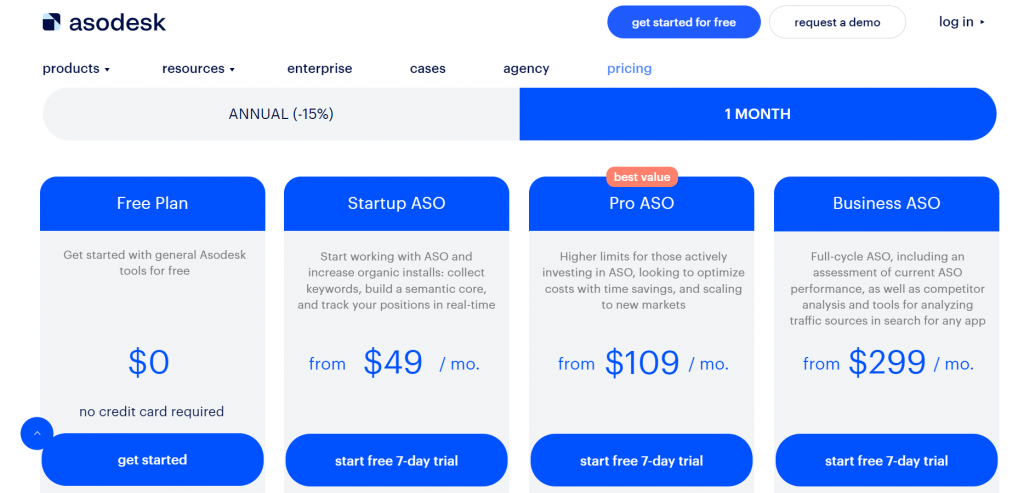 Paid versions for monthly plans start from $49, allowing users to use a limited number of keywords, apps, competitor apps, and teams. Depending on your budget, the price can go up to $299, which is a business plan.
As for yearly plans, with the 15% discount, startup plans begin from $41.6 per month. Users save nearly $16 every month if they pay yearly for the pro plan, which is normally $109. Of course, they are always welcome to use the Asodesk trial if it is too much.
Top 5 Asodesk Alternatives
Now that you have a lot of insights into how an ASO tool, especially Asodesk works, let's move on to the other key players in the app and gaming development world. We will look into the best alternatives to Asodesk with features and pricing.
ASOTools
ASOTools Features
This number one ASO and analysis tool is trusted by 16.000 registered developers across the globe. It has an amazing number of 50 million keywords and 6 million apps, and over 5 million updates daily as well.
This tool allows you to analyze competitors in detail and do keyword research thoroughly. You can get every detail about keywords so that you will know whether your rivals are using the trendy words or not.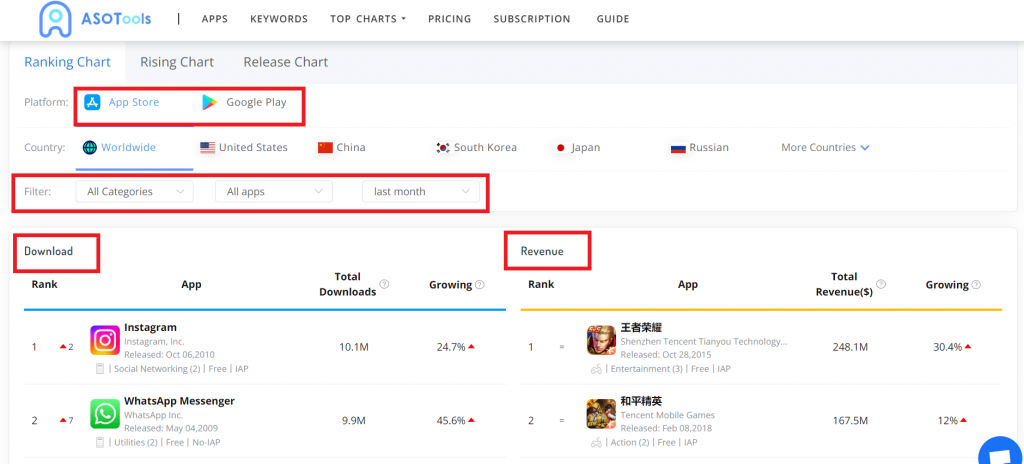 You are able to select App Store or Google Play to analyze apps. Furthermore, you can pick any country, app category, and time. Based on your selections, ASOTools gives you two lists:
Advantages of ASOTools
50 million keywords and a detailed analysis of them
6 million apps and updates them on a daily basis
Accurate models of downloads and revenue
Database of billions of app data points
Unlike Asodesk, ASOTools offers unlimited keyword research.
Full coverage of data analysis with more than 10 dimensions
Ad support through a more transparent system
ASOTools Pricing
As with most ASO tools, this tool has both free and premium plans. It has not only monthly but also yearly plans depending on the budget of users. With the free plan, users can experiment with a lot of features with limited numbers.
When it comes to monthly plans, ASOTools has four options:
Free
Basic: $9 Monthly
Pro: $99 Monthly
Business: $299 Monthly
There is a limited-time offer for basic and pro plans, allowing users to try it for three days for $1.
As for yearly plans, there is no free plan. For the paid versions, the most affordable pro version starts from $67. The business plan is $192 monthly. The VIP enterprise version is $10K yearly. You can get up to 36% off, which is great in the long run.
App Radar
App Radar Features
Another Asodesk alternative in the app and gaming development sector is App Radar. It helps companies like iTranslate to increase organic downloads and benefit from insights.
In terms of analyzing, it finds the top keywords for your app. Editing app store listings and implementing keywords are the steps to optimize the apps or games both on the App Store and Google Play.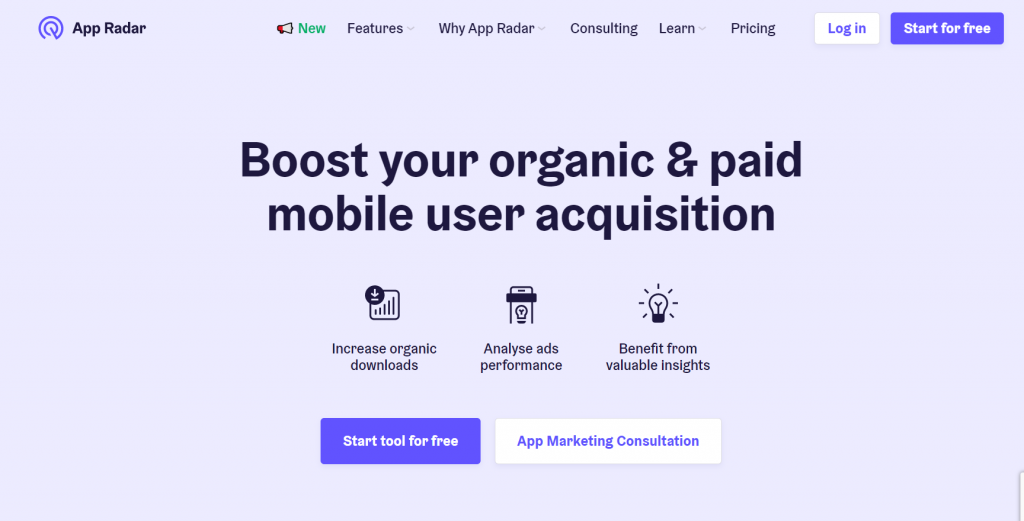 When it comes to monitoring ratings and reviews, replying to customer reviews and monitoring ratings for the apps are great outstanding features. For Apple Search Ads and Google Ads, data-based statistics are a great help.
App Radar Pricing
The tool has both free and paid plans. As for the monthly plans, the starter package starts from $49 and the prices go up to $490 monthly with the Consultation Plan.
The yearly plans offer two-month free options for each plan version. The tool also provides users with a seven-day free trial with premium plans, enabling them to see whether their plan fits the bill.
App Tweak
App Tweak Features
What makes this tool different from others is the partnership with world-famous giants like Amazon and Deezer. It was also awarded the ASO tool of the year 2021, giving it prominence in the market.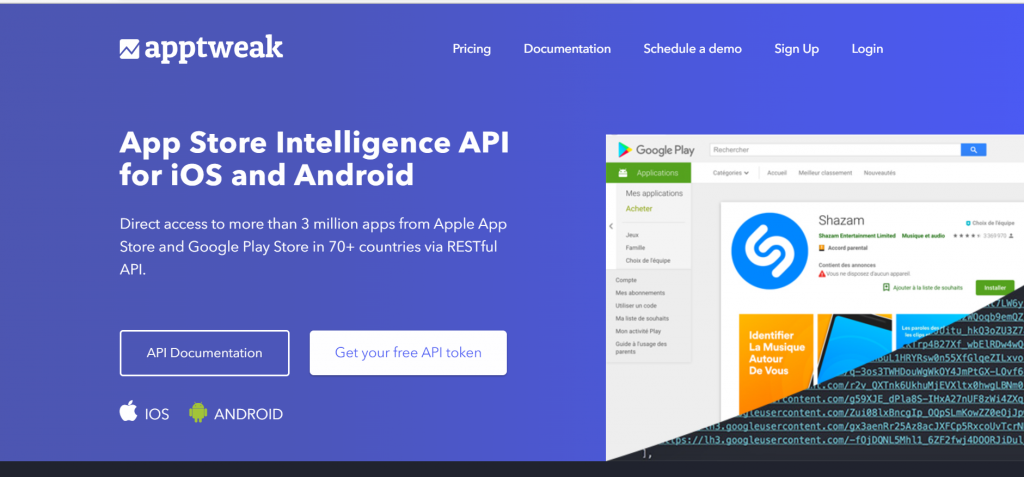 App Tweak runs on four intelligence dimensions. ASO intelligence gets the app to the top step by step. Ad intelligence helps create winning user acquisition strategies. App intelligence allows comparison across countries. Market intelligence is exactly for new opportunities.
App Tweak Pricing
There is no free plan on the website, but a free trial for seven days. Monthly plans start from $69 increasing up to $599, which can be a burden for small-scale businesses. As for the yearly plans, you save two months in the long run.
Sensor Tower
Sensor Tower Features
It is ideal for optimizing keyword strategies and analyzing competitors in the market. Sensor Tower, which is an ideal alternative to Asodesk, enables users to categorize the top publishers and the trendiest apps by country, revenue, downloads, and more on both platforms.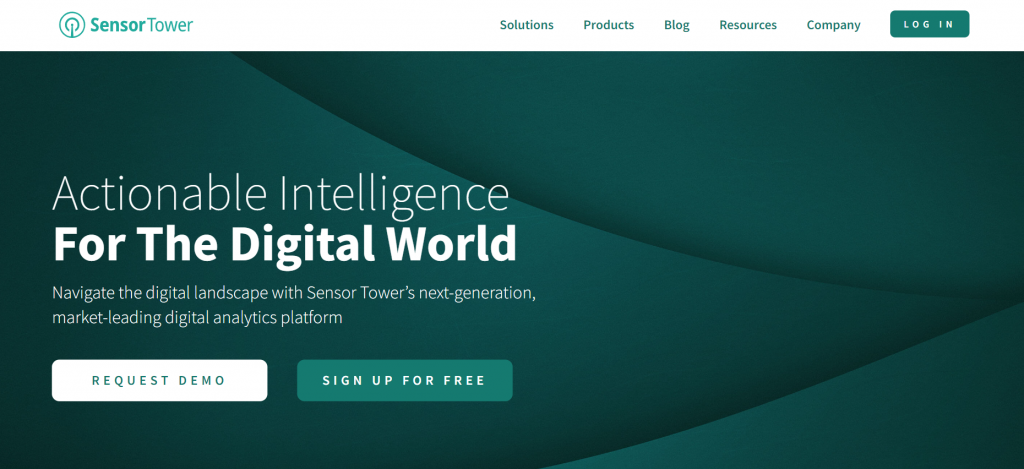 Another key feature of the tool is helping users with localization and translation issues, which is critical for an app or game developer wishing to go global. It will certainly help them get more traffic to their apps or games.
Sensor Tower Pricing
There is no information about the prices on the website since it offers custom plans for any company. You can request a demo and learn the price of every feature.
Mobile Action
Mobile Action Features
It is similar to the previous one, Sensor Tower, in terms of basic features offering great visibility and good conversion rates. It also has app and ASO intelligence features to make sure that it will provide users with a big keyword dataset, perfect for tracking and optimization.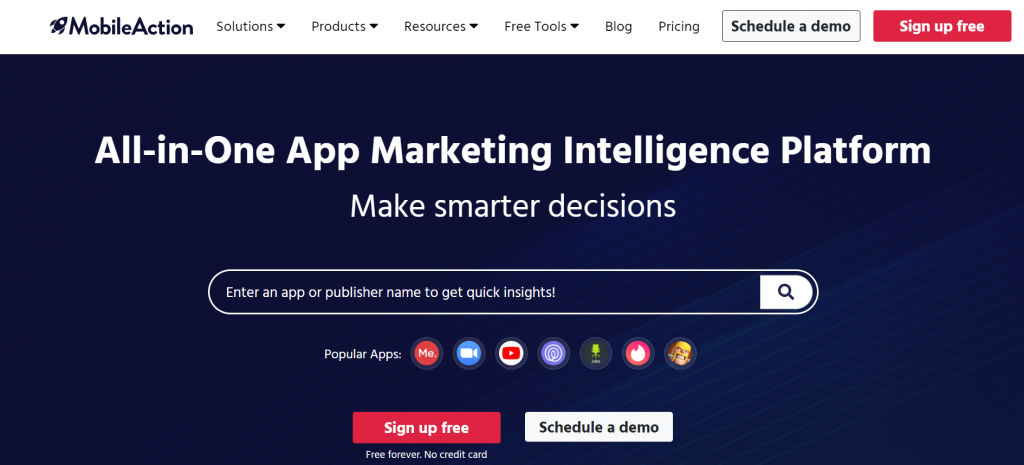 It also helps people with a vision to use marketing and advertising strategies through ads analysis. It allows them to analyze various networks and databases. Resources offered to visitors are a great help especially when they are stuck with the basics of the tool.
Mobile Action Pricing
It has three options when it comes to pricing plans, two of which are paid ones. The startup package starts from $49 monthly and with the growth plan users pay $299 per month. The third plan is forever free with limited access to basic products of the tool.
Conclusion
ASO tools have become really popular due to the need for improvement and more traffic for both apps and games. Asodesk, in this regard, has come to prominence through its distinct features in the market.
Key alternatives to the tool have also gained momentum because of the changing variables in the app and game designing community. Developers have had to adapt to the new dynamics and they have witnessed many advances in ASO tools.
Now it is the customers' call to choose the tool that best fits their interests and needs. Hope it will shed a light on making a smart decision:)
FAQs
Is Asodesk Free?
Yes, it has a free plan. Users can benefit from the parameters of one app and 9 competitor apps in 100 countries. The free plan also provides you with data of 200 keywords. Features like Keyword Density Counter and Keyword Shuffler are free as well.
Which One is Better: Asodesk VS ASOTools?
You should compare all features and determine the winner of Asodesk vs ASOTools based on your needs.
| | | |
| --- | --- | --- |
| Features | Asodesk | ASOTools |
| Keywords | 3000-7000 👎 | Unlimited👍 |
| Apps & Competitors | 15 apps and 135 competitor apps 👎 | Unlimited👍 |
| Search Ads Intelligence | ✅ | ❌ |
| Keyword Intelligence | ✅ | ✅ |
| Keyword Data | ✅ | ✅ |
| Keyword Ranking History | ✅ | ✅ |
| Competitors Keywords | ✅ | ✅ |
| Keyword Research | ✅ | ✅ |
| ASO Keyword Suggestion | ✅ | ✅ |
| Keyword Spy | ❌ | ✅ |
| Keyword Trends | ✅ | ✅ |
| Pricing | Free/$49/$109/$299 | Free/$9/$99/$299 |