How to Do App Store Optimization (ASO) for Mobile games (iOS and Google Play)?
With the development of the Internet, the number of apps is rising every year, and it is even more difficult to stand out among the many apps. According to the data report released by Statista, there were 342,011 apps in operation released worldwide in July 2020, of which the number of games was 957,390, accounting for about 27.99%.

Meanwhile, according to App Annie (2018), mobile games account for 74% of users' app spending on the Google Play Store and App Store. This means that due to the large number of competitors, reaching through ASO also adds a lot of hardship. Therefore, mobile games are the ideal place to test strategies compared to what has become the standard in all ASO guidelines. This article you can get the mobile game ASO tips you want.
1. What you need to know about Games ASO?
1.1 What is App Store Optimization (ASO)?
App Store Optimization, or ASO for short, is the process of using the App Store search and ranking rules to increase the number of search entries and ranking of search results. It is a promotion method to increase the exposure of the app and make it more likely to be searched or seen by users.
1.2 What is Games ASO?
Just like Search Engine Optimization (SEO) for websites, ASO is essential for mobile apps. ASO for games is not much different from regular App Store optimization in terms of meaning and operation. However, ASO for games is considered to be one of the most challenging tasks in ASO, as there are many new games appearing every day and the pressure to compete among similar products is greatly increased.
So, how to make your game stand out from the crowd? This brings another challenge to game developers.
1.3 Why do you need ASO for Games?
The distribution volume of App Store is mainly distributed by: search, listings, recommendation, and external traffic. From the perspective of "traffic", about 60% of the app downloads come from the app market, about 20-30% from advertising platforms, and about 10% from other sources. In the app market, downloads are mainly achieved through search. Compared with other channels, ASO is a more accurate source of users, and the search downloads can rise from 50%-200% compared to the pre-optimization, then you can see that ASO is an important source of traffic for apps.
Therefore, if your game is not optimized for ASO, you are missing out on the biggest app discovery channel. With millions of games in each app store competing with each other for rankings, most publishers are not investing in app store optimization. Nonetheless, ASO can still be the key to your success.
2. How to do ASO for Games
2.1 What elements are generally included in ASO?
Application Name
Keyword Tags
Application Description
Application icon
Application Screenshots and Videos
User Reviews
Download Activations
Active Users
User Retention
Data of Social Sharing
2.2 What are the special points to note in the ASO of the game?
Of the 10 factors included in aso, we only need to pay special attention to the following 5 points when we make the game aso: application name, application description, number of installs, ratings and reviews, and regular updates.
People in the App Store game optimization this industry know that once the app reaches a certain stability, it is difficult to continue to expand the user. When we go to use ASO, its purpose is all to break the current stable state to get a boost. And these 5 tips need special attention to improve, for the game has reached the above stability is very useful.
1) Application Name
In ASO, the app name is one of the most important ranking factors. If your app name clearly represents what your app does or the basic idea behind it, then the app will show up higher in search results due to increased exposure and thus increased downloads. On the App Store, your app name can be 30 characters, while on Google Play it is 50 characters.
2) Application Description
In the App Store, to get more downloads, you need a more precise and better matching app description to the user's search intent, which requires including relevant keywords in the description. How well your keywords match what users are searching for determines, to some extent, the more competition and opportunities you will have.
Use ASOTools' keyword suggestions to identify popular keyword combinations that others may have missed. In the example below about writing "shooting games", we get the following autocomplete suggestions. Also, in the ASOTools "matched keyword" screen, you can also see the applications associated with the keyword, which can be used as a reference for your application description.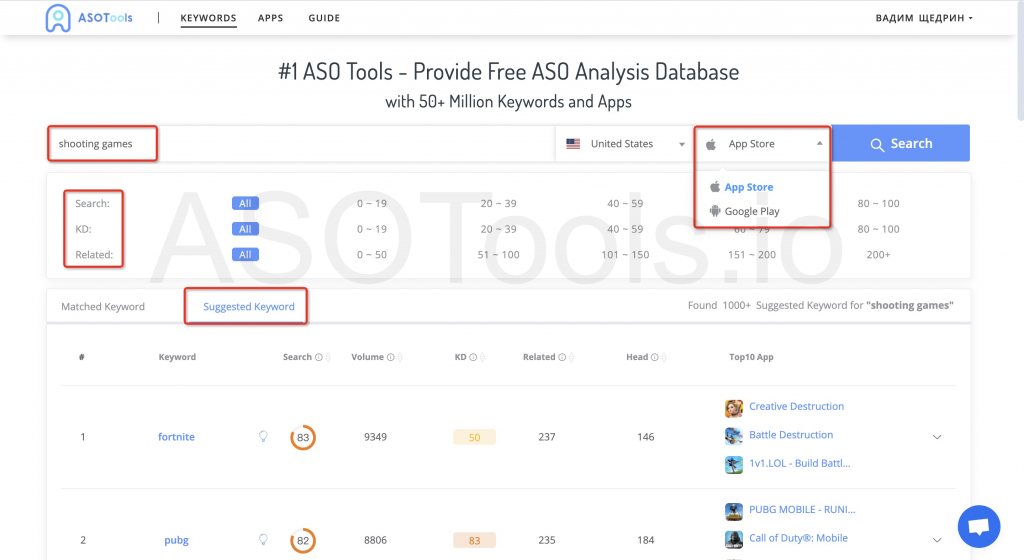 3) Number of installs
Number of installs is a major component of ranking well in any app store. The initial boost can be obtained through PR, followed by constant ASO. you can do some PR activities to quickly increase your downloads, this download spike will result in high rankings in a short period of time, and then regularly optimize metadata and assets to keep your downloads at least at a constant level.
4) Ratings and Reviews
For both stores, having good ratings and reviews will have a positive impact on the search results for your app. For Google Play, it's even more important than the iOS App Store because Google even scans for keywords in the reviews. Therefore, the more descriptive reviews you have, the better off you are.
The App Store has another advantage: if your game doesn't have good reviews and you think you can improve it by fixing some bugs or introducing new updates, then you can reset the reviews by releasing a new version and starting from scratch. This method is more effective in the initial stages of mobile game releases. However, once your app has started to get some initial positive reviews, then this method doesn't work and keeping those good reviews is more effective than resetting them. You can choose which method to use depending on your own specific situation.
5) Regular updates
Applications that are updated frequently have more and better reviews, which in turn provides better rankings. Updates not only have a positive impact on ranking factors, but also provide room to fix bugs and stay on top. Especially in the App Store, when your existing user base updates your app, it gives you a short-term boost in the rankings.
2.3 How to do App Store Optimization (ASO) for Mobile games?
1) Keyword Optimization
In some ways, the App Store's app discovery algorithm is still very primitive and relies on keywords found in the app title, description, subtitles and keyword fields, so game keywords need to be precise and well-matched.
But how to do keyword optimization? This can be done with the help of app store keyword research tools (such as ASOTools) or Google Adwords Keyword Planner, for example. Researching keywords is only the first step. In addition to keyword selection, you need to monitor your competitors' keyword variations, check app reviews, and use the App Store and Google Play's autocomplete feature to find less popular but relevant keywords to enrich your exposure points.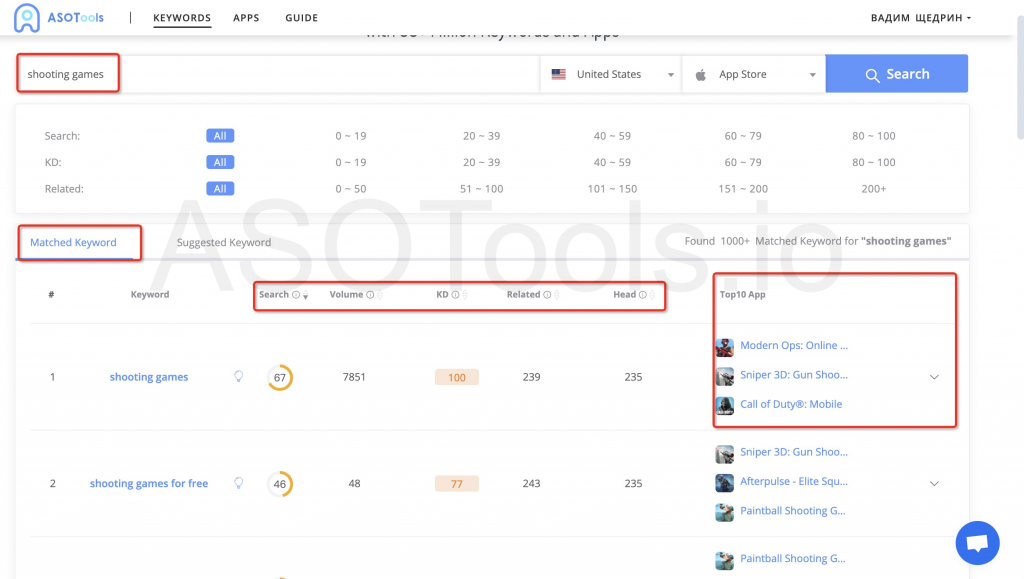 2) Description optimization
In the previous article, we mentioned the content of "application description" when we wrote the key points to pay attention to the ASO of the game. In fact, there is not much difference with keyword optimization, but in addition to keywords, screenshots and videos of the game are also very important.
3) Competitor's research
Competitors are always the best reference.
4) Application localization and internationalization
Just as the keywords are to do the differentiation competition, the localization and internationalization of the application is also very important. The application faces different user groups in different countries, and their concerns are different. It is necessary to optimize keywords, descriptions, versions, etc. according to the qualities of regional users, which is a better experience for the users.
3. Conclusion
So how do you do App Store Optimization (ASO) for mobile games (iOS and Google Play)? Keep these five key points in mind: app name, app description, app description, number of installs, ratings and reviews, and regular updates.
Of course, the above tips are not applicable in all cases. In some cases I can use these tips to get results, but in some cases they don't work. It's a matter of experimentation and risk-taking, and an important part of the ASO effort.
ASO is a long-term process in which techniques and tools are equally important. Keyword tools I highly recommend ASOTools. When you do app name optimization and app description optimization, you can use this tool ASOTools to do keyword filtering.