what app store optimization services should we provide?
As we all know, there are two ways to get more downloads in App marketing, one is through advertising, the other is application store optimization, both of which are carried out at the same time, in this article, we will focus on ASO.
ASO (App store optimization) aims to improve App application visibility in App stores and increase application conversion rate. At present, the two major App stores in the market are Apple's App Store and Android's Google Play respectively. In addition to improving the ranking of apps in App Store search results, another key point of ASO is click-through rate (CTR).
Therefore, your core service is: after people find the App, keep them clicking to enter your App page and download it. Key points in this process: Application name, application title, application icon, application screenshot, application rating and comments.
App Store Optimization Services
Most of the time, when you receive an ASO task, you may not know how to start. I can clearly tell you to start from the following 11 directions, will you be so confused. In this article, we also discuss and learn from these aspects.
1.Establish a clear App Store optimization strategy
2.Know how to do keyword research for your mobile app
3.How artificial intelligence helps keyword research
4.Choose the correct name, app name, or list of titles for your app
5.Write your application description
6.Pass A/B test to get the correct application icon
7.Prepare screenshots and videos of the app
8.Application list and localization
9.App ratings and reviews
10How to get app reviews?
1. Establish a clear App Store optimization strategy
Before establishing a clear optimization strategy, you need to set up an ASO optimization plan first. You must have a clear task list in the content of this plan. First, you must have a clear understanding of the market, understand the competition degree of similar competing products in the current market. Then you need to know your users and what keywords they like to search? What language do they use? Where are they? Wait.
When you write your goals and plans very clearly, you will know how to do it, let your users like your App, and download and use them.
2.Know how to do keyword research for your mobile app
Remember that keywords are words or phrases that people use to search for applications in the App Store and Google Play. This work has always been my most concerned and important work because I think the research of keywords is the core work of ASO. To make a clear plan of keywords, you should make a form well, classify the keywords you studied, such:
Which are functional keywords?
Which are action keywords?
Which are emotional keywords?
Which are descriptive keywords?
Classify keywords similarly, and count their search volume and difficulty for selection. In addition, when doing research on keywords, you need to consider several issues:
What are the main functions of your application or game?
What are synonyms for describing these features?
What is a similar application?
What is your application category?
What terms do people usually use in this category?
Research keywords is a cyclic process. In the beginning, it is best to determine your core keywords. There are many keyword research tools in the market, ASOTools is one of them. It provides keyword research in Apple App Store and Google Play stores, searching for relevant keywords, ASOTools will provide some potential keyword suggestions based on AI intelligent algorithms.
3.How artificial intelligence helps keyword research
You may say that studying keywords is slow and a waste of time, making you give up App Store Optimization. Indeed, keyword research is a very complicated work. ASOTools provides an artificial intelligence keyword recommendation function. You only need to search for some corresponding keywords, and it will follow your ideas, I recommend more keywords to you.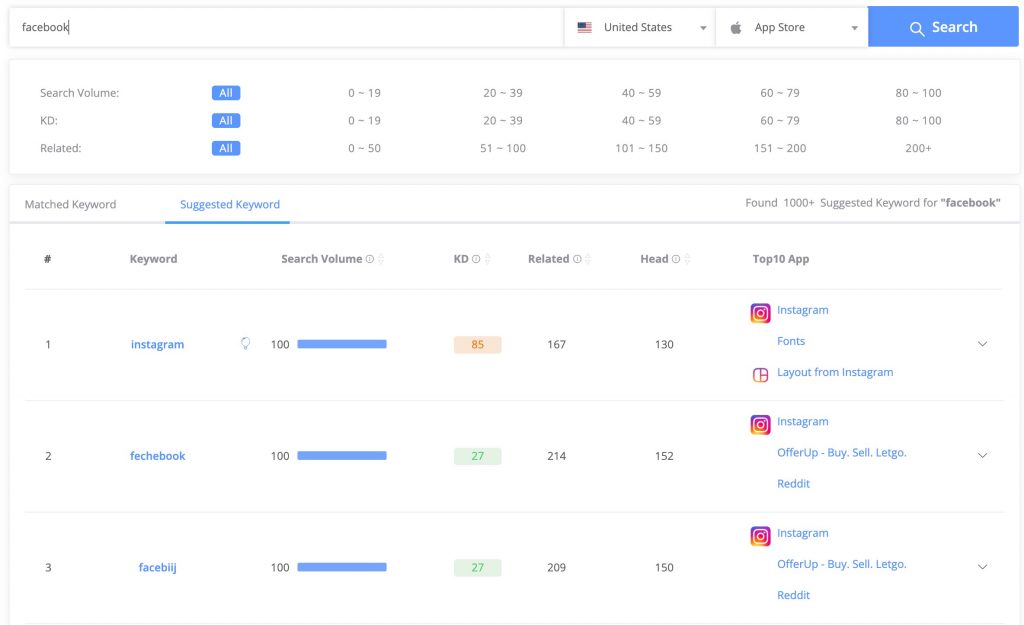 4.Choose the correct name, app name, or list of titles for your app
Needless to say, everyone knows the importance of the App name. Therefore, make sure that the name is related to your App, and that users can be attracted by it after reading it, so that users can remember it quickly, in turn, your App has higher recognition value. When designing the correct App name, you need to pay attention to these points:
The name in the Apple App Store cannot exceed 30 characters in length, and the name in Google play cannot exceed 50 characters in length.
Please put the determined core keywords in the name, which has the highest-ranking weight.
Closely related to your App, highlighting value points.
Very easy for users to read
It is very unique and looks different from others.
5.Write your application description
The description is an important part of App information, which helps users understand the basic information and functions of App.
The description has a lot to do with the ranking of App. At least it is the key factor for keywords to participate in the ranking in Google. However, the keywords in the description of Apple do not participate in the ranking, however, this does not mean that it is not important. We need to do the following:
Comprehensive information to make users understand as much as possible
Don't be too complicated, make it easy for users to understand
The content has a clear structure and is described with bullets as much as possible.
Design keywords in the content
Up to 4000 characters
6.Pass A/B test to get the correct application icon
App Icon is a very important place. The first thing users see is App Icon and name. Whether they can be attracted visually is crucial. Therefore, when designing icons, we should consider from what perspective to convey them to users. If your App has fun games, how should you express them?
There is a saying: Simplicity is beauty. Don't design too complicated elements in icons, which makes it easy for people to get features. Usually, we will involve at least 3 icons, and then use AB to test the effect of that icon. The process of testing the icon is as follows:
Learn the icon design style of peer App to brainstorm
Design icons and multiple variants
Perform AB test
Evaluate test results
Perform subsequent tests
7.Prepare screenshots and videos of the app
After attracting users to your application page, you must persuade them to download it. Although screenshots and videos may not directly affect your application ranking, they play an important role in optimizing conversion rates-a factor in app store optimization.
Application screenshots and videos give you the opportunity to demonstrate the functions of applications or mobile games. Use them to demonstrate the best features of an application.
In fact, about 50% of people make download decisions based on their first impressions. Therefore, you need to pay close attention to how to design visual effects.
For screenshots, you can choose between vertical and horizontal layouts. This means that you can decide whether to take a vertical screenshot or a horizontal screenshot. The direction of the screenshot should always follow the way the user uses the application.
8.Application list and localization
Now that you have prepared the application list and visual effects, it is time to proceed to the next step. You may have finished all these tasks in English, thinking that everyone is looking for English applications, right?
Well, this is not entirely correct.
If you want to promote your applications or games to the world, you must adjust them to attract the target geographic market. This special approach is called localization. This does not mean that you have to start from scratch. You can use existing metadata, keywords, or screenshots and translate them into other languages.
9.App ratings and reviews
User feedback is an indispensable part of App Store Optimization. Both stores considered comments and commented on the user's vacation for your application.
The better your score is, the more relevant your application is and the higher its ranking is.
In addition, 80% of mobile users read at least one comment before downloading the application. Therefore, it is also important to reply to comments. Potential users like to see developers who care about user feedback and consider user function requests.
10.How to get app reviews?
If users like or hate an App, they often leave a comment under the App. The comment is a very clear factor that affects App ranking. Therefore, when conducting ASO, we add comments in the following ways:
Give a timely reply to every comment and mark the time.
Reward users in the App to give praise to the App
Simplify the comment process as much as possible
App Store Optimization service contains a lot of content, each step needs to be planned and is a continuous time-consuming process. And I think the core of ASO is to study keywords and make a clear list of keywords.
More downloads bring greater visibility-greater visibility brings more downloads, which complement each other. However, it often takes endless time and money to do ASO, so the value of only big data analysis tools is particularly important, and ASOTools is solving such problems for you.