Best 10 practical tips for app store keywords research
The Problem We Are Facing
Finally, your application is online and can be downloaded on Apple App Store and Google Play. It looks great. One of the problems we are facing: your application cannot be seen in the search results of the App store, it is submerged by other applications, and potential users are robbed by other applications.
The second problem: your application is seen in the search results, but still has no downloads, and other applications have preempted users.
We have to change this terrible situation. We all know that about 70% of users come from search, whether Apple App Store or Google Play. Therefore, we need to formulate a complete keyword plan, to increase the download volume of our applications.
10 practical tips for keywords research
ASO is the simplest and most effective way to help users find your products. In many aspects, ASO is no different from search engine optimization (SEO). It needs to focus on research keywords, which are equally important to applications. I have summarized the actual combat skills of the following 10 research keywords.
App Store Keywords Research Tools
Tools are the ladder to help us to succeed, but it is often easy to be ignored by you. At present, there are many tools for keyword research in the market, and there are three requirements for selecting tools: one is to provide intuitive search volume data; The other is to have data guidance on the degree of competition of keywords; The third is to collect enough keyword data.
If you have a budget to buy such tools, it must be very good, such as AppAnnie and SenSorTower are good choices. The keyword research department tool I chose is ASOTools, which fully meets the three requirements mentioned above.
For example, I used the core word "games" to expand keywords, and its difficulty reached 62, which was quite competitive; The search volume in Apple App Store reached 9865.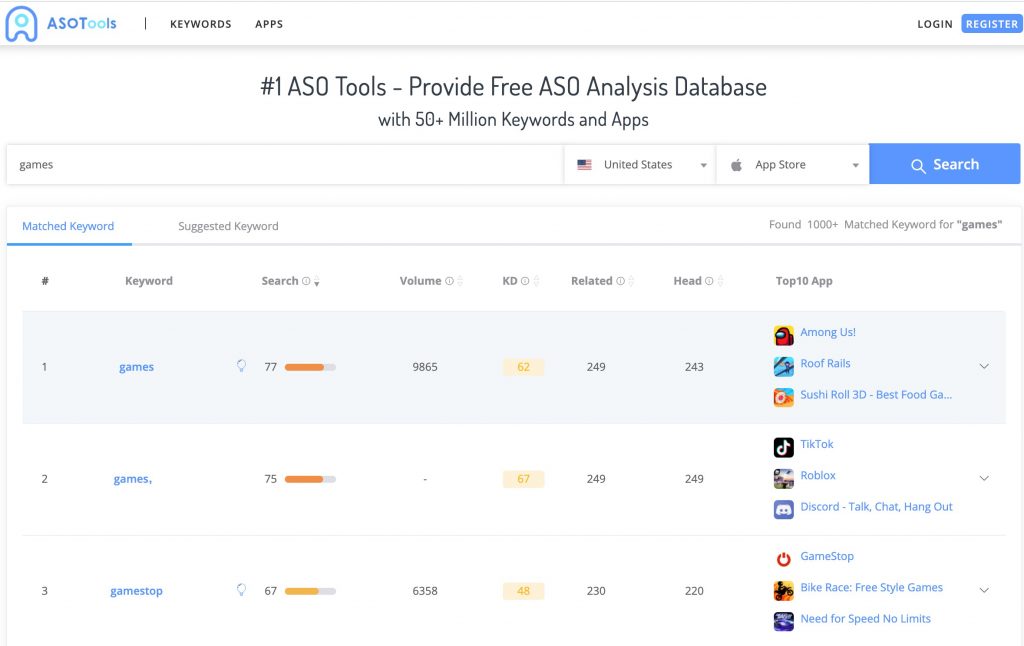 Prepare Core Keywords
Before conducting keyword research, we need a job to identify the core keywords that we need to expand. It is helpful for us to expand long-tail words more comprehensively. We have two practical methods:
I believe that you are a very imaginative person. If so, that's great. With your understanding of products and audience users, you can record all the core keywords that you can think of. This process requires you to know enough about your App products, and have enough knowledge of your users. So you need to ask yourself a question:
Who are my users?
What will they search?
What do they like?
If you lack inspiration, it doesn't matter, this method is also very good, that is, through keyword research tools, find your competitor's App, directly search for the App name, view the Top 10 keywords, extract keywords respectively.
Classify Keywords
After you have identified the core keywords, you also need to create a table or Excel to classify different keywords, which is very helpful to fully cover the user's search scenarios, such: you can classify keywords into action, function, emotion, Q & A, region, etc,
| | | | | |
| --- | --- | --- | --- | --- |
| QuestionKeywords | UserKeywords | The actionKeywords | FunctionKeywords | The locationKeywords |
| Question keywords describe why users search for applications. | User Keywords represent the role your target audience plays when using the application. | The action keyword specifies how to handle your application and use it. | Function keywords are basic functions of an application. | The location keyword describes where people use your application. |
Use Tools to Expand Core Keywords
This step requires enough perseverance and patience and takes a lot of time. Expand the core keywords you have selected. Remember to expand the long tail words with each keyword input tool, export them, and sort them from high to low traffic, take the top 100 keywords and enter your core keywords one by one.
Choose the Top 100 Keywords
After you query all the core words, you will get many long-tail keywords. Next, you need to merge them into a table and rank them in descending order according to the search volume, this process requires some basic Excel ranking algorithms. If you don't know, I suggest you search on google and learn from it.
Take the top 100 words that have been sorted. Yes, these 100 words are the words you need. When writing product page information later, these words are the objects you need to use.
Match Search Intent
Sometimes, not every word matches our users' search intentions. Therefore, we need to filter keywords to filter out accurate and high-traffic keywords, there are two ways we can filter. One way is through our own understanding of this keyword, through our own subjective consciousness and understanding of products, determine whether the word is searched by potential users.
The other method is the simplest. You can directly search for keywords in the App Store. If the results are all other apps, it is not related to your App, then such words are not what you want.
Identify Phased Core Keywords
After the preceding practical steps, you will get a lot of precise keywords. Of course, some of them have a large search traffic and the corresponding difficulty is also very large, this requires us to formulate a standard for further screening to facilitate the selection of core keywords. For example, the standard I often set is that the search volume is above 4065 and the difficulty is below 30. In this way, I can find the core keyword I want most and regard it as the core direction of the first stage (one month, two months, three months) optimization.
Use Keywords
Product page information is very important. This is also the place where you design the core keywords. Everyone knows that no matter Google play or Apple App Store, the title and description undoubtedly have the largest weight. Therefore, what you need to do now is to apply the keywords summarized from the analysis to the product information, provided that the reading is natural and smooth.
Then you may say that I still have a lot of keywords that I haven't used. It doesn't matter. You can prepare the comments, apply the keywords, and keep the sentences smooth, at the same time, speak in the user's tone, and then ask your friends for help at different times to comment according to the comment copy you provided, because the official will use comments to participate in the ranking.
Testing requires us to have enough patience and information to complete each step. Therefore, when preparing product information, such as App name, description, and App Icon, we need to prepare at least three pieces of content so that the best combination can be tested soon.
Remember, stick to it and repeat it.
Update potential keywords
After we complete the phased optimization work, please do not stop it, but it does not end. Repeat the above steps to carry out the ASO optimization work in the next stage, and update and supplement potential keywords. Because the market is changing, users are changing, and the competition degree of different keywords is also changing, you need to follow the changes.
Thought
Please remember, don't neglect the research work of application store keywords. Although it can't see the effect in the short term, it will give you great refinement in the long run. Although it is complicated and time-consuming, it will allow you to maintain and have enough patience and perseverance to overcome difficulties.