ASO for Games: Keyword is The Most Important
What is ASO for games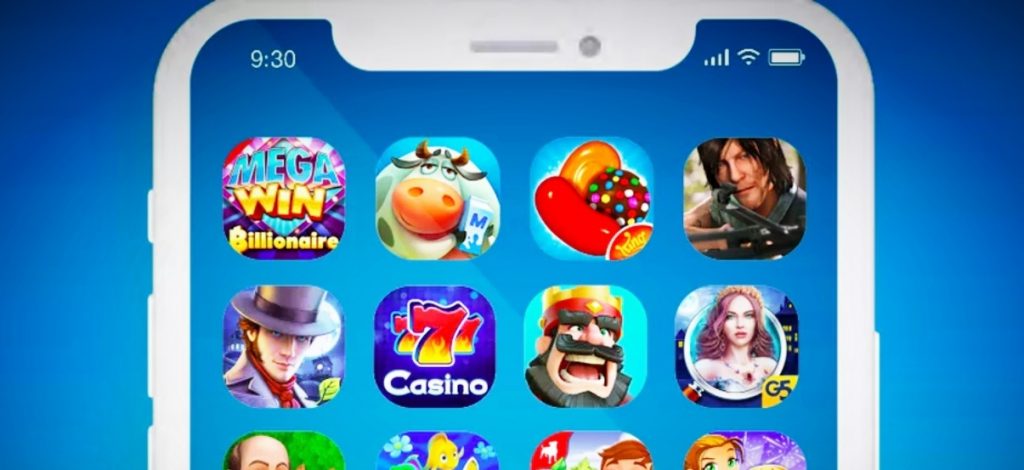 ASO is what we often call App Store Optimization. ASO for games is actually not much different from what we often call ASO. However, as a large number of games appear in ASO stores every day, the competition of ASO for games has become more and more concerned.
Why keywords are important in game ASO
The vast majority of apps are discovered by users searching in the app store. The picture below clearly reflects: App store search is the preferred method of finding new apps (picture from Forrester). Therefore, if your game is not optimized for ASO, you are missing the best quality application discovery channel.
Every app store has millions of games competing for top rankings. However, most publishers have not invested in app store optimization. Therefore, ASO is really a crucial step for your game to succeed.
Tip of optimizing game ASO keywords
Keywords in title and description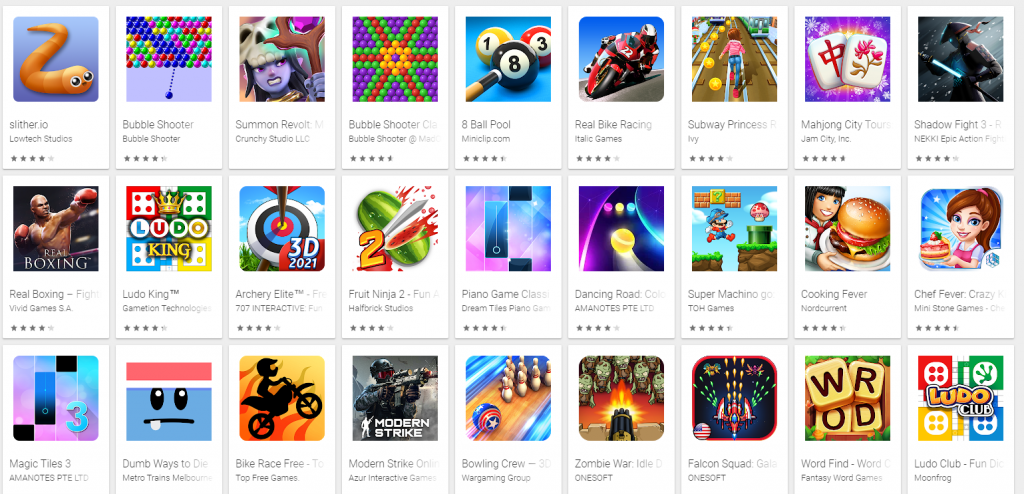 Before deciding on the name of your game, you must understand its meaning in the store, its limitations, and its impact. The app name is the most important field, and there is also a subtitle field. The title of the application not only plays a vital role in the index of the user in the store, but also is the first source of information for the target user. Because the description of the application is not easy to find in any store, the name of the application should let users instantly understand what type of game your game is. Not many visitors will spend a lot of time on the store detail page, so the app's usability and relevance are judged by its title, icon, and screenshots.
Another point to consider is that the App Store provides a keyword field where you can put in the keywords relevant to your game. Now to use this strategically, you must not repeat the keywords you have already put in the title field. Instead, target new keywords to get the maximum results. Talking about Play Store, Google analyses your overall app page to find keywords that you should rank for. But the topmost keywords found in the title, are considered most important.
Another point to consider is that the App Store also provides a keyword field where you can add keywords related to your game. In order to use this field more strategically, try not to repeat keywords that have already appeared in the title field. Instead, new keywords are used for maximum effect. For Google Play Store, Google analyzes your app detail page to find out which keywords you should focus on ranking. But the topmost keywords found in the title, are considered most important.
The title of your game should be unique, descriptive and clear. It shouldn't be copied or influenced by competitors but have its own brand value.
Keywords in Screenshots
Everyone who works in related categories will know the information in the screenshots have a pattern. Give a few simple examples: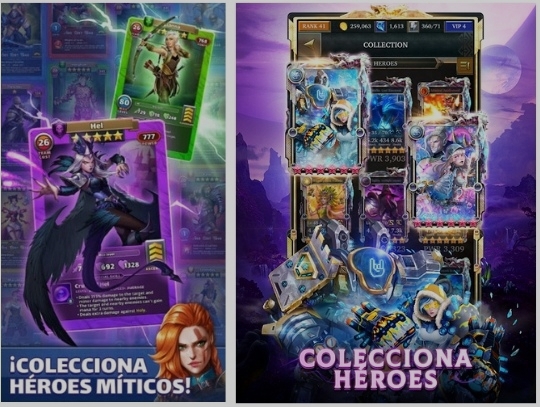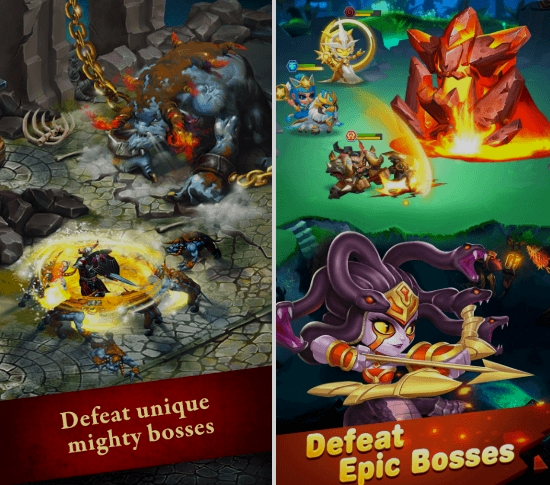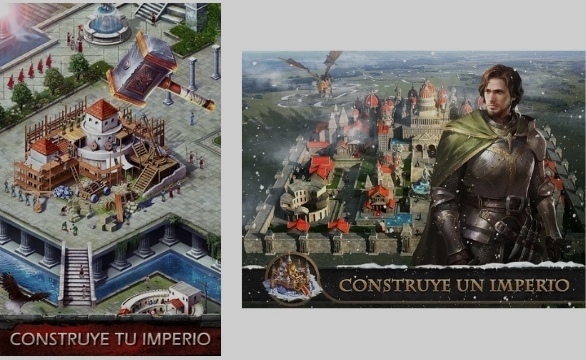 And the same goes for the rest of screenshots: "play in real time", "epic battles", "explore incredible worlds'… In addition to the veracity of this information, there is another part that is usually overlooked because people think it is impossible——could these applications rank based on these keywords?
You can do a test, and the result is successful: Put a low-traffic keyword in the screenshot. This keyword appears in the application details, except for pictures, in no other places (including user reviews). Low flow rates are important because the results obtained in this case are more obvious. After the keyword is deleted, sales will rise immediately and have been maintained. This reaction may be strange, but it is a new way to try and explore.
Keywords in user reviews
Facts have proved that the number of user reviews affects the rank for keywords. It may be difficult to control reviews, but it is not impossible.
We can achieve the purpose of increasing the weight of keywords by allowing users to write reviews using keywords. To do this, you should ask the developer for help, because some content of our game needs to be changed.
Change the name of in-app purchases in the game
Try using an interesting keyword for your app in some of the in-apps that your loyal users buy the most. Instead of "Basic Pack" why don't you try changing it to "Heroes Arena Pack" or "Advanced Pack" to "Epic Heroes Pack"? Besides from being an influent ASO factor, we can make that the user writes the name of the pack if s/he has to write a review. This will help you to rank for those keywords.
Change the name of the levels of your game
Sometimes there are bugs in our apps and, instantly, a horde of furious users appear complaining and leaving bad ratings. Make the most of this situation by placing keywords on different levels of our game, so they will name it either if they love it or hate it. Try changing the name of your level 15 "skull mission" to "1001 shots mission". That way we'll have a keyword that will be repeated in reviews.
Conclusion
So how to find high-quality ASO keywords? Through ASOTools, we can filter out the target keywords:
①For example, my game belongs to the chess and card category, search Chess in the search box, and the result will be displayed;
② Sort by KD from small to large;
③Filter out keywords with search scores between 40 and 59.
The result came out, chess timer is an ASO keyword with medium search volume but very low difficulty. It can be used as our target keyword for ASO.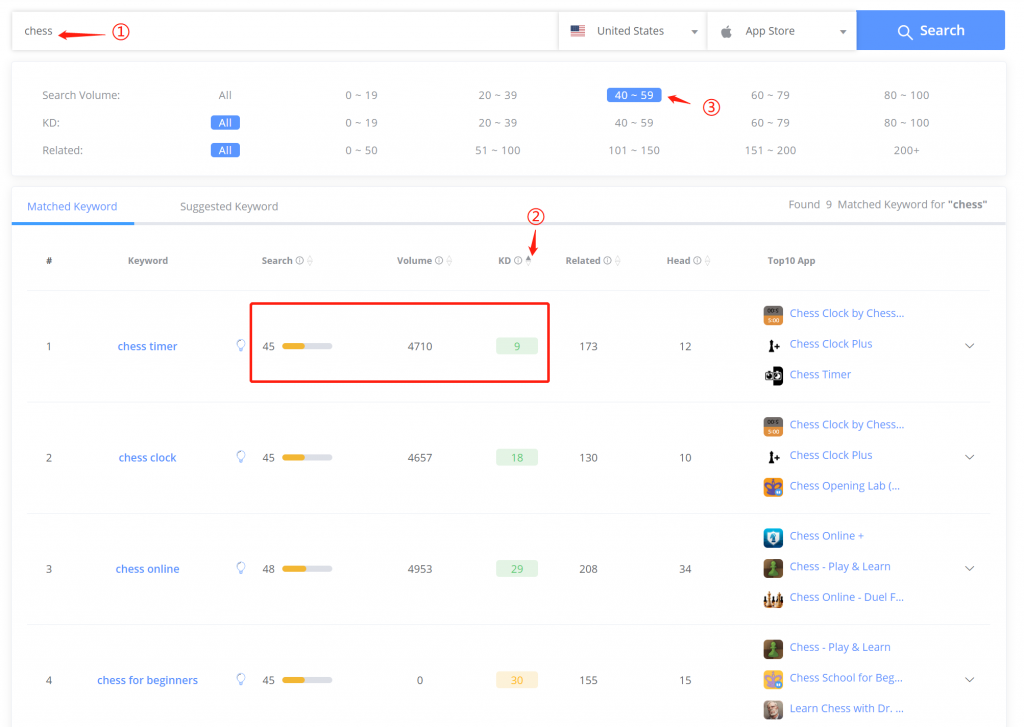 ASO for game is very important for games. If we want the game to be higher in the search ranking of high-quality keywords, we need to pay enough attention to the four important positions of title, description, screenshots, and reviews.