Keywordtool.io vs ASOTools.io: ASO Keyword Research Tool
What is a keyword research tool
The keyword research tools that help us expand long tail words are collectively referred to as keyword research tools.
We all know that whether you are engaged in ASO app store optimization or SEO search engine optimization, keyword research is a must. Because we don't have so many ideas, and the tools officially provided by Google and Apple are very limited.
At this time, you are distressed because of a lack of ideas, and the keyword research tool has a Favorable position for the use of skills. He lifted the official restrictions of Google or Apple and made up for our lack of ideas.
The importance of ASO keyword research tools
Why do we need ASO keyword research tools? Because it can help us solve several problems:
It is difficult to think about keywords through brainstorming, and there is no data basis.
The final effect cannot be guaranteed. I wonder if the popularity of this word is high?
There are restrictions on official tools, either they cannot be found or there is no search volume.
After helping you solve such three difficult problems, are you still hesitating? At present, there are many such tools in the market, which focus on monitoring the data of different links of the App, mainly divided into two categories: in-application data and out-of-application data. For our marketing, it is important to have several tools to monitor data outside the application.
Keyword Research Tool
Keywordtool.io
keywordtool.io uses the App Store auto-completion function to generate keywords based on the search terms you specify. It uses different letters and numbers to add prefixes and suffixes to your keywords, resulting in hundreds of search recommendations from Google Play app stores (similar to Google recommendations) the keyword of the app store extracted from.
The keyword tool also allows you to specify the App Store country and language to be used to generate keywords. This SEO tool for Android mobile applications is very useful for making it easier for target users to discover your applications, especially when you focus on specific languages, markets, or regions.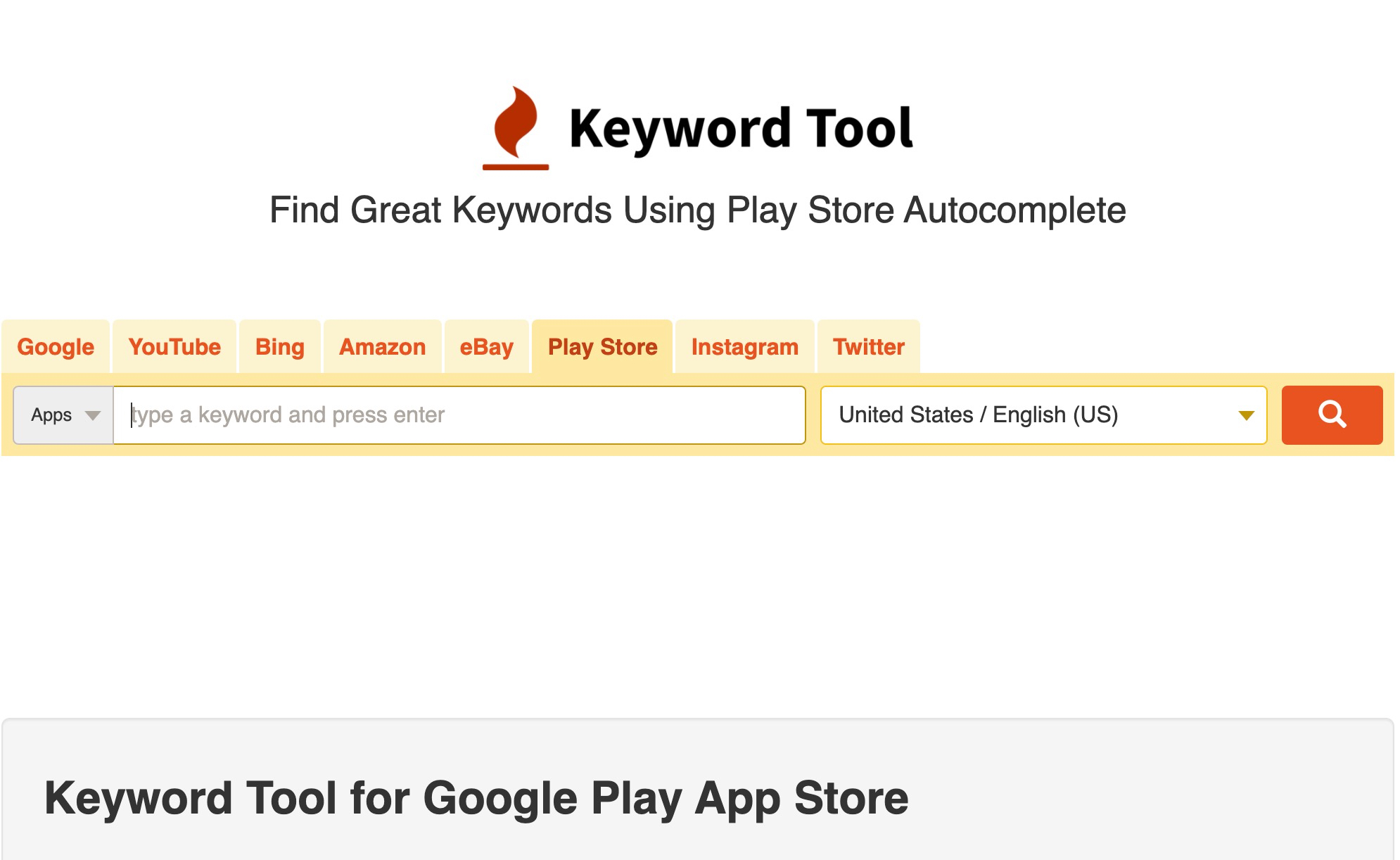 Features
From the above Keyword. The homepage of io clearly shows that the core function it provides is keyword mining, which helps you mine keywords from eight internet platforms, including Google, youtube, Bing, Amazon, eBay, Play Store, Ins, and Twitter.
It means that as long as you have keyword mining in these aspects, you can use it to expand, which is conducive to solving your difficulties quickly. Of course, you need to pay a certain amount of money to use Pro permissions.
How to use Google Play Store
Although many tools are currently used for keyword research in application stores, I still need to talk about keywords here. io is a Keyword research tool. For example, I need to expand the core Keyword "game". You can search directly in the search box of the store or directly use the Keyword. I/O expansion.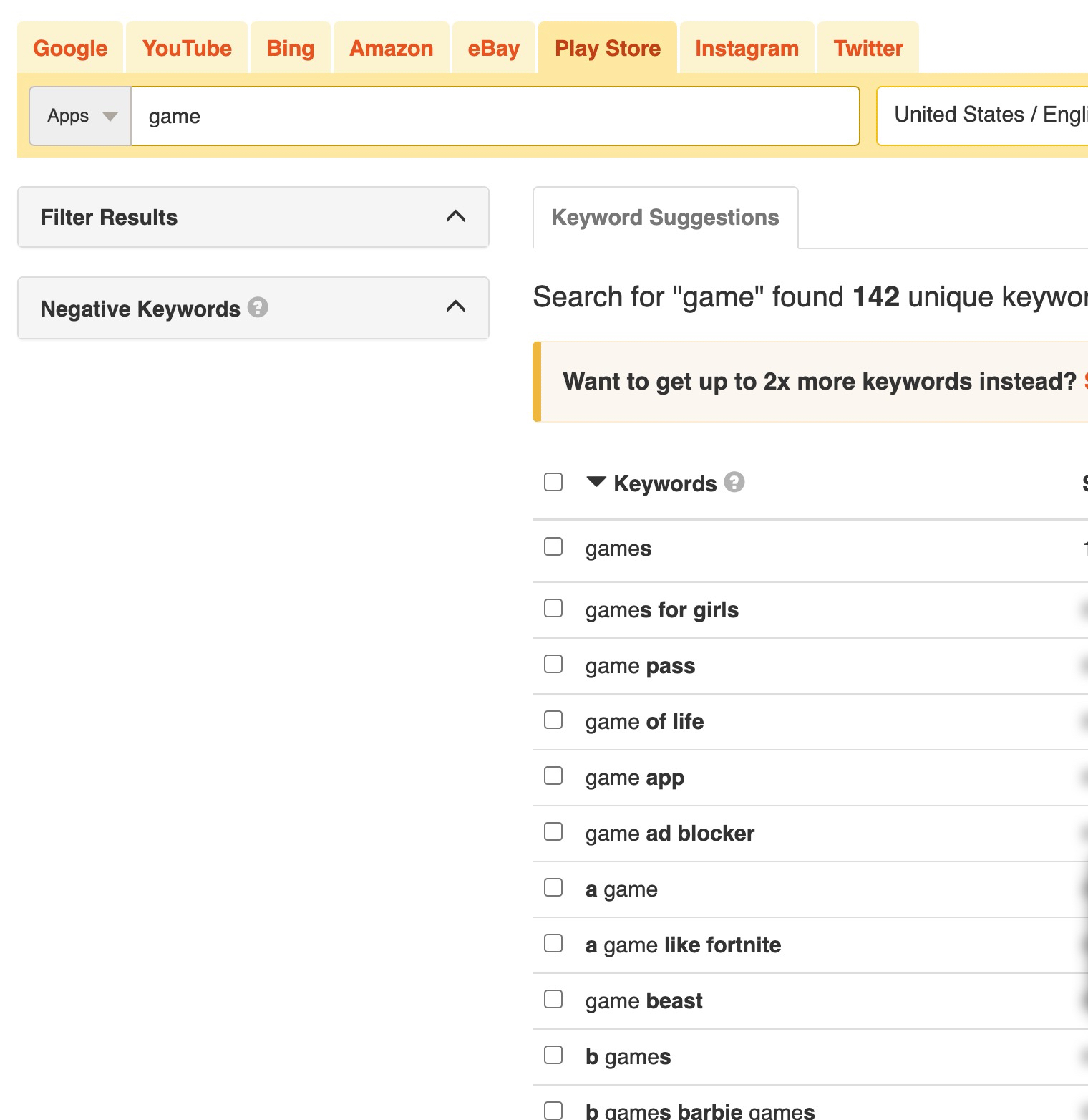 Of course, you can also expand other keywords. Due to the need for fees, I can only choose a part of the keywords as a reference. Next, you need to judge and analyze whether it is necessary to optimize the keyword according to the search volume and difficulty of the keyword in the App Store.
Price
keyword.io is a very good tool, but the price is a bit expensive, the company's budget is not much, so many friends either change to other keyword mining tools, either buy a one-month pro package and use it. It is good for your work anyway. You can choose to buy it.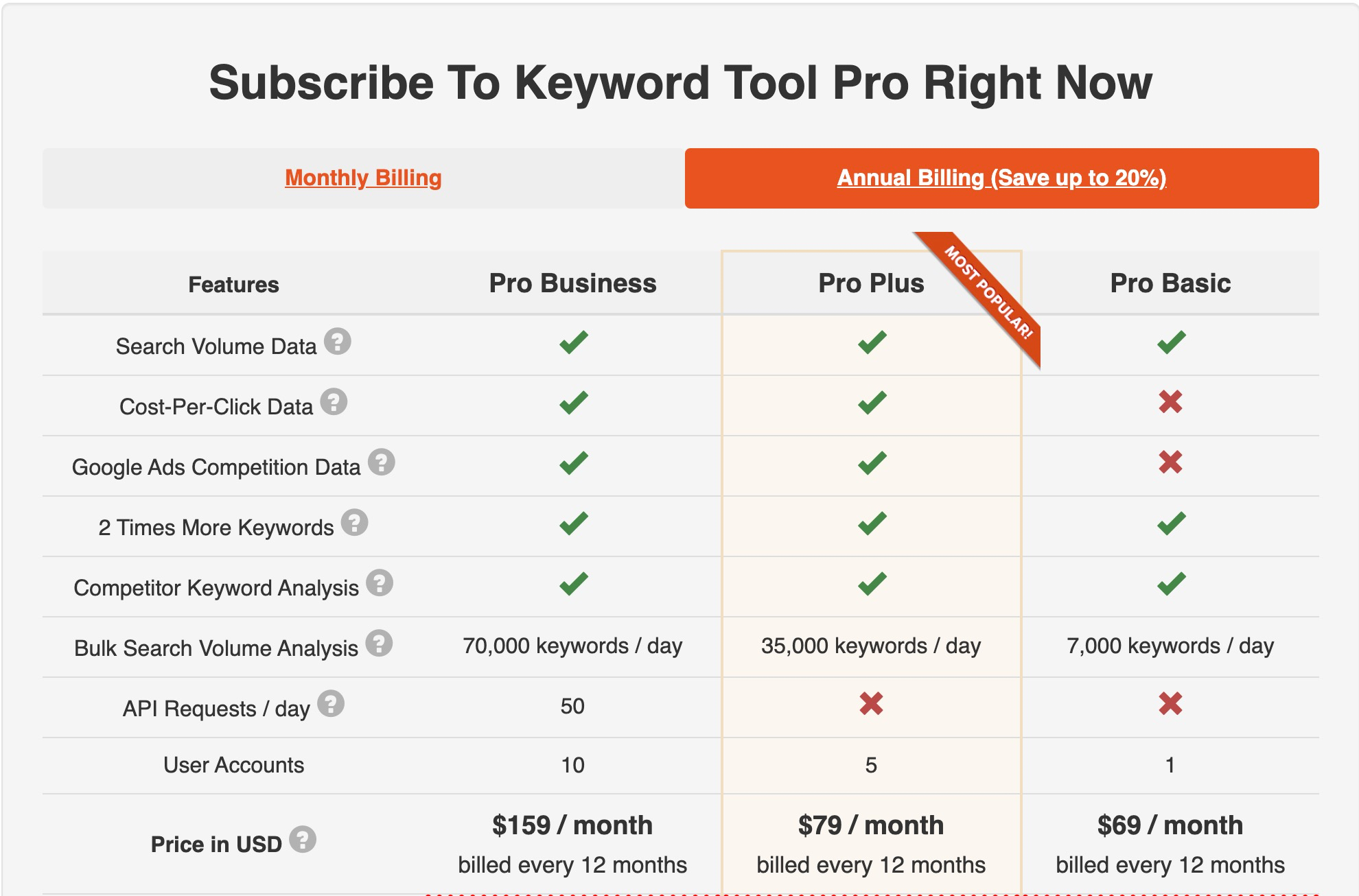 asotools.io
ASOTools is a very beautiful and simple keyword tool. It mainly focuses on keyword mining in Google app store and Apple app store. It is mainly used because it is completely free of charge, and the keyword analysis is very perfect. The degree of competition of this keyword can be known directly through the difficulty value KD.
Features
From the ASOTools tool, we can clearly see that it provides two functions: On the one hand, it provides keyword mining, and on the other hand, it searches for App information through keywords.
In other words, when we want to expand the long tail words of a core word, you can directly mine them through the "keywords" function. When you need to see which APPs are being optimized for this keyword, you can directly use the "APPs" function to view it.
How to use ASOTools
ASOTools is a very simple tool that takes keywords as the core and directly finds other keywords and App information for the purpose. The design thinking of this product is very peculiar, the biggest difference with other tools of the same type.
For example, I also need to expand other long-tail words related to the keyword "game", which will search for other keywords related to this keyword, popularity, data such as related apps and numbers are listed to facilitate keyword selection.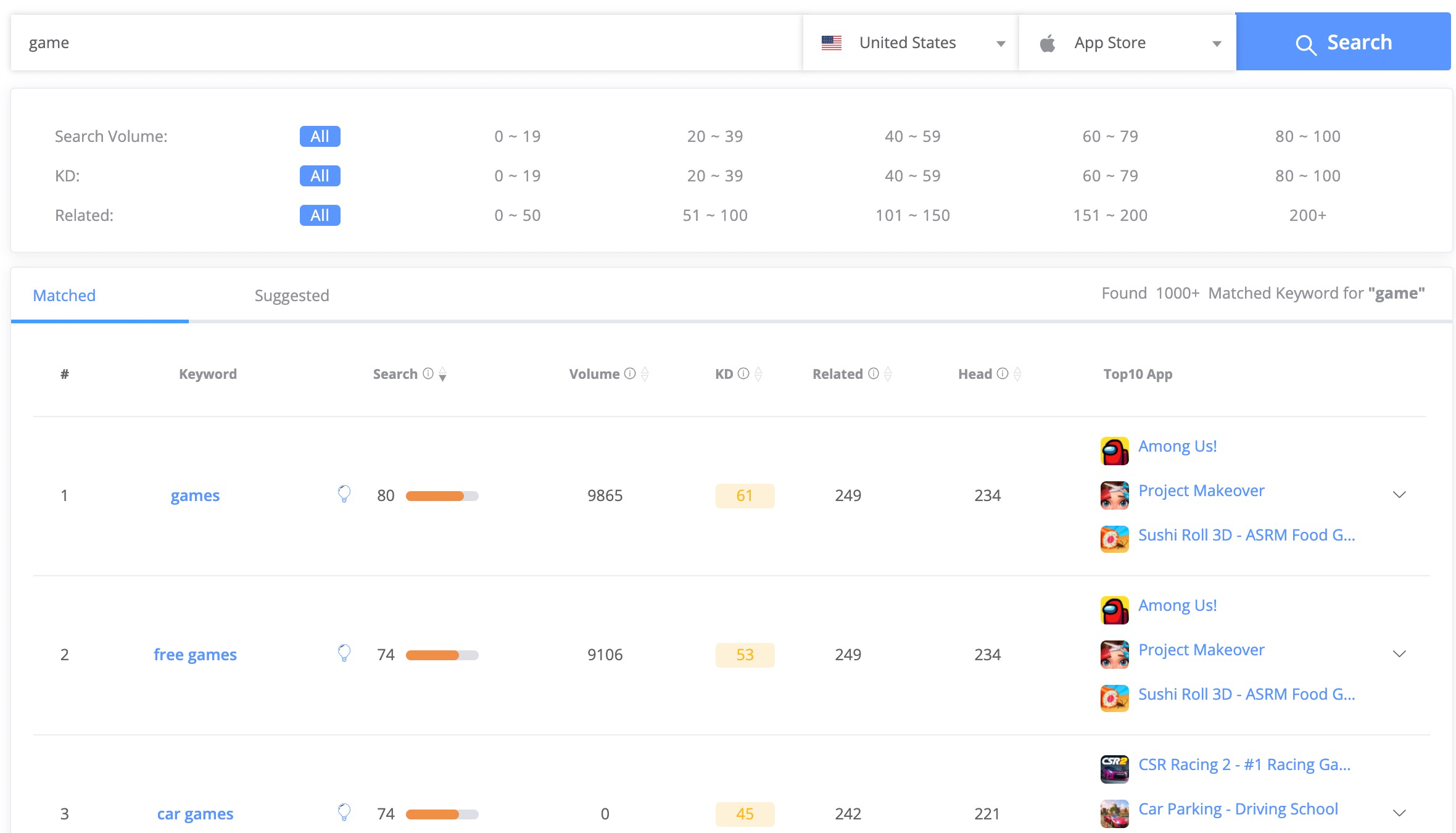 In addition, it can also recommend potential keywords to us through artificial intelligence.
Price
This is a completely free keyword mining tool for app stores. You can use it without spending a penny. You only need to register. Isn't it great?
Final Thought
To sum up the full text, ASOTools is an ideal tool for keyword research at present. The ASOTools is simple and detailed, which can help you find valuable (and "ranking") long-tail keywords. And there are no restrictions. You only need to register and log on. I strongly recommend that you use this tool.
And keywordtool.io. If you have a budget, you can subscribe to io, which is also one of my recommended tools. The characteristics of these two tools are different, you can also combine the two tools. I hope your App downloads will soar!