ASO Skills of The Best Civilization Game | Keyword Rank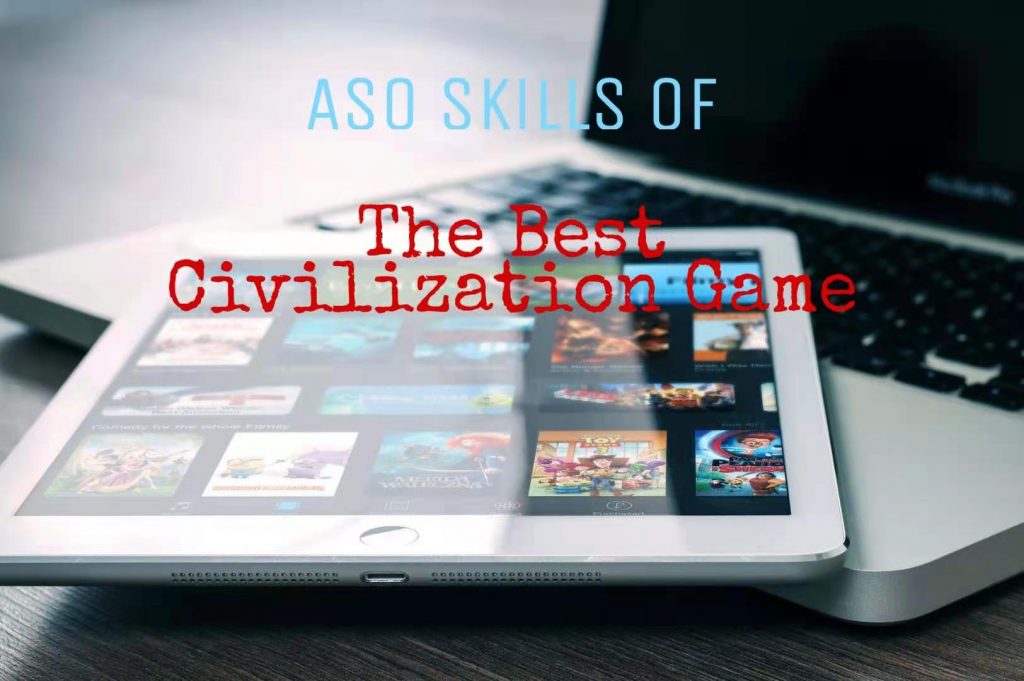 Civilization gaming has been a hot market in recent years. More and more players are involved in Civilization gaming, so more game developers are encouraged to create best civilization game. Although most civilization games are PC games, there are still some smart developers who have chosen the mobile app as a great opportunity.
Mobile gaming has dominated the largest gaming market in recent years, so Civilization Gaming is a smart move to mobile apps. However, for developers and operators, Civilization Games is not so easy to get high downloads in the App Store. The easiest way for Civilization Games to get very high downloads is to start with keywords.
Sid Meier's Civilization ® VI
Civilization VI is an advanced empire building game for Android and ios that simulates raising an empire from the beginning of time. Play as the leader of your empire and manage your resources to build new structures, empower your army to attack and defend, grow your territory, and make your citizens satisfied and happy.
Sid Meier's Civilization ® VI has a very high heat level on steam itself, and the heat level transferred to the phone is no less impressive. One of the most important in addition to the heat of the brand, is the competition for keywords. Most of the keywords for Sid Meier's Civilization ® VI revolve around the App name, for example: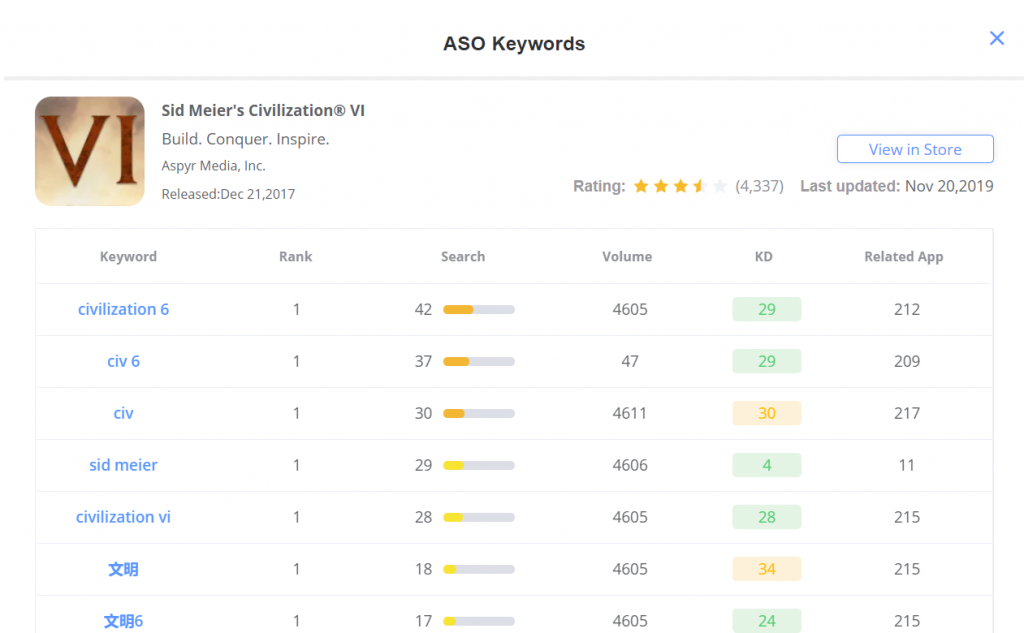 Following this rule, we can also choose the less difficult keyword-sid meier to add to the description of your civilization game to increase the traffic and ranking of your civilization game.
Civilization Revolution 2
This is the first game in the Civilization catalog to be developed and available exclusively for mobile devices. Civilization Revolution 2 offers mobile strategy fans a brand new 3D presentation and more tactical depth than ever before! Find out if you have what it takes to rule the world!
Civilization Revolution 2 is second only to Sid Meier's Civilization ® VI mentioned above in terms of ASO completion. The keyword ASO direction is also the abbreviation for App name and idiomatic usage, making up its main source of traffic: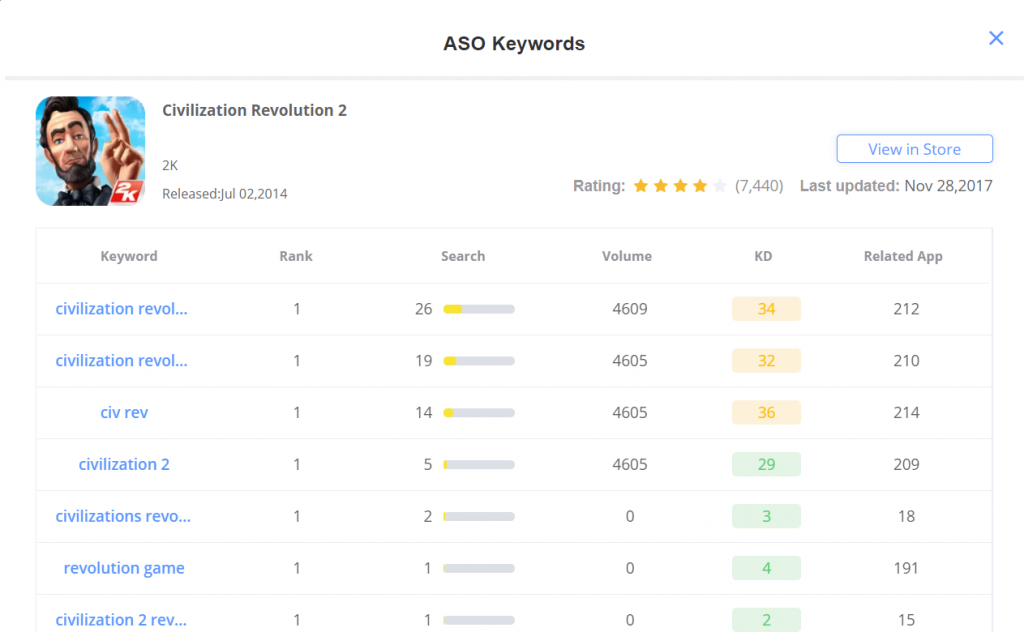 As the abbreviation of civilization, -civ is obviously also a very common one when searching. Using this rule, we can also set abbreviations in our keywords, which not only can be displayed in more search results, but also is less difficult to optimize than the original civilization. It is a good method worth trying in ASO.
DomiNations
Play strategy games as your choice from eight nations and embark on historic campaigns advancing through history. Each civilization, from the Romans to the Japanese, has a special strength and unique units. Build your army, then test your historical might against other players in PvP combat, or form alliances to conquer the world together.
DomiNations have a completely different approach to keyword ASO, and the keyword optimizations for DomiNations are more conventional, choosing civilization games, best strategy games, online strategy games, and so on: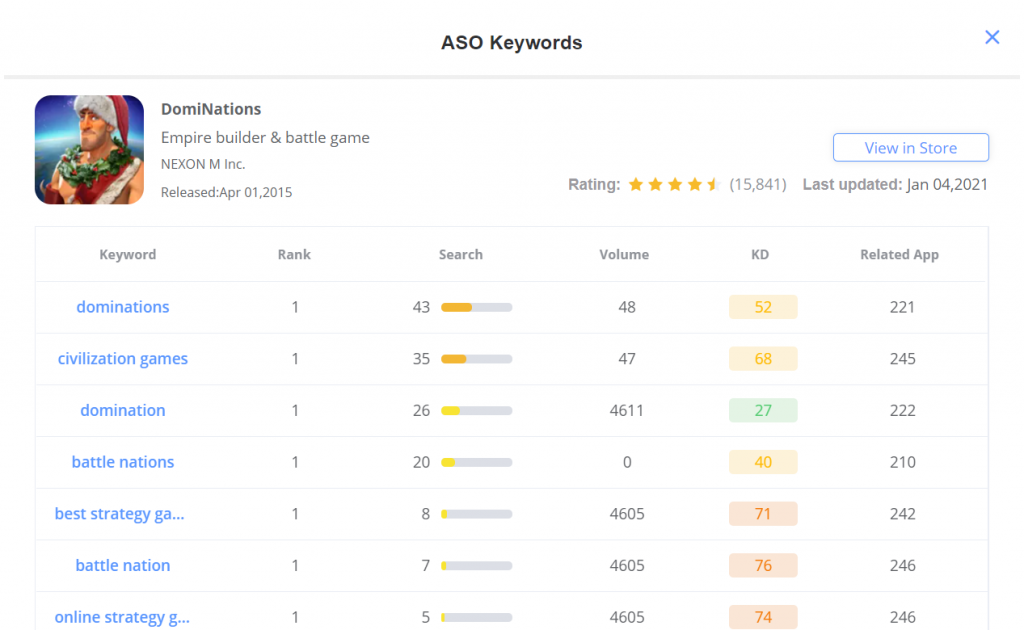 Rise of Empires: Fire and War
Rise of Empires, also known as ROE, is a Massive Multi-Player, Real-Time strategy war game. The player will take on the role of a leader of a small town devastated by the invasion of the Eastern Dynasty. Build your empire once again from the ruins, train your troops, recruit legendary heroes and join your allies in the non-ending war. To befriend or to plunder, the choice is yours!
Rise of Empires is the easiest game in the series to use App name as a keyword on ASO: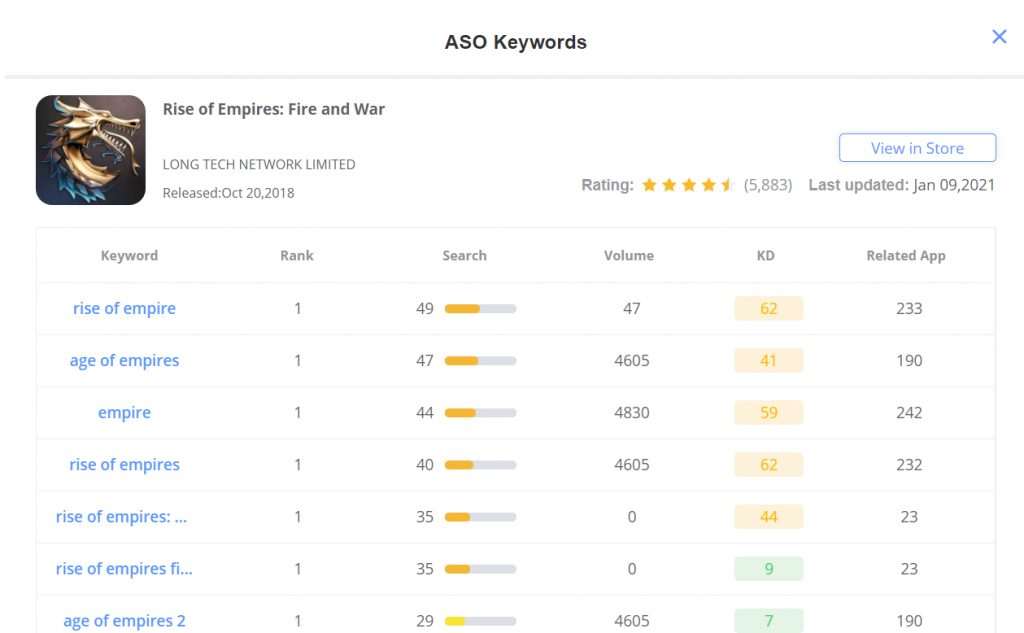 Command & Conquer ™: Rivals PVP
There's no victory like one against your rivals! Feel the rush of competition in Command & Conquer: Rivals, an action-packed RTS with strategic tactics capable of turning the tide of any battle. Take control of your customized army and conquer your opponent in The War for Tiberium. Team up with friends to share resources in alliances. Create your combination of infantry, tanks, aircraft, and more to outsmart your opponent's strategy in fast, fun PvP matches.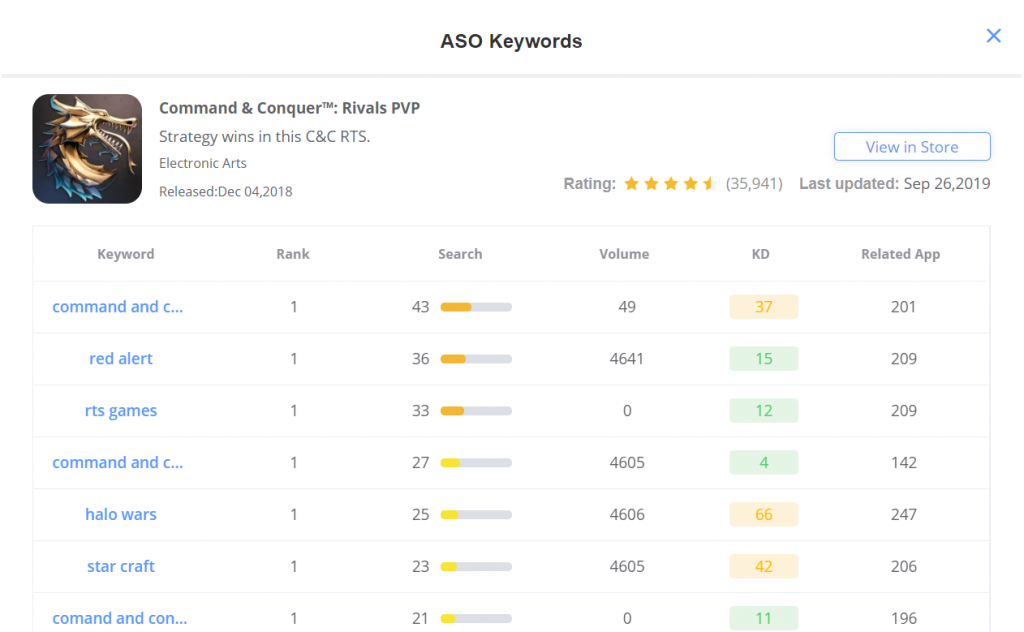 Keywords ASO techniques
Through above several best civilization game ASO case, we may discover, the keyword rank whether can obtain the higher downloading quantity to the civilization game to have the decisive role. The best ASO ways to play civilization games are basically using App name as a keyword. In addition, there are some ASO tips:
Title & description & subtitle
App Store & Google Play Search
User Reviews
Apple Search Ads
Competitor Apps
ASO Tools
Title & description & subtitle
In addition to using keywords as App names, placing keywords in titles, descriptions, and subtitles is a very effective way to do this. Not only will users see the app title in your search list, but both Stores will use it as a ranking factor. On the App Store, your subtitles also help provide background information and more insights into your app. You need to use the keyword carefully here. It's the most important of all the ranking factors, but you need to naturally combine the keywords, while ensuring that you create an unforgettable and engaging name. Keywords are important in App Store optimization, and choosing the right keywords can lead to higher traffic for App.
App Store & Google Play Search
Increasing the number of App Store searches is also about keyword selection and layout. As in SEO, keywords are an important factor in ASO. Just as with app titles, how application keywords should be handled varies from the Apple App Store to Google Play. With Apple, you only get 100 characters for all keywords, so obviously, you need to choose wisely; needless to say, you should be as close to the 100 character limit as possible. However, for Google Play, there are no specific keyword fields. However, you can search for the application description, and you can use 4000 characters.
For the best App Store optimization, you need to put the most important keywords in the description five times. However, be careful not to overuse – keyword padding will penalize your application (just as keyword padding on your site will penalize Google), resulting in a drop in rankings. There's a fine line between optimizing the application description and populating it with keywords – the key is to make sure it reads well and makes sense to the person reading it, not just the App Store algorithm!
User Reviews
Comments and ratings indicate the popularity and quality of your app. If your score is low, it won't show up at the top of the Store results; that's it.A key part of App Store optimization is to encourage users to leave comments and ratings, especially when both stores consider apps with higher ratings to be more relevant.But how do you encourage users to leave comments or reviews of your app? Here are some ideas:
Ask users to leave a comment in the app itself. A good time to do this is after the user has completed the positive action phase. After the user has completed a level, application or purchase, you can request an audit. However, be aware of how often you ask for comments — the App Store limits the number of comments a user can make to three per year.
Consider other channels to encourage comments from existing audiences. Use social networking to increase the visibility of your apps? Or email marketing? Ask your users, often your loyal supporters, to consider commenting on their experiences on these channels.
Use gameplay as a way to reward reviews. If your app fits this description, you can offer rewards to attract more comments. You can learn more about gaming strategies here.
Apple Search Ads
Using advertising to promote apps is a very common method. Keywords in App-related advertising pages will also affect the ranking in the App store. You need to adjust your campaign bids based on performance, such as increasing bids for exact match keywords. These keywords indicate that users are searching for your exact keywords, which means that the search intent can be matched more accurately. Higher bids for exact match campaigns will drive development more effectively, especially when you consider that Apple only displays one ad per search query. Ultimately, you want to have an ASA keyword that can increase search volume, reduce CPA, and improve relevance to your application. Having and maintaining a strong discovery campaign will allow the Apple algorithm to do the heavy lifting for you and find some keywords with the highest return on investment to add to other campaigns.
Competitor Apps
When developing an App, most developers will first observe the relevant App. In addition to its use, page design, content design, etc., we will also pay attention to their app store layout. How the keywords of the competitior App are set in the app store, how the ranking is, and how the traffic effect is, are all the ASO parts that we need to focus on.
ASOTools
It is relatively difficult to manually verify the keyword layout of the competitor App. Therefore, you can use the help of ASOTools.io. ASOTools can specify the simplest ASO plan for you:
Discover High Potential Keyword To Improve Your ASO
Choosing the right keyword is the key to the success of ASO. Search for any keyword in ASOTools, you can view various data of it, such as search volume, the difficulty of ranking in the top 5 of the App Store/Google Play, the number of related apps/head-apps, etc. Looking for the keywords with large search volume and low difficulty, and remember not to compete with those top apps.
Uncover The Niche Market, Search Results All Around The World
Want to know which keywords your competitors are using to improve the ranking? Enter the name of the app, view the core keywords and data, ratings, keyword rank, etc. You will easily acquire the ASO strategy of your competitors. Cover it, and keep ahead of it.
Get New Keyword Ideas For Your App With Auto-Suggestions
Enter any letters, and view the relevant keywords in the App Store or Google Play with automatic suggestions. There have been massive keywords and app data in the ASO Tools database. Driven by data science, we can more scientifically and effectively research new opportunities for growth.
Insight Your Competitors' Keyword Strategy By ASOTools in 1 Minute
Insight Your Competitors' Keyword Strategy By ASOTools in 1 minute want to know which keywords your competitors are using to improve the ranking? Enter the name of the app, view the core keywords and data, ratings, keyword rank, etc. You will easily acquire the ASO strategy of your competitors. Cover it, and keep ahead of it.