Appfigures Review and Top 5 Alternative ASO Tools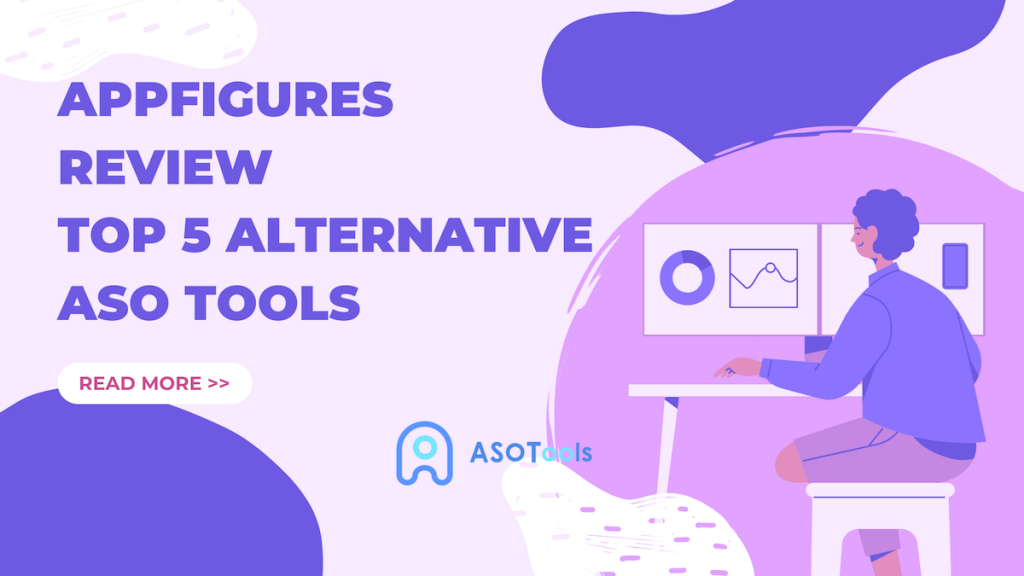 App Store Optimization tools have been on the rise over the last ten years now. It is partially because the apps on the App Store and Google Play have the sheer need for getting lots of visibility and recognition, and, in part, they need more sales.
The tools for ASO have helped companies greatly grow their business and optimize the apps and games for the better. One of the remarkable tools in the market is Appfigures, and it has made a difference with unique products and pricing plans.
This ASO tool is highly challenged by the best competitors in the marketplace. They offer great optimization and analytics options to entice more potential customers. Without further ado, let's focus on Appfigures review and top alternatives with their features.
What is Appfigures?
It basically offers ASO tools, app intelligence, analytics, and many more for both individual users and businesses. World-famous brands partner with Appfigures to boost their business on a global scale.
💡Good to Know: App SEO - The Absolute Guide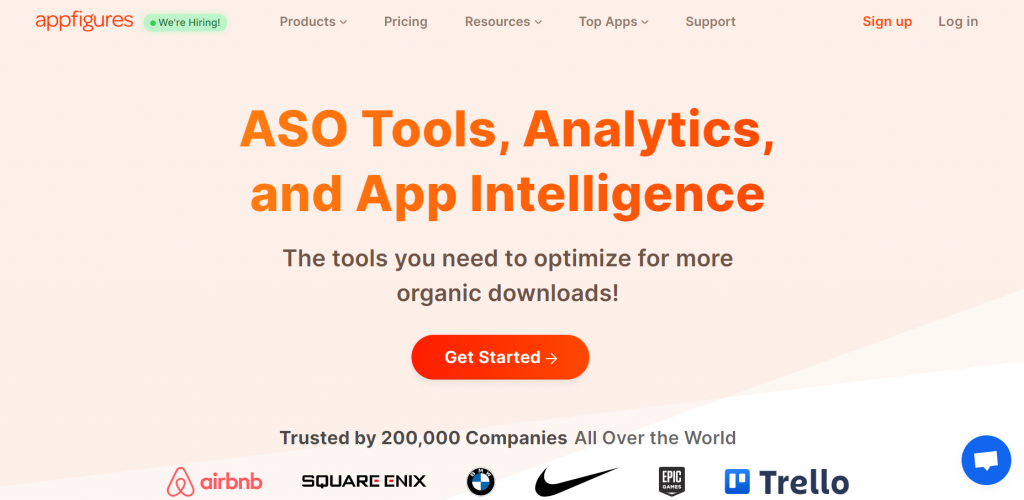 Appfigures provides users with a bunch of features such as products, resources, Top Apps, and support. It is easy to navigate through the website and users have the opportunity to find out the fundamentals using the tutorials and guides.
It is high time we delved deeply into the products and resources of the tool in particular. In this way, we will have a better understanding of what it is like and what it looks like. First off, let's have a look at the products in detail.
Products
Universal Analytics enables you to get the complete picture of all apps you have on one dashboard. Analysis App store Apfigures also helps you keep track of your ranks in every market. Through email reports and real-time alerts, you will stay in the loop for sure.
💡Pro Tip: ASO Competitive Research to get better ranks.
With ASO tools, you will get more organic downloads for your business. You can make an analysis of the parameters such as downloads and revenues. The tools also provide you with top charts so that you could monitor every phase of the process carefully.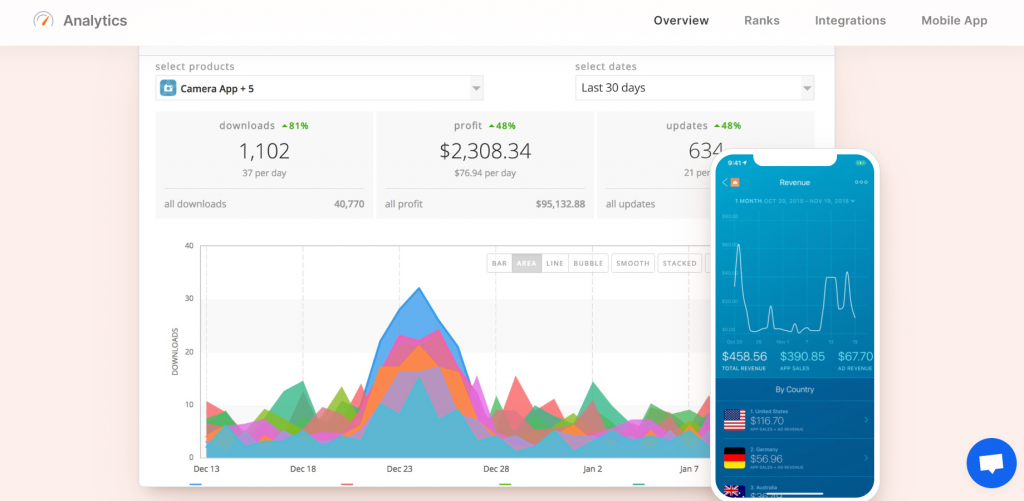 The App Intelligence allows users to make informed decisions with the help of low-rate error rates. It gives the data regarding what apps are up to and how the system works for them. It is a great way for apps to get recognized with a little help:)
App reviews are ideal sources for businesses to monitor and analyze. Review Monitoring at this point may be the perfect partner for users for replying to these reviews and making the most out of them.
Resources
Appfigures offers a lot of resources for users such as App Teardowns and Keyword Teardowns, which are all about the latest statistics of the related area. It also provides how-to-do guides for fresh starters to get them to learn the basics.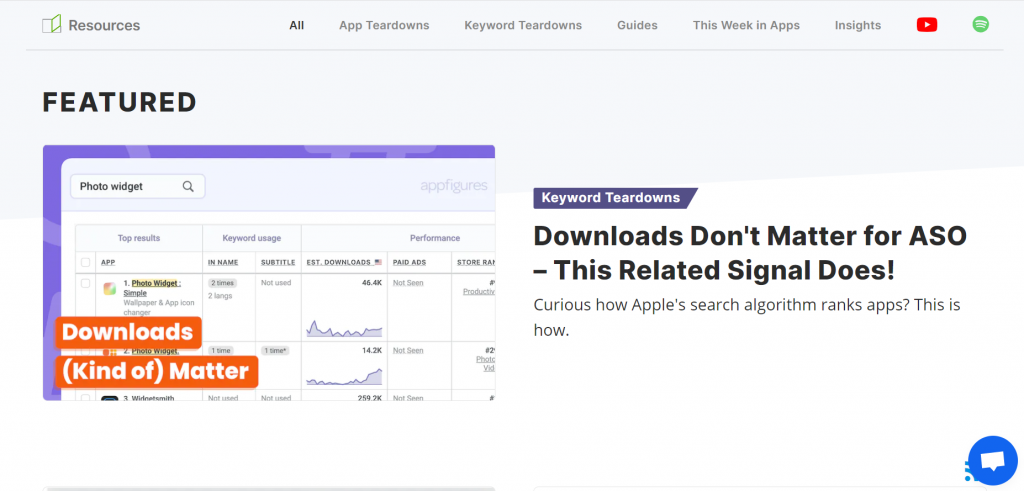 In terms of following the latest developments in the App world, the tool has This Week in Apps and Insights sections. It helps users to familiarize themselves with the process with the help of podcasts on Spotify and Youtube videos as well.
Pros and Cons of Appfigures Analytics
It is clear that the tool offers more pros than cons, offering an analysis of the app store Appfigure provides in detail. These figures in analytics seem to be a great help to those seeking to work out what their competitors are doing.
Advantages
It provides full coverage throughout each and every shop in the marketplace.
It helps you to monitor your real-time statistics such as app downloads, in-app purchases, subscriptions, and a lot more.
It enables you to use the data provided efficiently.
It is ideal for discovering the latest trends to keep track of other apps in the marketplace.
It gives you the top 400 apps to monitor the information in detail such as countries and categories.
It keeps you up to date through daily or weekly email reports.
It sends you real-time alerts to make you aware of the apps you are pursuing.
It allows you to connect your information in Appfigures to other tools.
Disadvantages
For fresh starters, it may be too complicated.
Having all this mass information requires paid plans, which might be overwhelming for some small-scale businesses.
Processing the information provided may sometimes mean allocating too much time to details instead of focusing on the key elements.
There is no free plan.
Appfigures Pricing
When it comes to pricing, users have two plans as is the case for most tools: free and paid versions. For the free trial, you can try Appfigures for 14 days and decide if it fits the bill. You can access all the features for free except intelligence data through this plan.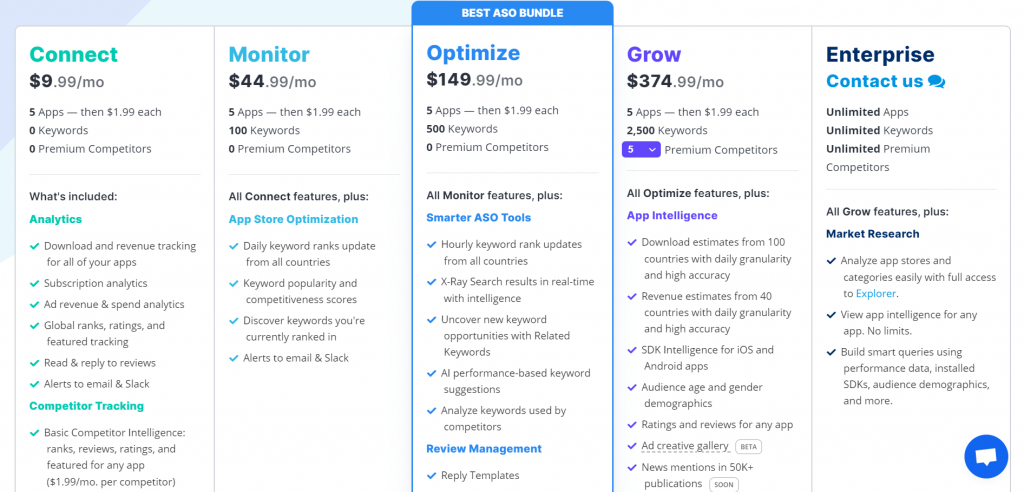 As for the paid plans, there are five different pricing plans both monthly and yearly. The plans are based on the needs and interests of users. They start from $9.99 and go up to $374 monthly.
It would be important to note that yearly plans help you to save 20% if you want to boost your business in the long run.
Top 5 Appfigures Alternatives
The ASO tools presented here challenge Appfigures greatly in the fact that they offer extraordinary features and products to draw would-be customers' attention. We shall take a closer look at them.
ASOTools
ASOTools Features
This tool has been standing out among others through detailed Keyword Search and App Search, both of which are perfect partners for those who want to be among the best. Let's view what the Keyword Search can do with the parameters.
Keyword Search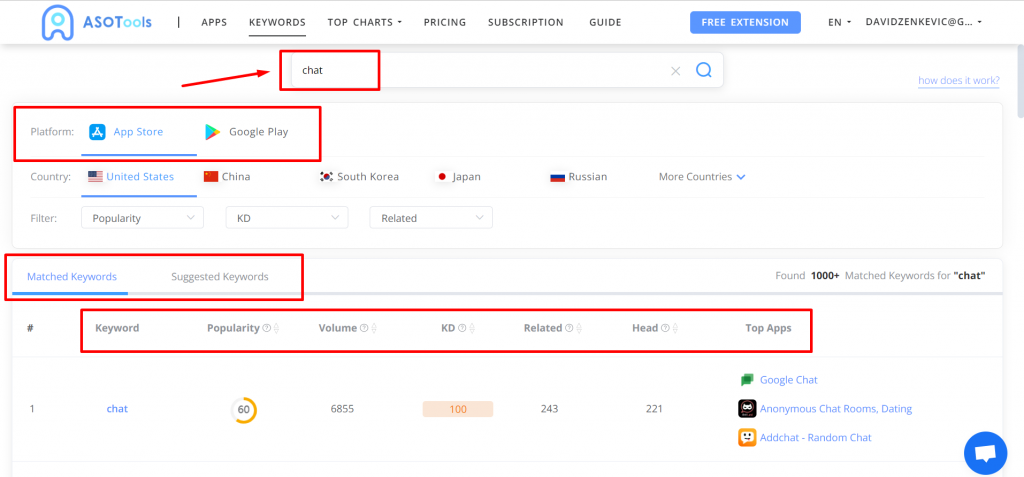 For instance, your app will focus on the chat feature. So the first thing you should do is to type "chat" into the search bar to discover keywords.
As seen, both the App Store and Google Play are available with the matched and suggested keywords. You can categorize see the countries to give you a clear idea of the popular selling locations
Filtering by popularity, keyword difficulty, volume, related apps, top apps and many more are at the touch of a button with this amazing tool. It gives you the elements necessary to be able to compete with rivals in this challenging arena.
Top Charts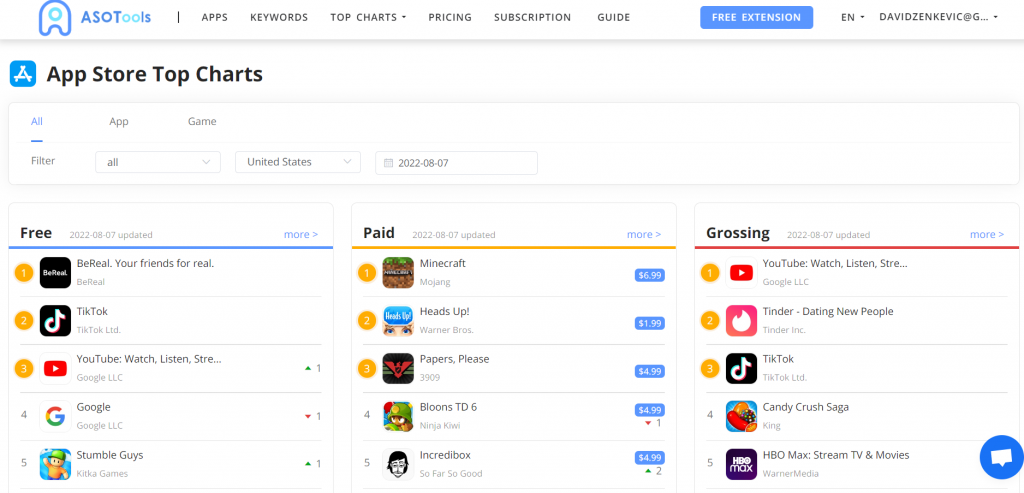 ASOTools also provides you with Top Charts, which helps you to see the key players in both App Store and Play Store. You can also filter apps by country, date, and type (free, paid, and grossing)
Last but not the least, tutorials and articles with fruitful information will walk fresh starters through the path without issues.
ASOTools Pricing
As for pricing, it offers not only paid plans but also a free ones. In the free version, you can have access to basic features with limited numbers. Trying the free version would be a great opportunity to see whether it is proper for your needs.
When it comes to paid versions, they have 3-day trial plans for only $1 but for the business plan. The prices range from $9 for the basic package to $10.000 for enterprise plans. For long-term success, users save up to 36 % on a yearly budget plan.
ASOTools vs Appfigures
They are both instrumental in keyword search and app intelligence. However, the former seems to be better at keyword elements whereas the latter takes the lead in app intelligence elements.
As far as the analytical parts are concerned, Appfigures offers a broad range of elements to analyze the parameters in detail. ASOTools, on the other hand, provides data analysis coverage with more than ten dimensions.
As the resources and support go, Appfigures gives weekly bulletin and teardown practices to users. For ASOTools, it is full of useful data in the Blog and Guides sections of the tool, offering troubleshooting ideas for users.
In a nutshell, ASOTools is one step ahead of Appfigures when considering pricing and keyword research.
Asodesk
Asodesk Features
It offers users one perfect solution to grow their business with ASO tools, top charts, and store analytics. These are ideal to monitor, analyze, and categorize the data by their relevance, enabling users to be aware of the changing dynamics.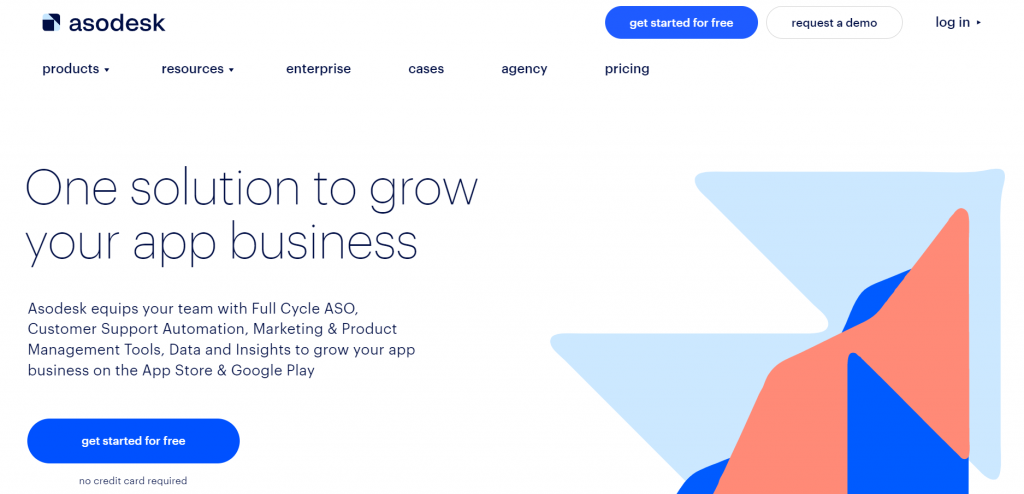 Asodesk also offers analytics of app traffic and competitive research across the marketplaces. They help users to see what other key players are doing and how users make use of them as efficiently as possible.
Asodesk Pricing
As with most ASO tools out there, it has a free plan and paid versions. You can also try them for free for 7 days. Yearly plans are 15% cheaper than the monthly ones. The basic plan starts from $41.6 monthly. The business plan is $299 with the monthly plan.
CheckASO
CheckASO Features
What makes it different from others is having a semantic core research feature. It also provides users with text optimization and app performance, helping users go deeper into this competitive world. The in-app purchases feature is another useful one.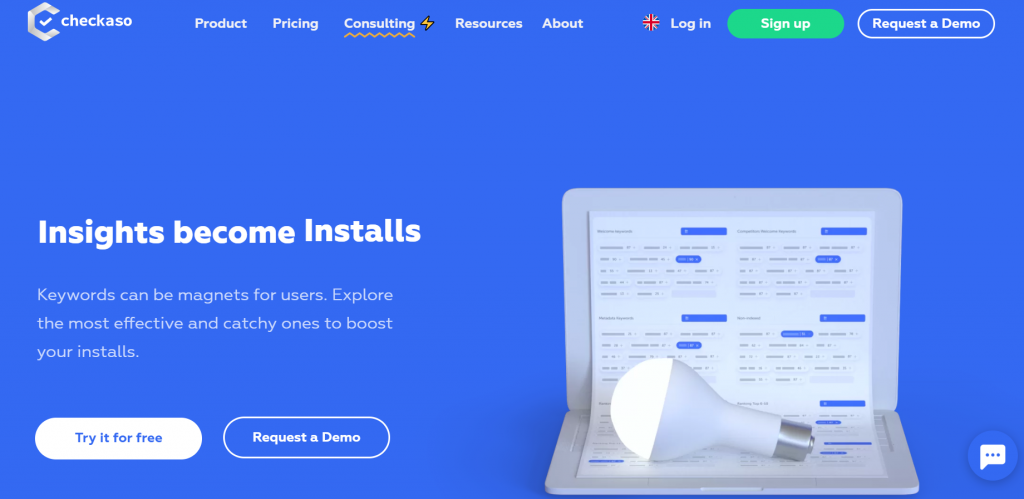 As far as resources are concerned, it offers free ASO tool kits, perfect for newbies to get into fruitful content. Webinars and e-books get you covered when you get stuck in unnecessary details.
CheckASO Pricing
It has four different paid plans depending on the budget and needs. It has monthly, six-month and yearly plans. The first three paid plans have definite prices starting from $21 per month on a yearly budget plan. The price of the enterprise plan is on request.
TheTool
TheTool Features
TheTool is a tool created by App Radar. It offers numerous features such as worldwide tracking, helping you to track data about apps and games across countries. It also provides customers with top charts to learn about what is trending in the market.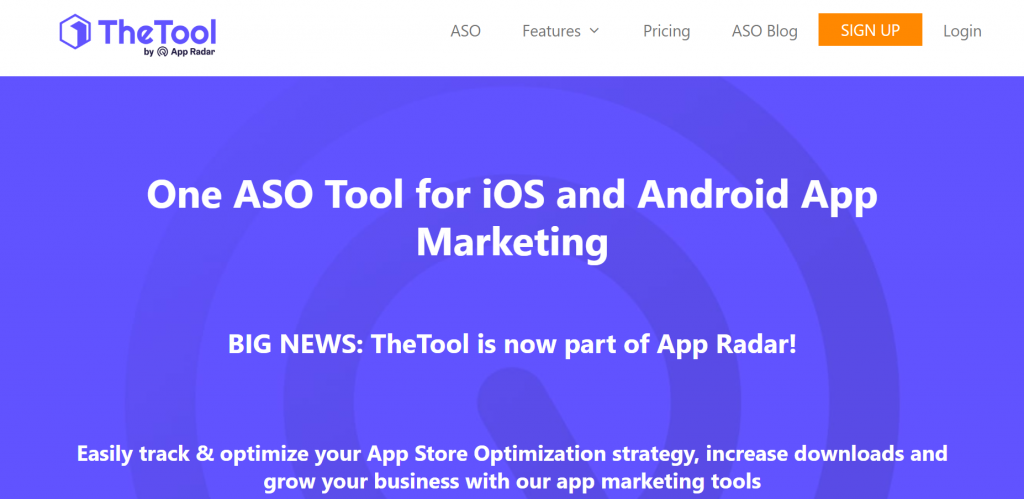 Conversion rates and user ratings are also significant in that they help users to get more revenue and certain specifics of customer profiles have all been set.
TheTool Pricing
It has three paid plans and a free plan. However, it offers a 7-day free trial for visitors to experiment with the products on the platform. The minimum price for the basic plan is $39 and it increases up to $129 with the expert plan.
App Follow
App Follow Features
Organic user acquisition is an important concern for the developers of the tool. It claims to skyrocket the numbers in conversion rates, weekly impressions, and organic installs, enabling users to get to the top of the list.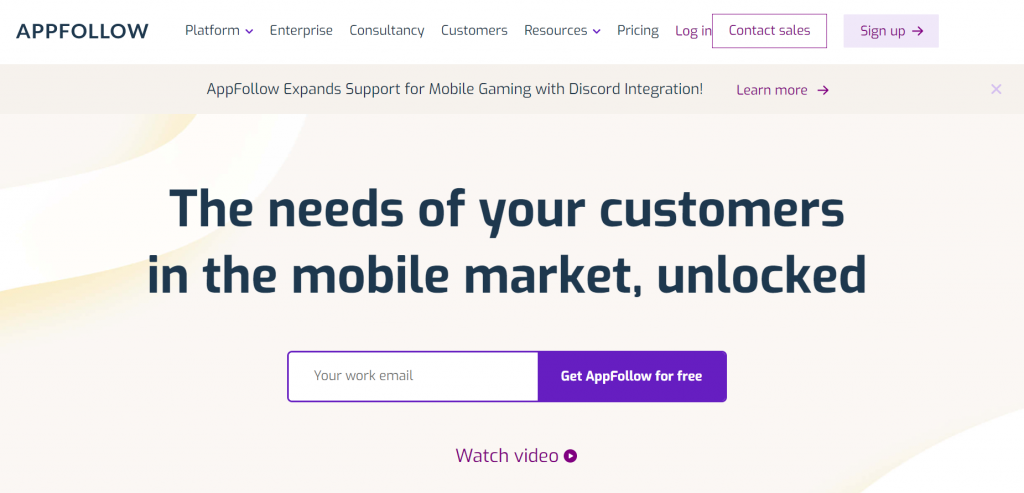 Keeping track of the most popular keywords for apps and games and getting some difficulty scores to allow users to get organic traffic to their business. Resources offer a wide range of materials to understand everything about the tool.
App Follow Pricing
It has three paid versions, namely Essential, Team, and Business in four different categories depending on the budget of customers. The plans start from $62 per month and go up to $634 based on the needs of the customers.
Final Words
The rise of ASO tools has increased the competition among them along with the changing parameters in the marketplace. They are challenging each other to get the lion's share in the app and gaming world, which is totally understandable.
Appfigures, one of the most remarkable ASO tools in the market, has gained a lot of popularity thanks to outstanding features such as Universal Analytics and App Intelligence.
However, this tool is greatly challenged by other key players in this competitive arena. The alternatives like ASOTools and Asodesk have also come to prominence with their unique features.
Then, comes the vital question: which one is the best? Well, it doesn't hurt to give each of them a try with free trials.
FAQs
Is Appfigures free?
Indeed, yes. It is free for 14 days. You can use all the features but for the intelligence data. In this regard, you can experiment with the tool to figure out whether it suits your needs. Pricing plans are another important point for you to consider.
What is the NO.1 app in the App Store?

You can check it out any time free of charge through Appfigures. Other ASO tools such as ASOTools provide this piece of information as well. For the ASOTools Top Charts, no.1 apps in the App Stores are as follows:
Free: BeReal
Paid: Minecraft
Grossing: YouTube
Boost Your App's Downloads & Revenue!
Gain data and insight to make your decisions right with all-in-one ASOTools!
99% OFF on Basic/PRO Plans