App SEO – The Absolute Guide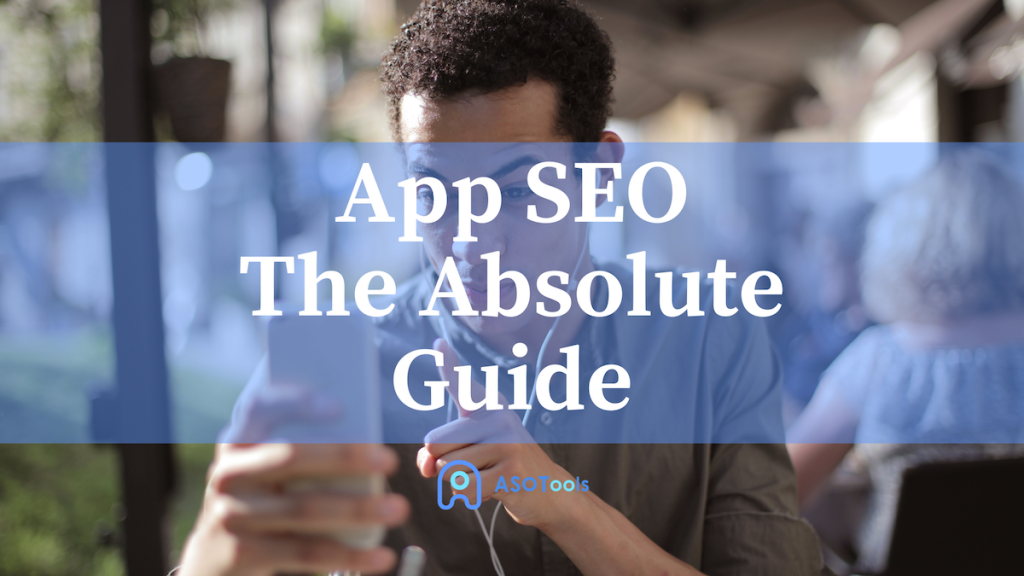 Mobile app promotion is a must for every app developer. In a globalized era with search engines universally used, app SEO techniques and aso strategies become indispensable tools. This form of marketing, alongside the usage of app ranking tools, rewards apps with great visibility.
What is App SEO?
SEO stands for Search Engine Optimization. The term consists of a set of techniques and strategies that allow a website to gain visibility. However, app SEO works a bit differently.
SEO for apps store manipulates the algorithm of search engines so as to make the website dedicated to mobile apps more visible. Although this may seem like a minor marketing technique, search engines play a big role in downloads.
So, in order to get results, mobile app SEO agents use tools such as ASOTools to see what keywords fit an app's needs. Those keywords will be the center of both the app and its website. The idea is to gain organic traffic through the website and search engines.
It's worth mentioning that App Store Optimization, or ASO for short, is not the same as app SEO. The former includes strategies to promote an app in its store, whereas the latter dictates which apps are in the top results of search engines.
These two marketing methods work in tandem and benefit from each other. For example, backlinks, a common practice in SEO, matter as a ranking factor in Google Play. Rather than going heavily for one, it's advisable to use the two so as to make the best out of them.
An Introduction to App SEO
SEO has many techniques in store. Nevertheless, a few of them are essential and can't be ignored.
Keyword Research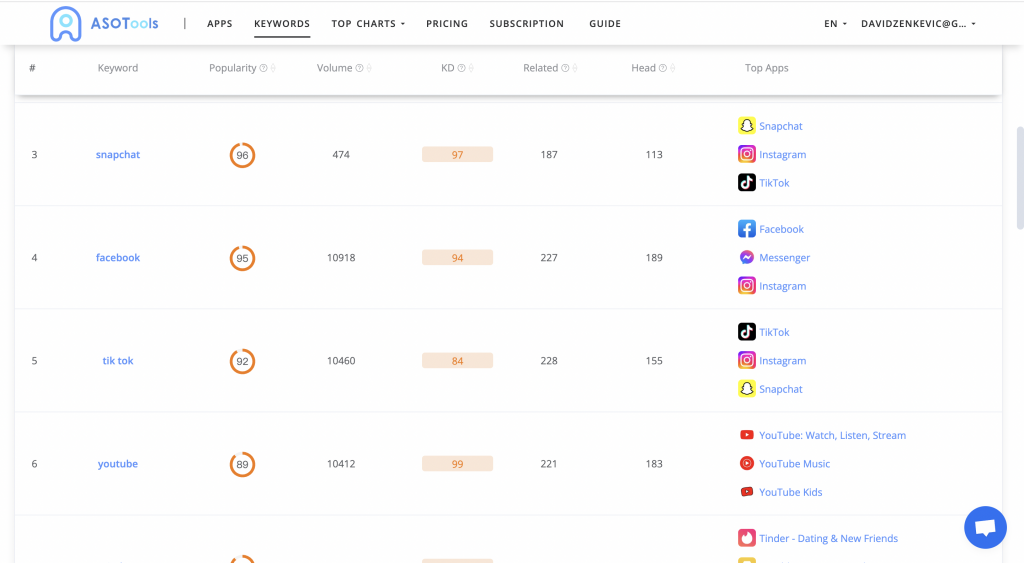 Investigating keywords is what allows users to even try to gain visibility. It's the very core of app SEO and ASO. Keyword research is the process of sorting out keywords to rank for and deciding which ones to use—in other words, finding the main theme to advertise a product.
Keyword research is an extensive process that takes quite some time to do. It requires analyzing every possible keyword. Additionally, it's not possible to automize this process as you need to choose which are connected to the product.
Then, the tools to do keyword research need to be on top and have many options to smooth the process. ASOTools, for example, narrows down the scope of information with the 'popularity,' 'keyword difficulty' and 'related keywords.'
The 3 filters basically show whether a keyword is challenging to rank for, how popular it is, and what other options you have. These are key elements that help app developers determine the proper strategy according to the app's niche.
The better the keyword research goes, the better the chances of succeeding.
Competitors Research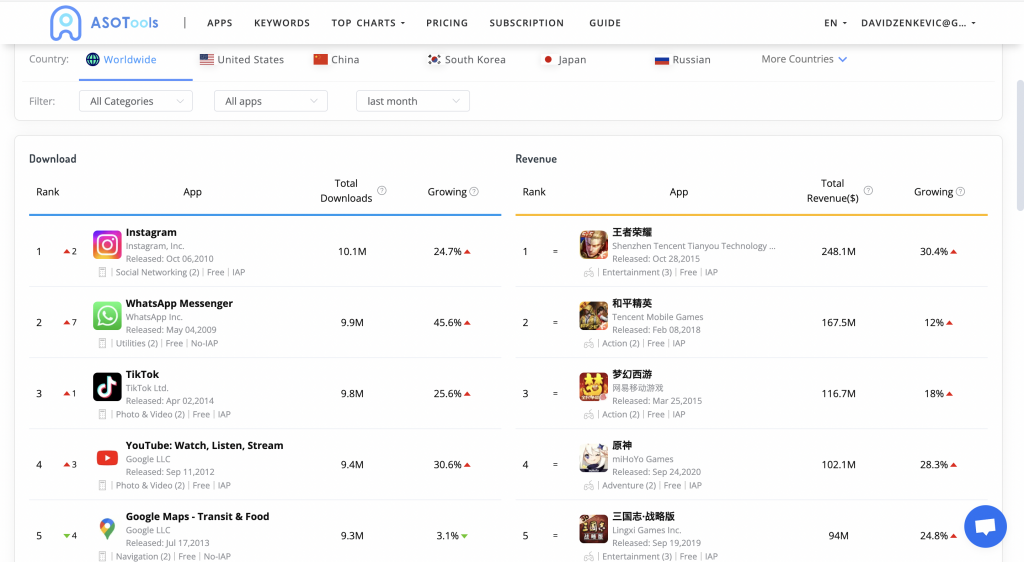 Finding out what other apps might come in handy. This is not to say plagiarism is a healthy technique, but taking inspiration from exemplary brands is ideal.
ASOTools allow users to keep track of an app's main keywords, amount of downloads and reviews, and revenue. These details briefly display the quality of an app. You can do more thorough research on them and see for yourself what makes them stand out for themselves.
As a matter of fact, ASOTools has a tracking option for other apps, which is really helpful in evaluating success over time. The app marketplace is quite unpredictable with sudden shifts. A niche that was reigning over every other app might disappear in a few days, even.
By tracking competitors, you can grasp if the app is constantly on the top or benefits from sudden niches imploding in popularity. For example, social media apps are always on top, but games, such as Among Us, tend to lay low after momentary prosperity.
All in all, how competitors fare should give you a fair understanding of how to rank for a certain niche or keyword.
App SEO - Common Techniques
After doing extensive research, it's time to develop an app SEO strategy. Strategies are many, but some are already staples in the industry, which is why it's vital to master them.
Regardless, said strategies differ in approach and set of techniques: one method is to advertise the app through the algorithm, whereas the other gains visibility by improving the app itself.
External Common Techniques

The usage given to keywords is of utmost importance. It defines how solid an app SEO strategy is. The keywords are mostly placed in meta-data sections. Both the search engines and the mobile app stores display those sections.
Within them, it's compulsory to add the main keywords of an app in those sections. Nonetheless, the meta-data shouldn't look like a convoluted mess with only keywords. It must engage the reader so as to keep reading.
Manipulating the algorithm may award visibility, but it definitely won't convert traffic to downloads. If the title, the short description, and the long description don't do justice to the app's content, the value of keywords is lost.
As such, the best approach is to maneuver keywords so as to make your content understandable. After all, keywords are for people to find your product. What makes yours different from others should be included in the meta-data.
Users won't discover why they should download your app if you don't use the description properly.
In recent years, search engines have begun shifting their conceptualization of authentic content. There's a higher focus on user-friendly characteristics instead of algorithmic elements.
As a result, web design and easy-to-navigate interfaces are not an extra touch, but a necessity. So much so that the App Store prioritizes images more than words to increase audiences' engagement when it comes to its search engine.
Besides, web design is what ultimately leads visitors to check out an app. If the website looks polished and stable, the algorithm will see that as a positive aspect of your site and boosts its ranking potential. More traffic on a website equals more traffic in an app's store.
After creating a website, creating a blog and filling it with relevant posts and articles is the next priority on the list.
Despite the fact blog content seems like an extra touch at first glance, they are crucial to an app SEO strategy. They can net organic traffic on their own, increase the visibility of your website overall and bring to light products. It's an all-in-one technique.
Naturally, blog content will use keywords. Nonetheless, repeating terms over and over won't do any good in the long run. Keywords should feel natural and relevant within a post. Readers are not oblivious to inconsiderate marketing.
Instead of exuding a frantic attitude towards gaining visibility, show why your brand or app is actually contributing to a solid goal. Put on full display what your product is, what it is for, and what the target audience is. Transparency is highly appreciated by visitors.
Generating backlinks is the most traditional technique to get both authorities, which is how authentic your content looks for the algorithm and traffic. It's the perfect method to raise visibility.
The technique boils down to acquiring links that redirect to your website or app's store. Regardless, as easy as it sounds, it's not an effortless task. Getting backlinks requires high quality content and some degree of authority.
There are several ways to approach backlinks. For one, you can contact a website that has a relevant article about your app and ask for a link. You can even offer blogs to write for them with a backlink to your product attached to it.
Overall, backlinks depend on one particular practice: content writing. Copywriters are in charge of that area and are experts at delivering a product while still relaying relevant information to readers. If the content doesn't meet expectations, the reader won't stay for long and will leave shortly.
In-App Common Techniques
Having a stable is not only beneficial for users, but it also plays a significant role in app SEO.
Google's algorithm thinks highly of stable mobile applications. Consequently, taking good care of the performance of an app brings positives to the table: better customer retention and higher rankings.
Regularly updating an app should suffice. It's worth mentioning that it's not an easy task, as developers have to keep a stable version running on a myriad of devices. Moreover, bugs might completely ruin the experience of users, so bug-testers are also in place.
No brand ever should postpone bug fixes. The more a bug appears, the worse the reputation of the app and, in correlation, the company. Bugfixes shall always be a top priority, especially when talking about fatal errors, also known as crashes.
Before dwelling on improving user experience, it's relevant to see in-app metrics to understand why users stop using a product.
Grasping the cause behind app disengagement is crucial for every developer team. For example, a game might discourage users from playing thanks to a really slow progression. These lessons, despite how difficult they are to take in, do help in improving an app.
You'll have to constantly address this type of issue. After all, client retention is hard to get by in the earlier stages of an app. Thankfully, the very same users can report what made them quit!
Reviews are such a godsend for developers. With them, you can pin down the specific malfunctions that repel users. Due to the fact that niches and keywords target a particular audience, you'll see many users point out the same design flaws.
You can use that trend to know what your app desperately needs and what you can postpone if need be. Sorting out the demands of your users is the essence of improving the user experience.
How to Apply App SEO in Stores?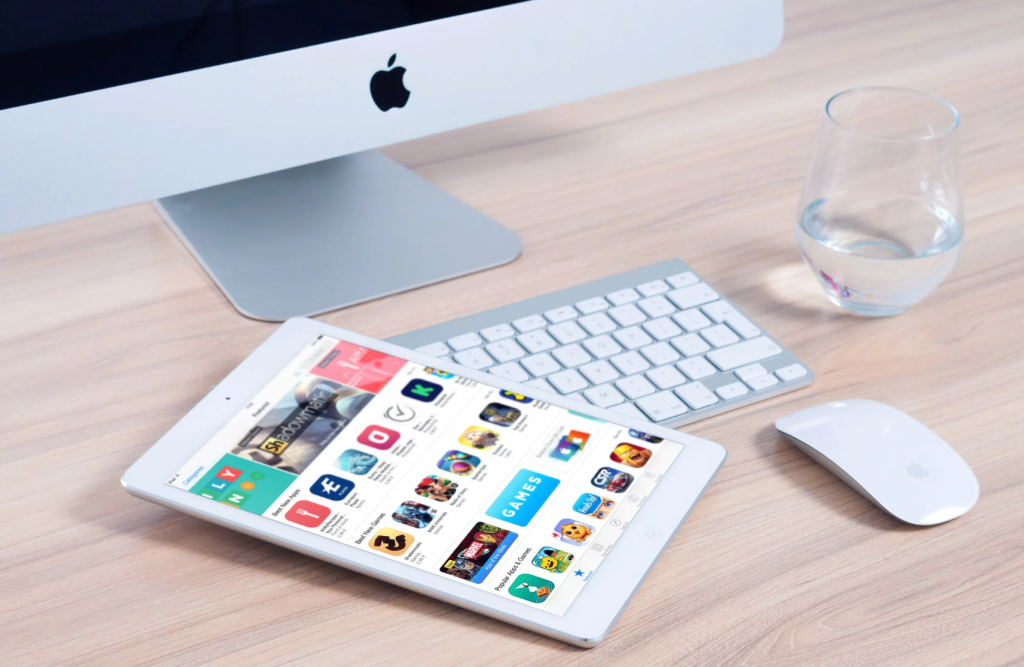 App SEO is the basis of ASO. Thus, some practices will transition over to app stores' displays.
App Name
The name of the app is as crucial as its icon. These two items are the very first glance potential customers take off your app.
Your app's name should be short and tell enough for the reader to understand what the product is. To give an example, Reddit has a very charming name. Although not originally an app, the name sounds like 'read it,' which is what you do in the app since it's a forum.
Such design choices work wonders in the industry. It's short, easy to say and already informs the audience what the app is about. Keyword research greatly helps in this regard as the results can give you an idea of what words are the most relevant for that tactic.
Nonetheless, even if the app name is nothing new, a decent name might work just fine as long as your application is a good one. Keep in mind Google Play and App Store only offer 30 characters for app names.
Lastly, the app name does affect how the algorithm views a mobile application. The name should always have some resemblance to the main keyword you're ranking for at the very least.
Subtitles & Short Descriptions
Just like in the meta-descriptions of search engines, the short descriptions (Google Play) and subtitles (App Store) also play a big role. These texts have a considerable impact on app appeal and visibility.
Naturally, these also need to have keywords in them while explaining the main purpose of the app in a short fashion. In the case of Google Play, you can work with 80 characters, in contrast to App Store's 30-character limit.
Even though Google Play's limit might encourage you to write a lengthy description, it's still a better idea to keep descriptions short and sweet. The App Store's limit may seem restrictive, but it actually helps developers in coming up with enticing and to-the-point descriptions.
It's tempting to write about why your app is a must-buy, but bombarding potential users with so many details ends up hurting the app's image. Writing about the most characteristic features of an app is enough.
If the description shows what the app is about and why one could find some use or fun in it, the section has fulfilled its purpose.
Long Descriptions
In these sections, you can include everything you feel is necessary for customers to understand your product.
In long descriptions, you have a maximum of 4000 characters to work with. It's plenty to explain an app thoroughly, but it's not advisable to write every minute detail. Just like with short descriptions, the more to the point it is, the better the description.
Furthermore, the descriptions have varied functions subject to the platform. As for Google Play, the long description is indeed a ranking factor, so keyword usage is a must. In the App Store, however, the section enhances the user's experience and nothing more.
As such, the iOS app market lets you be very creative about advertising the app and your brand. Although it may seem like a negative element, it can really engage customers and convert that interest into downloads. Alternatively, Google Play nets more traffic at the cost of a more reserved long description.
iOS Keyword Field
So far, it seems Google Play has a stricter algorithm that awards those that make extensive usage of keywords. Nevertheless, the App Store has a feature in its marketplace to compensate for the reduced priority on keywords.
The iOS keyword field is a system the App Store implemented to compensate for the lessened reward for using keywords. With it, apps in the iOs store can use plenty of keywords to rank. With it, the ranking factors are app name, subtitle, keyword field, and images.
The goal of said feature is to allow app developers to be creative in their descriptions instead of focusing only on keywords. It's a nice touch that differentiates the store from Google Play while still giving developers a good shot at gaining visibility.
Remember there's a 100-character limit in the keyword field. Choose your keywords wisely.
What Other Strategies Can Increase Visibility?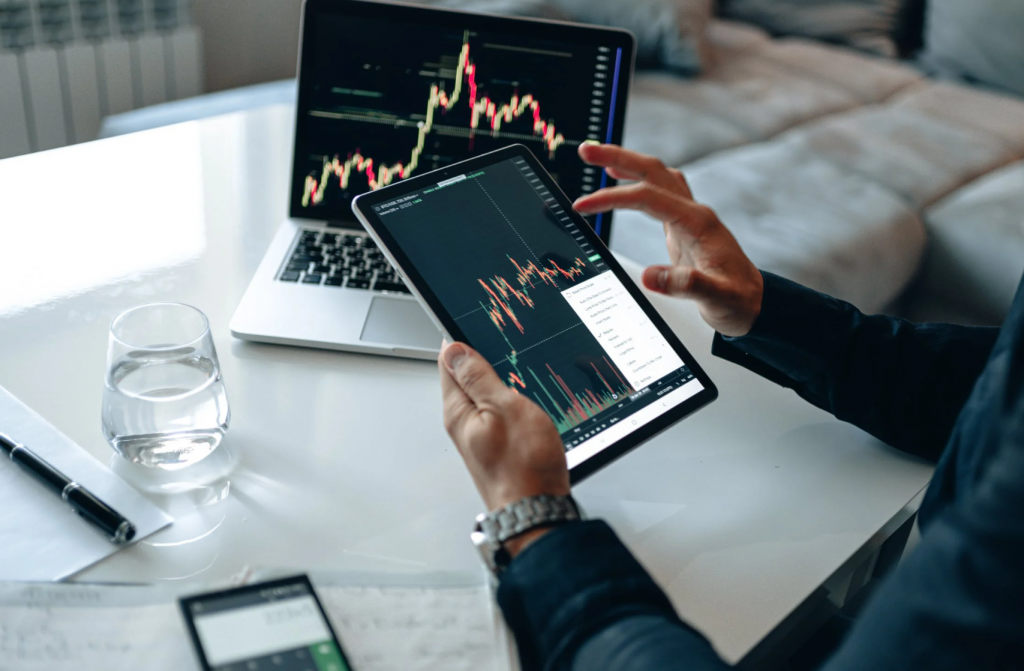 There's no doubt app SEO is a vital tool to make it big in the app marketplace, but it's not the only one there is.
Ratings & Reviews
Total downloads, reviews and ratings can favor or cripple an app quite a lot.
In the case of total downloads, that depends on how successful your app SEO strategy is and the engagement you achieve. On the contrary, reviews and ratings are harder to get by. Only people that feel strongly about a product will review and rate them.
A common practice is to convince users to review and rate the app. Most mobile applications try to do that by constantly reminding users to give their opinions. This is not the optimal approach, but it does work, albeit somewhat annoyingly for people.
A preferable method is to reward users for giving their much-needed feedback. Not only do both parties benefit from it, but it also visualizes the commitment the development team has for bettering the app. That speaks volumes to the customer who might look at the product with softer eyes.
Visuals
Media focused on images and videos are excellent for hooking audiences right in.
It's said that images say more than 1000 words. Although not quite literally, they do convey more than a few words. By using images, you can show rather than explain what your mobile app is. Screenshots are great at this since users can relate to them and use them to navigate through the application.
Moreover, visual cues are a part of app SEO strategies in the iOS marketplace. The App Store algorithm does consider images as ranking factors. Neglecting the use of screenshots and images might dreadfully influence an app's visibility. It's not the case for Google Play apps, though.
Another prudent tactic is to use short videos to highlight the main points of an app. Audiovisual media has taken over the world in recent years and for good reason. They show and tell information in rapid succession.
Such conciseness and haste are enough to grab the audience's attention. Preview videos are appealing clips, too. Visual cues and media are just too impactful to miss out on them.
How Do I Know My App SEO Strategy Is Working?
App SEO plans are a long-term investment, which means it's a lengthy process over time. Fortunately, a few practices can help you determine the effectiveness of your external ranking strategy.
ASOTools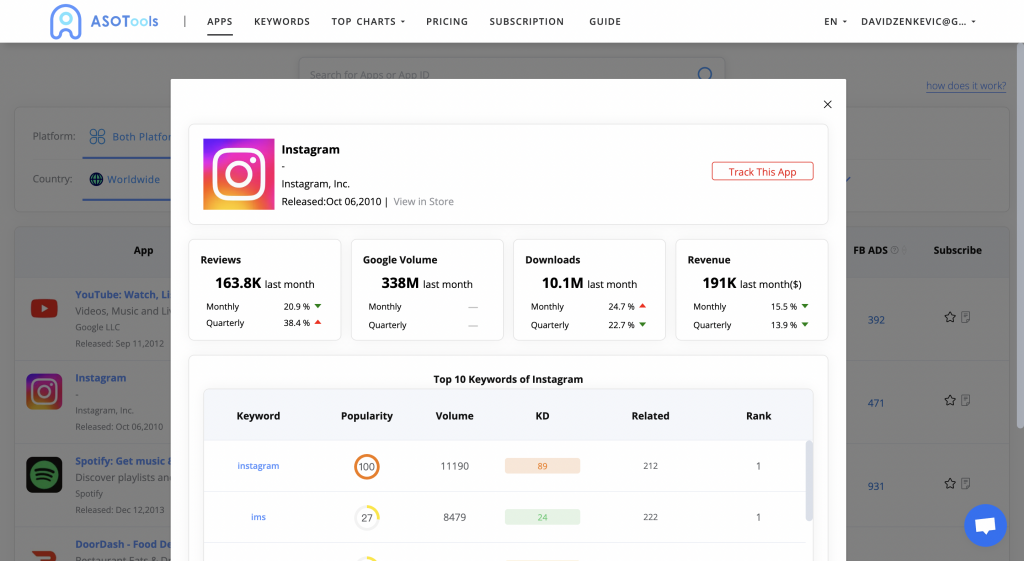 ASOTools is great for tracking competitors, but it can also be used for checking the prospect of your app store SEO process.
It's very much recommended to keep on monitoring your keywords via keyword research and inspect how your app manages against others. On the same note, it's advisable to track competitors as well to have a full picture of the situation at hand.
The tool has a feature that shows the total downloads, reviews, revenue, and search volume on a quarterly and monthly basis. This shows the recent shifts in statistics your app might have undergone. You can compare these findings with competitors to see whether your product is at fault or not.
External factors also are at play here. They may change how interested the public is in a certain niche- Thus, keeping track of one's presence and the current status is a major key in shaping what's next for a mobile application.
Do note that this tool allows you to see how an app is faring in a mobile app marketplace.
Google Analytics
This is a fairly common tool in the digital market. It shows the statistics regarding your website: specifically, it details the performance of your page in Google's search engine.
Google Analytics, a.k.a. GA, is a tracking program provided by Google to help website owners have insight into their current status. The tool focuses on the traffic a website gets over time. Of course, GA accounts for several types of visitors.
For instance, there is the bounce rate metric, which is the number of visitors that entered only one page of a website without going any further. In addition to that, Google Analytics reports the average length of sessions on the site and the number of new and regular visitors.
Lastly, GA goes as far as detailing whether users performed the desired action. This is commonly known as conversion. The conversion rate is the heart of an app SEO strategy. The main goal of a mobile app site is to convert visits into traffic in the app marketplaces.
This is a free tool that differs from ASOTools in the sense that it analyzes the type of traffic a website has. Despite how basic it is, Google Analytics significantly helps marketers and developers determine the success of websites for apps.
Conclusion
In order to get results, one should expand their horizons as much as possible. ASO and app SEO strategies should be used in conjunction to make the best out of marketing techniques.
With the help of ASOTools, one of the most flexible tools in the market, you can study your options easily and decide on what path to follow.
Boost Your App's Downloads & Revenue!
Gain data and insight to make your decisions right with all-in-one ASOTools!
Try Basic/PRO Plans for $1