5 Best Roguelike Games That Rank High on App Store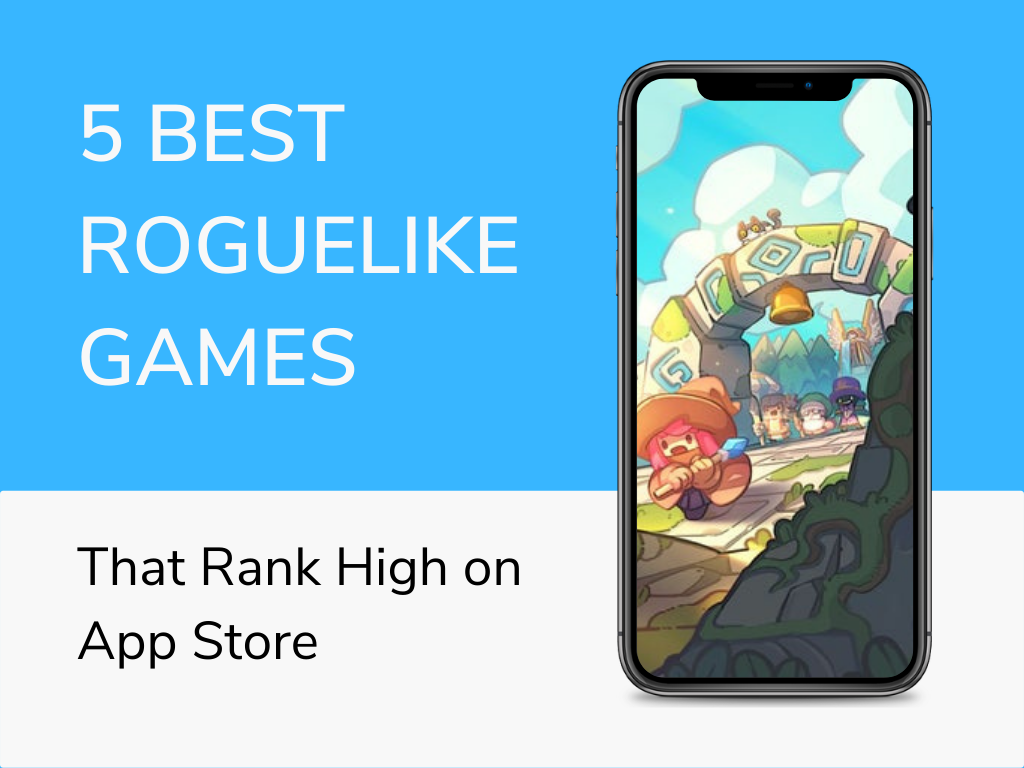 Roguelike games are not the mainstream gaming type until recently. In older times, the randomization and permadeath make this genre challenging to new starters, while nowadays, more playable factors are added in roguelikes and the constant education to players is seeing to yield good results. Roguelike is becoming popular than ever before among all blood in the mobile game market.
What is "roguelike"?
Roguelike game is a branch of role-playing games, the naming of which is widely considered as generated from Rogue, an ASCII-based game released in 1980. Some key factors inside the game distinguish roguelike from other genres. In 2008, some players and developers established the famous Berlin Interpretation at the International Roguelike Development Conference, to define what core features a roguelike game should have.
See more about Berlin Interpretation at Wikipedia (https://en.wikipedia.org/wiki/Roguelike).
The top 5 best roguelike games on App Store
1) Tavern Rumble
Tavern Rumble is well-known as a free strategy roguelike deckbuilding card game. The player needs to expand and upgrade his/her deck by defeating all the monsters which stand in the way. The most charming part is the satisfaction one can obtain from growing stronger, imaging that you were nothing but a starter with a few basic mercenary cards at the first beginning.
According to ASOTools statics, Tavern Rumble has a download of 3K on the App Store by Nov 2021, it's far from a big number. But if you search "roguelike" on App Store, Tavern Rumble will definitely jump out as the first of all non-sponsored results, exceeding many others that has more downloads and reviews.
As common sense, players may regard the first result as one of the best roguelike games so be more likely to click through.
What did Tavern Rumble do that triggered such a magical effect?
The team of Tavern Rumble pays more attention to matching the right players, instead of attracting more traffic.
In fact, Tavern Rumble doesn't draw too much emphasis on massive keyword covering, regarding the fact that it has only 100~150 keywords on coverage, under about 1/10 of which this game is in the top 10s. The moment when we focus on these 1/10 that result in high ranks, we found them all descriptive phrases including "rogue", "card", "deckbuilder", and "tavern". None of them have a search volume greater than 5000, though, strongly associated to the gameplay.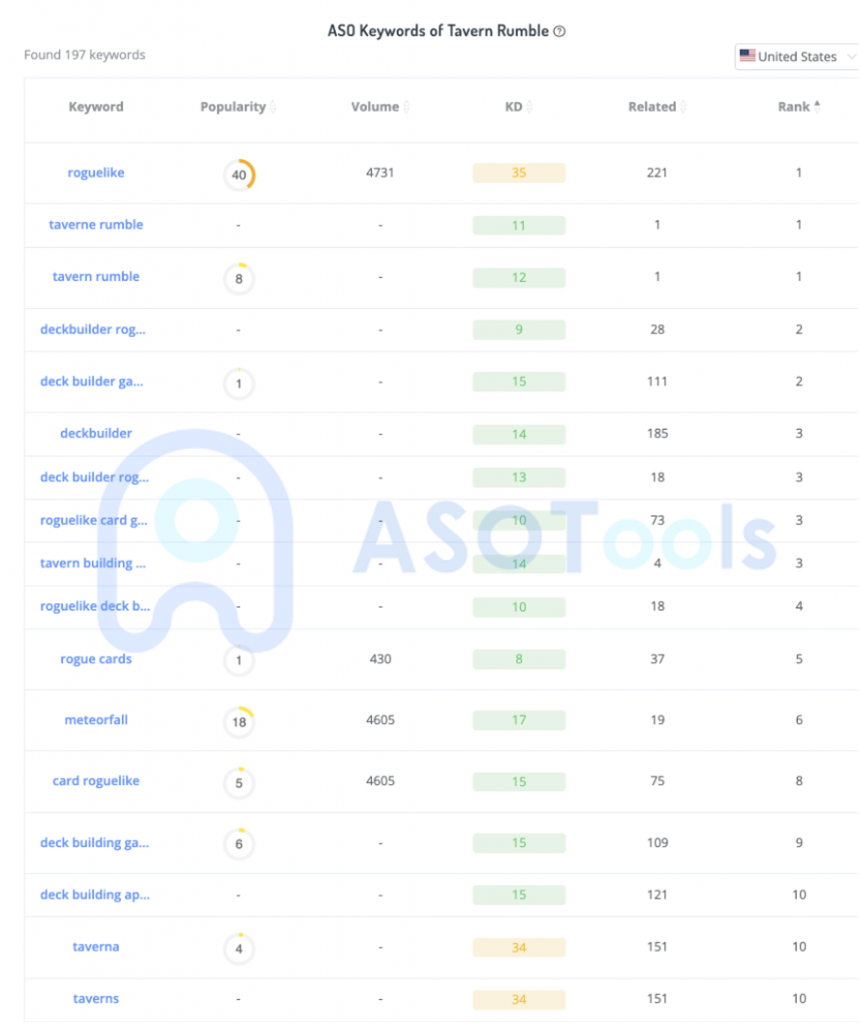 Looking into the keyword "roguelike" which makes Tavern Rumble rank first, we find it has 40 popularity, 35 KD (keyword difficulty), and 4731 search volume, proofing "roguelike" being a niche keyword that is acceptably popular and less competitive.
Tavern Rumble put "roguelike" in its ASO keyword list, subtitle, and 3 places in the description. Effective for this game to weight for "roguelike" and appropriately explaining why this averagely-download gaming app managed to rank No.1 among the "roguelike" search list.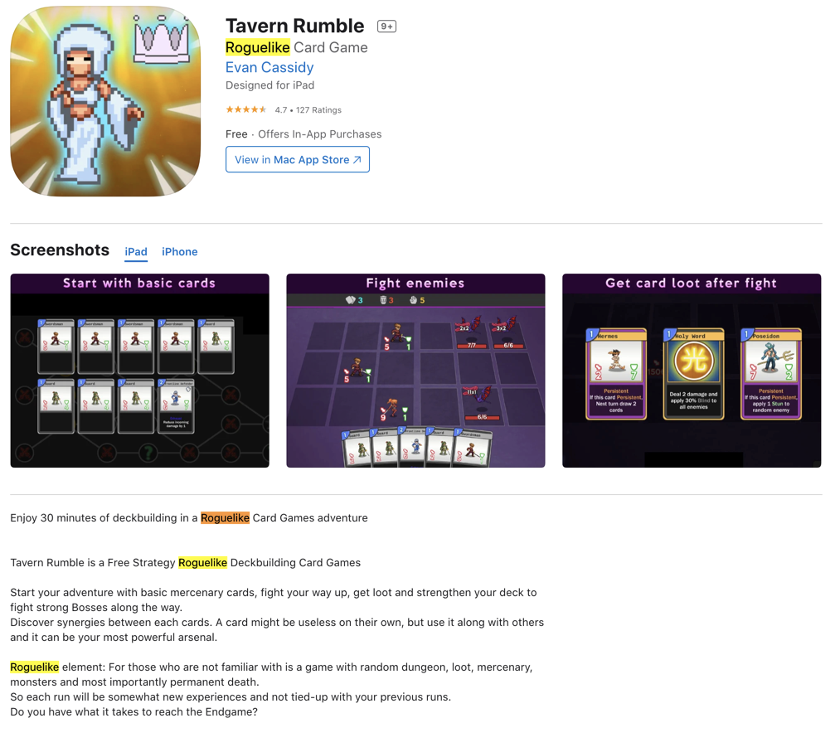 2) OneBit Adventure
OneBit Adventure is a casual turn-based role-playing game, where you need to adventure as far as possible to level up and battle against rogue monsters, and most importantly, to avoid death. By Nov 202, OneBit Adventure has only 111 reviews, 9K downloads, and 3k+ ratings. However, it ranks 2 under the "rogue" search.

Another clever keyword selection? Sure.
The team of OneBit Adventure considers opposite from Tavern Rumble. OneBit Adventure sets more than 1000 keywords, about 1/6 of which, correlated to the gameplay, counts it in the top 10. Long-tail keywords and variants (around several core words such as "dungeon", "rogue", "pixel", and "bit") managed to maintain the relevance to OneBit Adventure at the same time get it exposed grandly.
ASOTools shows that the word "rogue" has 34 popularity, 4756 search volume, and 22 KD (keyword difficulty). The number of "rogue"-related applications is 231. Evidently, it's a nice choice to stand out with less competition.

3) Soul Knight
Soul Knight is a pixel-based action multiplayer roguelike game that contains all the classic rogue elements, inside the game, players can explore randomly generated dungeons, collect more than 120 weapons, try different heroes with unique abilities, shoot and dodge bullets, just like a fascinating game could be.
It has over 89K ratings and 303K downloads on App Store, ASOTools estimates Soul Knight's revenue (by Nov 2021) as $278K+ so far.
It's noted that Soul Knight places many difficult keywords in its ASO keyword list, such as "clash royale" (popularity:82, volume:8722, KD:100), "candy crush" (popularity:74, volume: 8583, KD:85), "shooting games" (popularity:64, volume:7192, KD:100). You may have noticed that some high-competitive keywords are generated from other hot games (clash royale, candy crush), this is a way to steal traffic from others but hard to say it works for Soul Knight this time. Because you need to swipe really down before Soul Knight shows up under "candy crush" results. Anyway, better than nothing.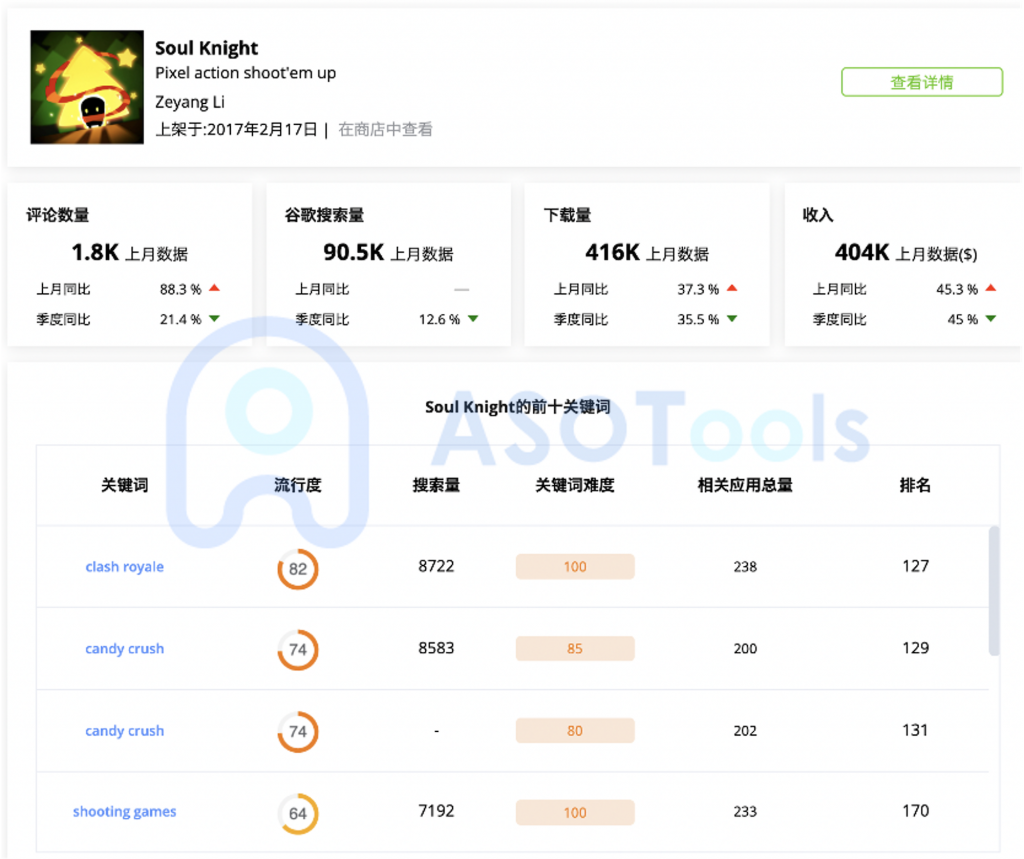 Nearly 5K keywords are covered in the Soul Knight ASO map, 1/5 can be seen among the first 10 results, quite an achievement.
4) Titan Slayer
Titan Slayer is a roguelike strategy card RPG, like all this kind, nothing much to say. Though a very classic deck-building game, Titan Slayer has achieved remarkable results in less than 5 months. It has reached 30K downloads since released on Jul 07 2021.
Insight into Titan Slayer's top 10 keywords list: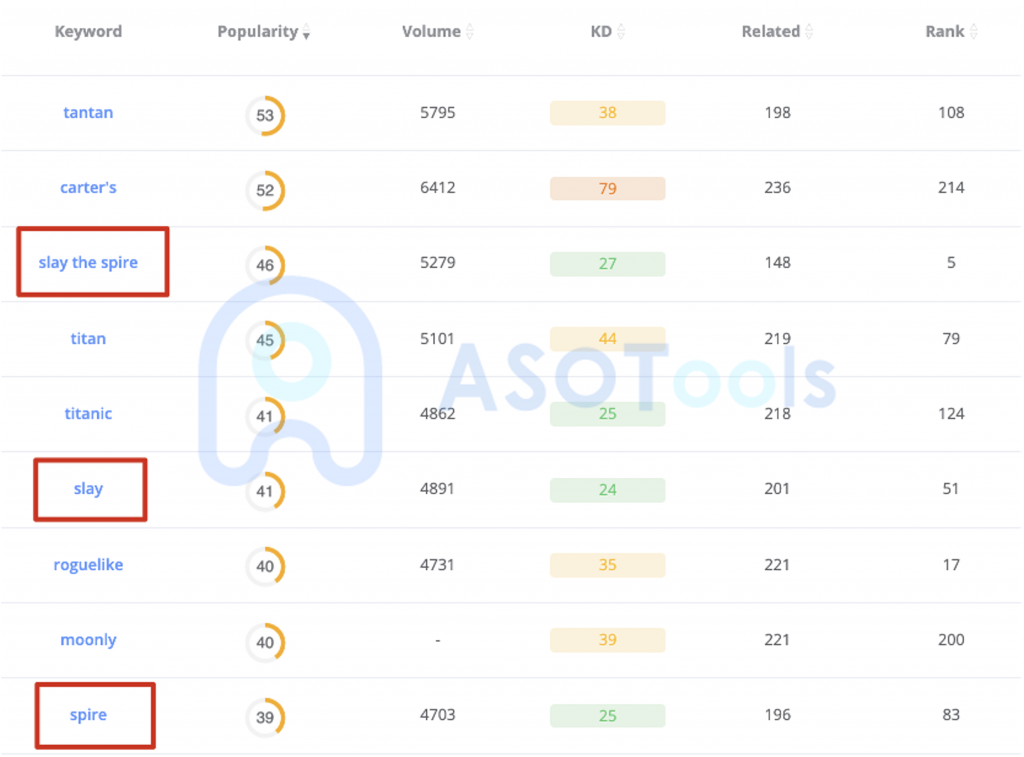 Only one, "Slay the Spire", lists "Titan Slayer" in the top 10. It's the name of another deck-building dungeon game. Both are roguelike card games and have similar gameplays, but Slay the Spire is way too popular. It's reasonable for Titan Slayer to grab traffic from this mature senior as a shortcut.
Besides "roguelike" and "Slat the Spire", other keywords that have higher popularity rank Titan Slayer below 70+, veiling they are contributing poorly to increasing Titan Slayer's search rank.
The selection of the top 10 keywords of Titan Slayer is quite moderate, not one has a search volume greater than 6500 or less than 4605, neither one's popularity greater than 53 or less than 37, following a common ASO strategy for start-up games like Titan Slayer.
5) AI Dungeon
This is a unique roguelike game that groundbreakingly combines roguelike with coding. You can create your own adventure in this text game, having fun exploring dungeons and practicing JavaScript! It charges if you want to host a multiplayer roguelike game, but free to join in one.
Due to the unlimited roleplay and storytelling possibilities of AI Dungeon, some players misused it for sexual content involving minors, and soon in April of 2021, the developers release a sophisticated system to ban all these contents, towards what, negative responses appeared in the gamers' community and one-star ratings increased around that period. But now, they seem in peace.
According to ASOTools statics, the most keywords, in which AI Dungeon ranks first, are about "text", such as "text adventure", "text-based game", "text rpg", "text based", etc. Less popular but accurate targeting.

Long story short, there is not a highlight in AI Dungeon's ASO, perhaps the game is featured enough to have its name on social media.
Conclusion
When you have no idea to start with App Store Optimization of a game/app, it's good to learn from those best roguelike games.
Remember the 3 principles of keywords: relevance, difficulty, and popularity.
If you have enough energy for ASO, try to dig out as many niche keywords as possible and get them covered in a wider range. While if you are looking for a shortcut, grabbing traffic from winners is always a choice.