How to Get Featured on App Store
Why Does App Need Getting Featured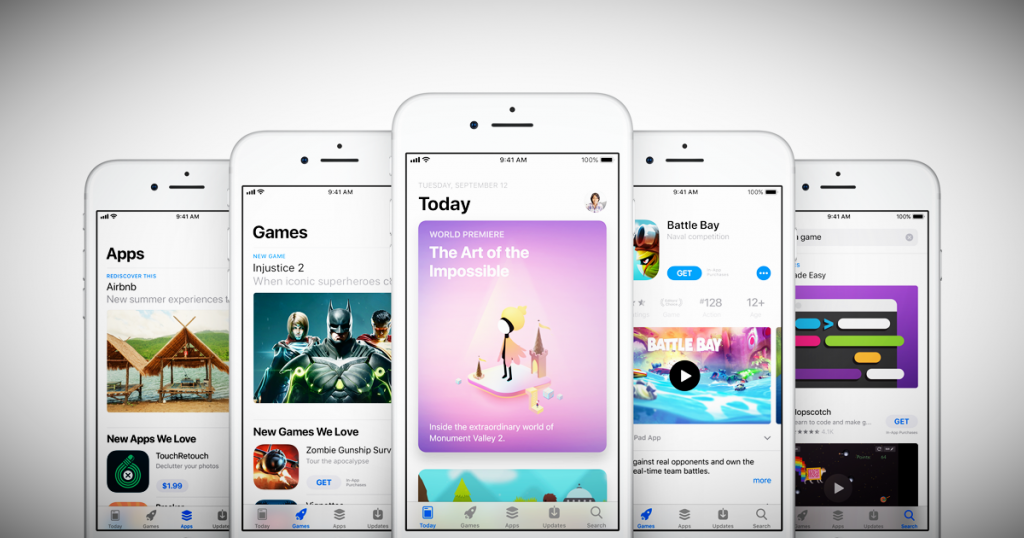 In order to encourage developers' sense of innovation, App Store will display some excellent apps in Today, Game and APP (ios10 is Feature App). But not every excellent app can be discovered and recommended by Apple editors, so developers need to apply for their own applications. Getting featured is free and not for sale.
According to past experience of getting featured, after some apps were recommended, the ranking of the list rose rapidly and gained a huge amount of downloads. There were even a large number of apps that were getting featured by the editors and could rush to the top3 of the total list the next day.
How to View Getting Featured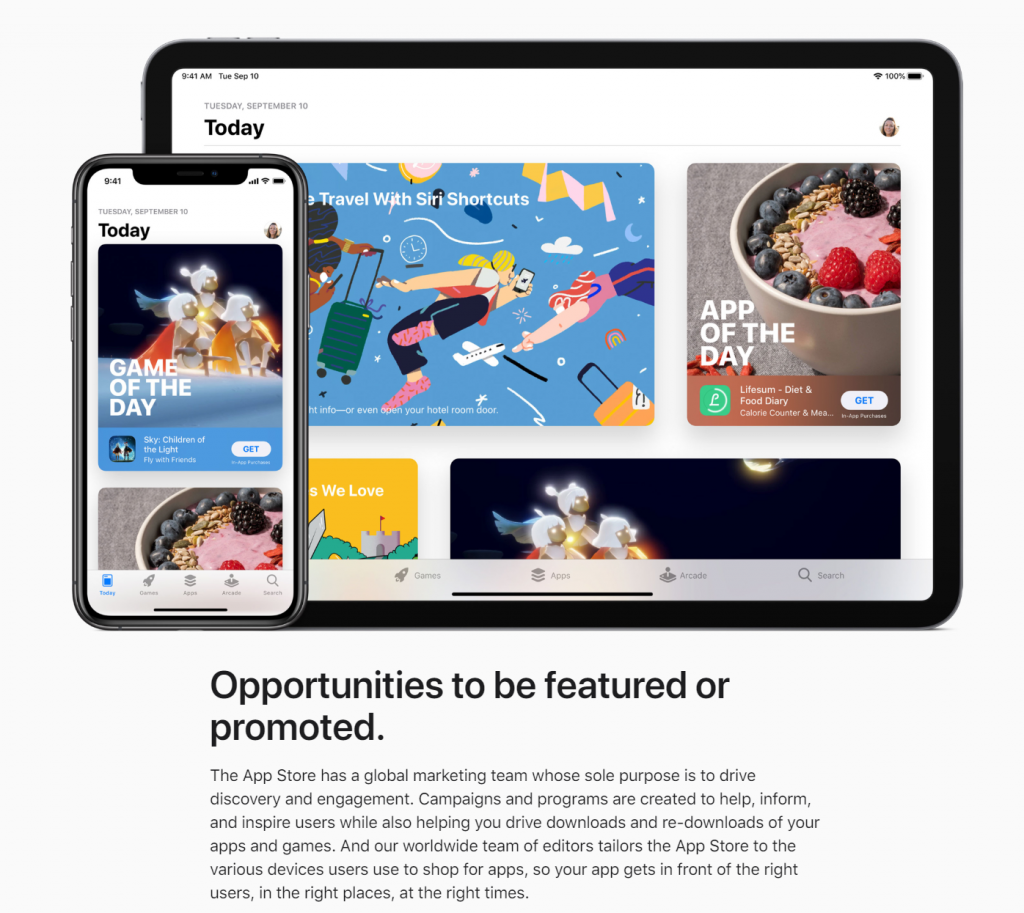 According to a team that was successfully recommended by App, their analysis is:
This is a spontaneous recommendation by Apple editors, and the team did not seek the recommendation and exposure of the App Store through any improper means;
Large companies have sufficient funds for R&D and market exposure, so Apple prefers to recommend excellent products from small developers to ensure that small teams can survive;
Another reason why small developers can be recommended is that they can study the latest and even new technologies that are easy to crash. Therefore, Apple can perceive the stability of new technologies faster from small developers, and recommending their products can help Apple Verify the practicability and stability of the technology by yourself;
Therefore, if you want to increase the probability of being recommended, please pay attention to the new WWDC technology every year, and then apply the new technology to your own App;
If you have enough confidence in your application, you can recommend yourself to the Apple team.
What Need to Pay Attention to for Getting Featured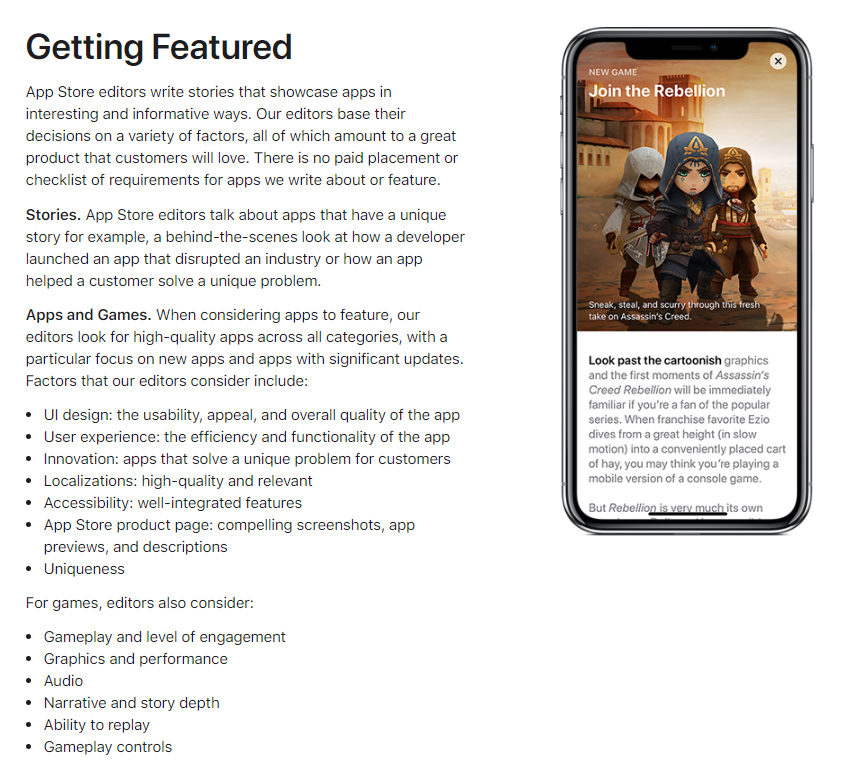 The above is the official website's suggestion for getting featured. Based on this description and a lot of experience, we have summarized 10 details that need attention.
High quality
App can get featured, the most important and fundamental point is whether it is good enough. Smooth experience, fewer bugs, unique game plot and gameplay, and high level of graphics and sound effects are all bonus points for an app. User reviews and ratings are also indicators that reflect the quality of an app.
Design
Apple has very high requirements for product design, so everyone has seen that the recommended App designs are very sophisticated. Not only should the internal elements of the App be good-looking, but the impressions in the App Store-icons, screenshots, and video previews should be "high-looking".
Innovation
Apple encourages App innovation, and the editor is more willing to recommend creative and unique apps, which can provide vitality to the entire ecology of the App Store.
Please Apple
Of course, Apple likes apps that can support its latest features, and spares no effort to recommend them. In addition, games that support Game Center have a higher recommendation rate.
Apple launches
Apple believes that those developers who first released their App on the iOS system (as opposed to Android) respect Apple and are more willing to communicate with these developers and provide recommended locations.
Localization
In Apple's global editorial team, those responsible for specific regions will select recommended content based on local characteristics (such as culture and customs). After an App can be well localized in a certain region, it is easier to attract the attention of the editorial team.
Special holidays
Before and after holidays, special periods (such as the school season), and major events, the editorial team will focus on recommending related products. Apps that are highly related to these special nodes are easier to get recommendations. If the product can modify the icon, update related functions, and launch related activities, it will increase the probability of being selected.
Non-hot industries
In addition to games, Apple prefers education, business, tools, and other products that can improve efficiency and quality of life. These less popular areas will be given a fixed proportion of recommendations.
Go online/update
Most of the recommended apps are newly launched or have just been (important) updated.
Storytelling
We know that Today mainly uses text stories combined with videos and pictures to introduce an app. If your App or game is "story-telling", the chance of getting a recommendation will significantly exceed that of peers.